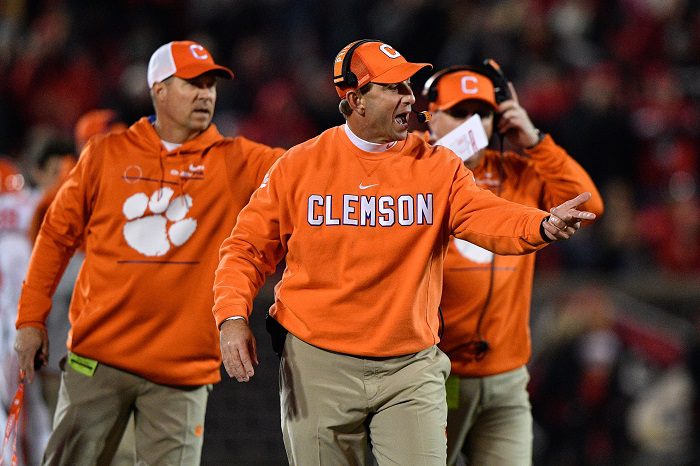 Iowa State entered the 2021 season with the highest of hopes. Ranked in the preseason Top 10, the Cyclones were expected to return to the Big 12 Championship game and possibly win it to claim a spot in the College Football Playoff.
Things quickly got derailed when Iowa State dropped its home showdown against rival Iowa and then lost its Big 12 opener at Baylor. The Cyclones seemed to get right after that by ending a long drought in Manhattan against K-State and then handing Oklahoma State its only loss of the regular season.
However, Iowa State couldn't keep the forward momentum going and dropped a crazy game at West Virginia, got beat at Texas Tech on a record-setting field goal, and came up short at Oklahoma. The Cyclones finished the season 7-5, 5-4, but they got a nice consolation prize for a disappointing season in a trip to Orlando to face the Clemson Tigers in the Cheez-It Bowl.
Like Iowa State, Clemson opened the season with much higher goals than the Cheez-It Bowl, but the offense stalled out of the gates, and the Tigers took longer than expected to hit their stride. By the time they did, the playoffs and even the ACC championship were long shots at best.
Here's a look at Clemson's path through the 2021 season on its way to the Cheez-It Bowl followed by my humble, non-expert analysis of the team and how it matches up against Iowa State.
CLEMSON'S 2021 SEASON
RECORD: 9-3, 6-2 ACC (3rd in the ACC Atlantic)
BEST NONCONFERENCE WIN: at South Carolina, 30-0
The Gamecocks had a surprising season, highlighted by 40-17 drubbing of Florida, to finish 6-6, and get bowl eligible. Clemson, however, continued to exert its dominance over its in-state rival by dominating nearly every phase of the game.
The running game was where Clemson most clearly exerted its dominance, however, rushing for 265 yards while holding South Carolina to just 43 yards on the ground. Freshman running back Will Shipley had 128 yards and a touchdown on 19 carries. Sophomore Kobe Pace added 58 yards and a touchdown on just seven carries, and Freshman Pjil Mafah had 43 yards and another touchdown on 11 carries.
Meanwhile, Clemson's defense held South Carolina to 2.2 yards per rushing attempt and racked up five tackles for loss. The Gamecocks were forced to throw, and Clemson DB Andrew Booth picked off two Jason Brown passes to befuddle SC's passing attack and shut the Gamecocks out.
WORST NONCONFERENCE LOSS: vs. Georgia, 10-3
Falling to UGA by a touchdown on opening day is not a bad loss, of course, but it signaled two things that would carry throughout most of the season: Georgia's dominance on defense, and Clemson's struggles on offense.
The Tigers were held to just two yards rushing (0.1 yards per rushing attempt) and 180 yards of total offense. Neither offense had a good day, and the teams combined for 17 penalties and three turnovers on the day. However, despite winning the turnover battle, 2-1, and having 35 fewer penalty yards, Clemson couldn't find the endzone while UGA managed to get just enough of a rushing attack to win.
BEST ACC WIN: vs. #10 Wake Forest, 48-27
Wake Forest entered the game at 9-1 with its only loss coming at North Carolina by a field goal after having scored at least 35 points in each of its 10 prior contests, but it was Clemson that looked like the Top 10 team.
The Tigers rushing defense showed up for work and held Wake to just 36 rushing yards while collecting three turnovers and seven sacks.
Offensively, Clemson committed three turnovers of its own but piled up the yards and touchdowns to the tune of 543 yards of total offense and 25 first downs. Pace rushed for 191 yards and two touchdowns on 24 carries (8 yards per), and Shipley added 112 yards and two more touchdowns on 19 carries (5.9 yards per).
WORST ACC LOSS: at #23 Pitt, 27-17
Clemson's final loss of the regular season came against the eventual ACC champs, Pitt, and fell to 4-3, 3-2, in a game that got a bit out of hand in the second half. After getting out to a first-quarter 7-0 lead, Clemson trailed 14-7 at the half before Pitt extended the lead to 21-7 early in the third quarter. Pitt's lead grew to 27-10 in the fourth quarter before the Tigers got back into the game with the final score of the day to make it 27-17.
Despite netting 315 yards of total offense, the Tigers struggled on 3rd down, converting just four of 11 attempts, and QB DJ Uiagalelei went just 12 of 25 for 128 yards, no touchdowns, and two interceptions that included a 50-yard pick-six by SirVocea Dennis. Meanwhile, Pitt QB Kenny Pickett had a strong outing as he completed 25 of 39 for 302 yards and two touchdowns with no interceptions. Pitt finished the game with 464 yards of total offense and a convincing win.
STATISTICAL LEADERS
Passing: QB DJ Uiagalelei (Sophomore) – 187 completions on 342 attempts (54.7%) for 2,059 yards; 9 TDs; 9 interceptions; passing efficiency: 108.67 (108th nationally)
Uiagalelei would be the less efficient passer in the Big 12 by a wide margin, but he is highly athletic and poses a threat in the running game. Not adjusted for his 19 sacks, he finished the regular season with 304 rushing yards and four touchdowns on 98 carries, good enough to be the Tigers' third-leading rusher on the season.
Uiagalelei's highest completion percentage on the season was 72% (18 of 25) against Georgia Tech, but the effort only netted 126 yards and no touchdowns. His highest efficiency rating, 156.7, came against Wake Forest when he completed 11 of 19 (57.9%) for 208 yards, 1 TD, and 1 INT. Arguably his best game of the season came in the 30-24 win at Louisville when 18 of 30 (60%) for 220 yards, 2 TDs, and 0 INTs.
While Uigalelei has not thrown for more than 241 yards all season, Clemson's passing game does have big-play ability as Uiagalelei had only one game without completing at least one pass 23 yards or more.
Rushing: RB Will Shipley (Freshman) – 678 yards, 10 TDs, 131 carries
Shipley is the one in Clemson's one-two rushing attack. The two, sophomore running back Kobe Pace, added 590 yards and 6 TDs on 92 carries. The young duo combined for over 1,200 yards and 16 TDs on the ground and did not turn the ball over all season long.
While both Shipley and Pace are sometimes used in the passing attacks, neither is much of a factor as they only had three games in which they combined for more than two catches.
Shipley topped 100-yards rushing three times this season with his best performance coming in the season finale at South Carolina (128 yards and a TD on 19 carries). Pace topped the century mark twice. His best game was the win vs. Wake Forest (191 yards and 2 TDs on 24 carries).
Receiving: WR Justyn Ross (Junior) – 514 yards, 3 TDs, 46 receptions
Ross' 2021 season was cut short by injury, and he will not play in the Cheez-It Bowl, opting to undergo surgery and enter the NFL draft. The Tigers' second-leading receiver on the season is junior WR Joseph Ngata who finished the regular season 438 yards and a touchdown on 23 receptions. Ngata suffered a foot injury against Louisville and did not play for the rest of the season. However, he has been involved in bowl practices without contact and is likely to play.
Ngata could be a major factor for the Tigers as he notably caught six passes for 110 yards against Georgia. He also caught four passes for 111 yards against Boston College. Ngata is a big-play threat who made receptions of 29 yards or more in five games this season.
Sacks: DE Myles Murphy (Sophomore) – 7
In addition to leading the team in sacks, Murphy also forced a fumble and broke up two passes while collecting 34 tackles on the season. Sophomore LB Trenton Simpson is second on the team in sacks with six and is part of a trio of excellent linebackers for the Tigers.
Tackles: LB James Skalski (Super Senior) – 85 (40 solo)
While many might expect veteran players accustomed to postseason games in the College Football Playoffs to opt-out of a game like the Cheez-It Bowl, that is not the case with Clemson's veterans, as none have opted out. Skalski is among those veterans expected to play against Iowa State, and he is the heart of a dominating group of linebackers. Skalski has played for Clemson since 2016 and accumulated 259 tackles and 10 sacks over his career.
OFFENSIVE STATS
Points per game: 26.8
3rd down efficiency: 35.71% (60-168)
4th down efficiency: 53.33% (8-15)
Passing yards per game: 191.5
Rushing yards per game: 171.3
Yards per game: 362.8
Average time of possession per game: 29:10
DEFENSIVE STATS
Points allowed per game: 15
3rd down defensive efficiency: 33.7% (65-193)
4th down defensive efficiency: 43.5% (10-23)
Passing yards allowed per game: 209.6
Rushing yards allowed per game: 98.8
Yards allowed per game: 308.4
ANALYSIS
Defense
Defense is the strength of this team with elite players at every level. The rushing defense is excellent and the pass rush is scary. The linebacking unit is as good as any Iowa State has seen this season, while the secondary and edge defenders are formidable. This is a tough game for the Cyclones to be without RB Breece Hall.
Offense
Clemson's offense finished the season strong, but it's not going to scare anyone, especially anyone who has faced Big 12 offenses all season. Clemson leans heavily on the rushing attack and has weapons coming out of the backfield. However, the offensive line would be middling in the Big 12, and while Uiagalelei is versatile, he still has a lot of growing to do. He would be considered one of the worst quarterbacks in the Big 12 as he has trouble connecting with receivers and throws too many interceptions.
VERDICT: First to 21 Wins
This should be a defensive slugfest. Clemson has the ability to be explosive on offense, but if Iowa State's defense shows up, the Tigers will be contained. The problem for Iowa State will be mustering enough offense to win the game. Clemson is similar to Oklahoma State in that it is elite defensively, but can be rather one-dimensional offensively. Moreover, Uiagalelei, with his mobility and pension for oscillating between big and disaster, is somewhat like OSU's Spenser Sanders. The difference is that Uiagalelei doesn't have the experience or the offensive line that lifted Sanders' game in 2021. Again, this is a difficult spot for Iowa State to be without its star running back. However, if Purdy can consistently get the ball out on time to Xavier Hutchinson, Charlie Kolar, and the rest of his targets, the Cyclones can notch an impressive win to finish the season.