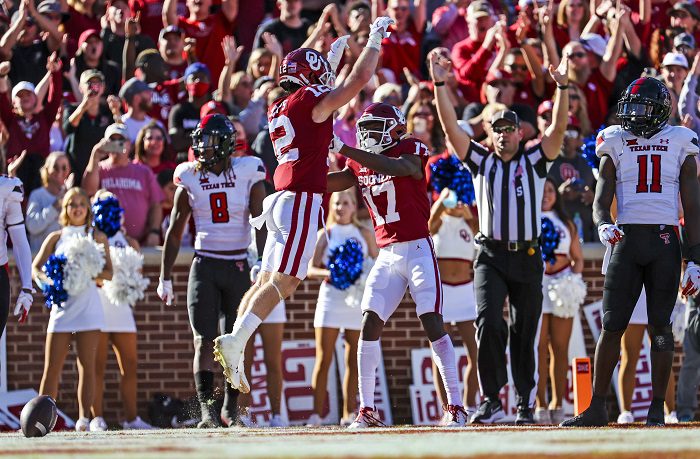 Oklahoma was considered a lock for a Big 12 Championship appearance entering the 2021 season and all but a lock to continue its run of Big 12 titles. Many prominent prognosticators picked Oklahoma as the favorite to win a national title as well. Meanwhile, even more prognosticators had Oklahoma QB Spencer Rattler penciled in to win the Heisman.
None of that came to pass, and the Sooners' season went further off the rails than anyone could have guessed. From a dog fight against Tulane to the benching of Spencer Rattler and the emergence of Caleb Williams against Texas to Lincoln Riley's wholly unexpected departure for USC following the stunning loss to Oklahoma State in Bedlam, Oklahoma's season was like nothing anyone imagined. 
The Sooners finished third in the Big 12 thanks to losses at Baylor and at Oklahoma State and missed the Big 12 Championship game. Now, Bob Stoops has stepped in as interim coach for Oklahoma's date with Oregon in the Alamo Bowl while the Sooner nation stands on the doorstep of Brent Venables era in Norman.
Oregon didn't enter the season with the same lofty expectations as Oklahoma, but many considered the Ducks to be a dark horse for the College Football Playoff as the likely Pac-12 champ. Expectations, however, quickly ramped up after the Ducks went to Columbus, OH, and came out victorious against the Ohio State Buckeyes.
Oregon's season began to derail with an overtime loss at Stanford, a team that finished 2021 at 3-9. However, thanks to their win over Ohio State, the Ducks found themselves deep in the hunt for a playoff appearance before running into Utah.
Here's a look at Oregon's road through the 2021 season to Alamo Bowl followed by some brief analyses and a look at how the two OUs match up.
OREGON'S 2021 SEASON
RECORD: 10-3, 7-3 Pac 12 (1st in the Pac-12 North)
BEST NONCONFERENCE WIN: at #3 Ohio State, 35-28
Oregon played its best football of the season in Columbus and came away with a win that would shine across weeks and weeks of play against a mediocre Pac-12 slate and inflate Oregon's ranking like the mage's glamor in The Witcher. However, much credit was indeed deserved for this early season win.
In classic bend-but-don't-break fashion, Oregon's defense surrendered 612 yards of total offense while holding the Buckeyes to 6-15 on 3rd down and 2-5 on 4th and grabbed a critical interception late in the fourth quarter to all but seal the game.
Meanwhile, Oregon's offense took the early lead on an impressive 10-play, 99-yard touchdown drive on its second possession of the game and never trailed. When Ohio State tied the game at 7-7 in the second quarter, the Ducks immediately responded to retake the lead, 14-7, and the Ducks never let Ohio State get closer than a touchdown again.
WORST NONCONFERENCE LOSS: None
BEST PAC-12 WIN: at UCLA, 34-31
UCLA finished 8-4, including a win over LSU, and was the fourth-best team in the Pac-12 in 2021. Oregon did not face a tough Pac-12 schedule as they missed Arizona State, and the conference overall was not strong.
The win at UCLA didn't come easy, however. The Ducks fell into a 14-0 hole in the first quarter before tying the game at 14-14 in the second quarter. UCLA drove down to the Oregon 11 on the final drive of the first half, but Oregon's Kayvon Thibodeaux came up with a huge sack to force the Bruins to kick a 37-yard field goal as time expired.
The Ducks took control of the game in the second half, building a 34-17 lead before UCLA roared back in the fourth quarter to cut the lead to 34-31. Oregon drove to the UCLA 24 before an Anthony Brown pass was picked off in the endzone to give UCLA one last chance.
The Bruins moved the ball and were nearly in field goal range with just under a minute left when Oregon's DJ James came up with the game-sealing interception. Oregon survived a wild, entertaining game that featured six turnovers, 17 penalties, and five UCLA 4th down conversions.
WORST PAC-12 LOSS: at #23 Utah, 38-7
While the overtime loss at Stanford was truly a bad loss, the decimation Oregon took in Salt Lake City was a humiliation that dissolved the glamor of the win at Ohio State once and for all. To make matters worse, Oregon would lose to Utah again in nearly identical fashion, 38-10, two weeks later in the Pac-12 Championship, proving the dubbing in Salt Lake was no fluke.
Oregon never threatened in either game, as the Utes built nearly insurmountable leads in the first half before putting the games in the third quarter.
In the first meeting, Oregon was out-rushed 208 yards to 63 while the Utes converted 11 of 14 3rd downs and held the ball for 35:27. The Ducks were simply dominated in the trenches on both sides of the ball, and
STATISTICAL LEADERS
Passing: QB Anthony Brown (RS Senior) – 223 completions on 350 attempts (63.7%) for 2,683 yards; 15 TDs; 6 interceptions; passing efficiency: 138.82 (64th nationally)
Brown would be among the least efficient passers in the Big 12, only ranking ahead of Kansas' quarterbacks this season. However, he has rushed for 1,100 yards in five seasons with Boston College and Oregon, with the majority of that, 637 yards, coming this season. Thus, his passing is efficient enough to make him a true dual-threat with big-play capability through the air and on the ground.
Brown has given up 20 sacks on the season, and his passing efficiency takes a considerable dip on 2nd downs when he has completed just 57% of his passes and thrown 4 INTs to 3 TDs. However, he is at his most efficient on 3rd downs, completing 70.1% of passes with 4 TDs to 2 INTs.
Brown's best game of the season through the air came in a 52-29 win over Colorado. Against the Buffs, Brown completed 25 of 31 (80.6%) for 307 yards, 3 TDs, and 0 INTs. His best rushing game of the season was the 38-24 win over Washington State with 123 and a TD on 17 carries.
Rushing: RB Travis Dye (Covid Junior) – 1,118 yards, 15 TDs, 193 carries
Dye ranks 32nd nationally in rushing yards and would rank 6th in the Big 12 behind Breece Hall, Abram Smith, Deuce Vaughn, Jaylen Warren, and Bijan Robinson. Dye is also a threat in the passing game with 374 yards and 2 TDs on 41 receptions this season. He ranks 41st nationally with 1,492 all-purpose yards, and again, he would rank 6th in the Big 12 behind Hall, Vaughn, Robinson, Trestan Ebner, and Smith.
Dye can be patient and has good vision, but he is also a speedy back who likes to make one cut and explode. He averages just 14.8 carries per game but tends to make the most of his opportunities by averaging 5.8 yards per rush. Against Arizona, he had 92 yards on just five rushing attempts (18.4 per). His best game of the season came against Washington with 211 yards and a touchdown on 28 carries.
Receiving: WR Devon Willaims (RS/Covid Sophomore) – 557 yards, 4 TDs, 35 receptions
Williams is opting-out of the Alamo to prepare for the NFL draft. Dye is Oregon's second-leading receiver, so Oregon's primary target out wide might be WR Kris Hutson, a freshman who caught 25 passes in 2021 for 364 yards and a TD.
Oregon is a run-first team, but the team's lack of depth at wide receiver may be a problem in the Alamo Bowl, especially if the Ducks find themselves in a hole early as they did in both contests against Utah.
Sacks: DE Kayvon Thibodeux (Covid Sophomore) – 7
Unfortunately for Oregon, Thibodeux is also opting-out of the Alamo Bowl in anticipation of the NFL draft.
Tackles: LB Noah Sewell (Covid Freshman) – 106 (51 solo)
Sewell has 4 sacks on the season, which is second on the team behind Thibodeux. He also has 2 forced fumbles and an interception on the season. His best game of the season was in the Pac-12 Championship against Utah with 12 tackles (8 solo), a forced fumble, and an interception.
OFFENSIVE STATS
Points per game: 31.4
3rd down efficiency: 50.9% (85-167)
4th down efficiency: 43.75% (7-16)
Passing yards per game: 214.8
Rushing yards per game: 203.2
Yards per game: 418
Average time of possession per game: 30:01
DEFENSIVE STATS
Points allowed per game: 25.46
3rd down defensive efficiency: 45.7% (85-186)
4th down defensive efficiency: 64.7% (22-34)
Passing yards allowed per game: 241.4
Rushing yards allowed per game: 130.5
Yards allowed per game: 371.8
ANALYSIS
Defense
Similar to Oklahoma, Oregon fielded a decent but not great defense in 2021. However, the Ducks are missing so much of their team for the Alamo Bowl with over 30 players injured, opting-out, or no longer on the roster, that it is difficult to know what to expect. The defensive line without Thibodeux is likely to be a weakness, and even with Thibodeux, Oregon's D-line was dominated by Utah twice in the Ducks' last three games. CB Mykael Wright's decision to opt-out of the bowl game makes the secondary vulnerable as well.
Offense
Oregon loves to run the ball and has a good rotation in the backfield to complement Brown and Dye; however, depth along the offensive line could become an issue. The Ducks do have balance with the passing game, but they are missing their top receiver and were not a very efficient passing team in 2021.
VERDICT
Both teams suffered an offseason coaching change and defections via the transfer portal. However, Oklahoma is far more intact and should have the advantage in the trenches on both sides of the ball. I expect Oklahoma to win by double-digits.