Big 12 Previews
Cincinnati vs. Alabama: College Football Playoff Semifinal Preview and Prediction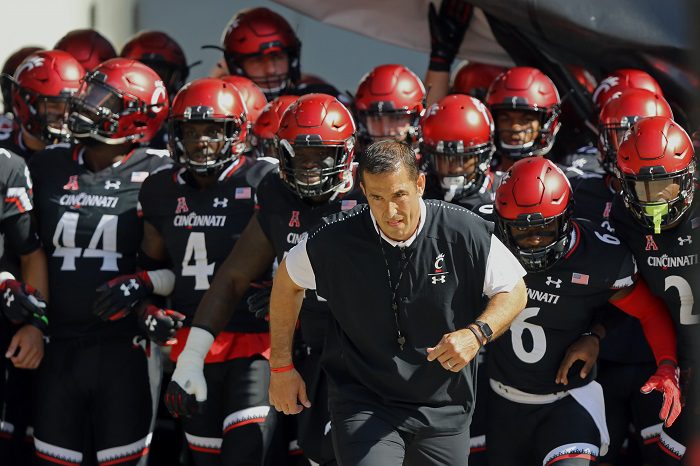 Here is everything you need to know about the Cincinnati Bearcats and the Alabama Crimson Tide in our Cincinnati vs. Alabama Cotton Bowl and College Football Playoff Semifinal preview.
Game Info
2:30 p.m. Central Time, Friday, Dec. 31, 2021, AT&T Stadium, Arlington, Texas
TV: ESPN
Radio: Cincinnati: Bearcat Sports Network; Alabama: Crimson Tide Sports Network. Satellite: Cincinnati — Sirius/XM/SXM App; Alabama — Sirius/XM/SXM App: 84/84/84.
Records: Cincinnati: 13-0 (American Athletic Conference Champion, No. 4 seed in College Football Playoff); Alabama: 12-1 (Southeastern Conference Champion, No. 1 seed in College Football Playoff).
Ranking: Cincinnati: No.4 in College Football Playoff Top 25 and Associated Press Top 25; Alabama: No. 1 in College Football Playoff Top 25 and Associated Press Top 25.
Last game: Cincinnati: def. Houston, 35-20, Dec. 4, AAC Championship game; Alabama: def. Georgia, 41-24, SEC Championship game, Dec. 4.
Key players
Cincinnati
QB Desmond Ridder: The senior will go down as one of the most accomplished quarterbacks in Cincinnati history. He enters the CFP Semifinal one touchdown pass behind the single-season school record of 31, held by Ben Mauk (2007) and Gunner Kiel (2014). Ridder has thrown for 3,190 yards, and with 354 more passing yards he can pass the single-season school record (3,543 yards) currently held by current Cincinnati quarterbacks coach and passing game coordinator Gino Guidugli (2002). He also enters the game with 12,280 career total yards and 116 total career touchdowns, which are AAC and Cincinnati records. If you want to slow the Bearcats down, it starts by slowing down Ridder.
RB Jerome Ford: The Alabama defense doesn't want to forget about Ford, either. He was the AAC Championship game Most Valuable Player and finished the season with 1,242 rushing yards and 19 rushing touchdowns. Nationally, he was a top six back in rushing touchdowns and total touchdowns (20), and a Top 20 back in yards rushing per game (103.6 per game). Against Houston in the AAC title game, he rushed for 187 yards and two touchdowns on just 18 carries. He's capable of breaking a game open with just one touch of the football.
LB Darrian Beavers: Beavers was one of five Bearcats who chose to use their COVID-19 year of eligibility and try to help the Bearcats get somewhere they've never been before. On a defense filled with potential NFL players, Beavers was a Butkus Award finalist (given to the nation's best linebacker) after finishing the season with 89 tackles, 10 tackles for loss, four sacks and two forced fumbles. He didn't lead the Bearcats in any of those categories. But his leadership and consistency throughout 2021 is part of the reason the Bearcats reached the CFP.
Alabama
QB Bryce Young: Just a true sophomore, Young won practically every offensive award one could win in 2021, along with the game's top individual prize, the Heisman Trophy. While Young's numbers for the season were stellar (4,322 yards passing, 43 touchdown passes and four interceptions), it was his SEC Championship game performance that seemed to seal the deal. He threw for an SEC Championship game record 421 yards, along with three passing touchdowns, and rushed for another 40 yards and a touchdown. His 461 yards of total offense was also an SEC Championship game record. He's efficient and he rarely makes mistakes.
WR Jameson Williams: With Jon Metchie out with an injury, it's up to Williams to be the No. 1 receiver in Alabama's offense. You could argue he was the No. 1 guy before Metchie suffered an injury in the SEC Championship game. While Metchie's numbers were head-spinning — 96 receptions for 1,142 yards and eight touchdowns — Williams had 68 receptions for 1,445 yards and 15 touchdowns. He led Alabama in receiving yards and receiving touchdowns this season. The Tide's passing game likely won't take much of a step back without Metchie.
LB Will Anderson Jr.: Head coach Nick Saban hangs his hat on defense, and this crew has some incredible, NFL-ready talent. Picking one is hard, but Anderson is worth nothing because he's a pass-rushing linebacker in a 3-4 defensive set. He has a team-leading 15 1/2 sacks and an incredible 32 1/2 tackles for loss. His single-season sack total and tackle-for-loss total, for now, are third-best and second-best all-time in Alabama history, respectively, behind the legendary Derrick Thomas. The unanimous All-American was also the Bronko Nagurski Trophy winner, presented annually to the nation's top defensive player.
Key storylines
Cincinnati
The Bearcats are crashing college football's most exclusive party, and while they're undefeated this season and their legitimacy for the playoff should in no way be questioned, the reality is it took the Bearcats two years to get here. That started with a 2020 in which the Bearcats went undefeated in a COVID-shortened 2020 and then nearly beat Georgia in the Peach Bowl. It was enough to get the Bearcats started at No. 8 in the preseason AP Top 25 for 2021. The Bearcats went undefeated and beat two Power 5 teams on the road, including Notre Dame, and earned their way into the playoff. They're the first Group of 5 team to do it, but they won't be in the Group of 5 much longer. The Bearcats will join the Big 12 no later than July 1, 2024. The Bearcats are one of two teams to be in the Top 10 in both scoring offense (39.2, 8th) and scoring defense (16.1, 4th). The other is No. 3 Georgia, which plays Michigan in the other CFP semifinal. The Bearcats are also 2-0 against ranked teams in 2021, and 5-1 against ranked teams since the start of 2020. The Bearcats are unlikely to be intimidated by the environment or the opponent.
Alabama
It's rare that you just have to say one word and you get it. But when that word is 'Alabama' and its college football, you get it. The Crimson Tide are the college game's elite program. Under head coach Nick Saban they have won six national championships (three in the BCS era and three in the CFP era) and played for two other national titles in the CFP era. This season, the loss to Texas A&M in early October seemed to change things for this team, especially on the defensive side. Since the loss to the Aggies, the Crimson Tide defense is allowing 18.7 points per game, 307.9 total yards per game, 60.4 rushing yards per game and 247.4 passing yards per game (1,732 yards). In that span the Crimson Tide held two teams without touchdowns. The Crimson Tide is filled with NFL-level talent and no coach does a better job with a month to prepare for a game than Saban and his staff (no matter who is on it). People joke about 'The Process,' but in Tuscaloosa it's all everyone talks about — and it gets results.
Fun fact
This is just the sixth time that Alabama and Cincinnati have met, dating back to their first meeting in 1908. Alabama has won all five meetings, with four of them concentrated between 1982 and 1990. The last meeting, in 1990, was a 45-7 Alabama win. The programs were in much different places at the time. Alabama finished that season 7-5 under first-year head coach Gene Stallings, and two seasons later won a national championship. The Bearcats were playing independent football and went 1-10 that season, with their only win coming against Kent State. Also notable — Cincinnati played its home games that season at old Riverfront Stadium, as the Bearcats' long-time home, Nippert Stadium, was being renovated. The Bearcats have come a long way.
Prediction: Alabama 34, Cincinnati 21
We all like underdogs, but it's hard to pick against Alabama and Saban, who is a master of preparation in these situations. If you're rooting for a Cincinnati win, a couple of things to consider. First, the Crimson Tide HAVE lost a CFP semifinal game before, coming to Ohio State in the playoff's first year in 2014. Second, the Bearcats have nothing to lose in terms of national expectations. They can play free and focused. This isn't going to be a blowout. The Bearcats are too good for that. But Alabama is methodical in games like this and it will be patient, waiting to find the vulnerabilities and then pull away in the second half.
You can find Matthew Postins on Twitter @PostinsPostcard.