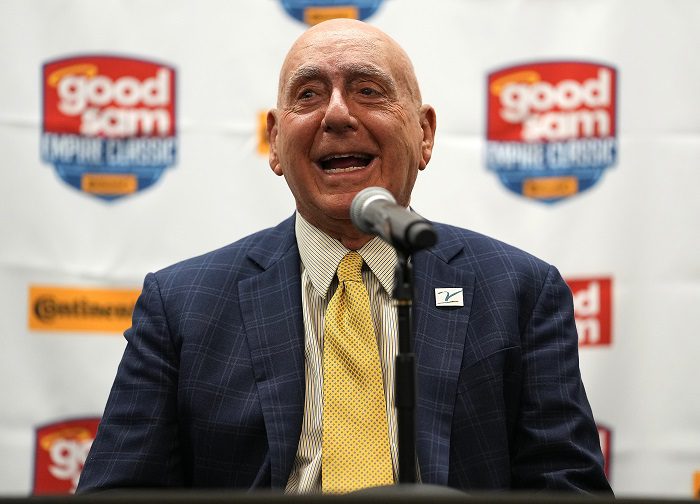 Dick Vitale announced that he would be taking a break from announcing games on ESPN, on the advice of his doctors at Massachusetts General Hospital.
He used one of his signature commentary lines to make the announcement via ESPN's public relations site.
In the release, Vitale revealed that his doctor at Mass General, Dr. Steven Zeitels, diagnosed him with pre-cancerous Dysplasia on his vocal cords, prompting the advice that, for now, Vitale give his voice a rest.
"Bottom line is I need to rest them – my voice needs a T.O., BABY!" Vitale said in the release.
In a tweet later Wednesday, Vitale said he would not be able to call a game for the next eight weeks.
It's the latest benchmark in the 82-year-old commentator's fight again cancer, which Vitale revealed will continue on Dec. 30 with more chemotherapy.
Vitale is fighting lymphoma, a form of cancer. He received that diagnosis this fall. Four months prior to the lymphoma diagnosis, he underwent surgeries to remove melanomas.
Vitale is currently on a six-month cancer treatment. While he has publicly detailed his desire to continue to call games, he has only been able to call a handful this season, including a meeting between then-No. 1 Gonzaga and then-No. 2 UCLA in Las Vegas on Thanksgiving week, and a meeting between then-No. 2 Baylor and then-No. 6 Villanova in Waco, Texas, a few weeks ago.
Vitale needed medical clearance to call both games.
Last weekend, Vitale spent several days at the Atlantis Resort in The Bahamas celebrating Christmas weekend with his family.
Vitale is ESPN's longest-tenured college basketball voice. He joined the network just a couple of months after its founding and called its first college basketball game on Dec. 5, 1979, which pitted DePaul against Wisconsin.
You can find Matthew Postins on Twitter @PostinsPostcard.
**Want to win a $20 gift card? Go sign up here and join our conversation! The best poster each week wins a gift card to your favorite establishment!**