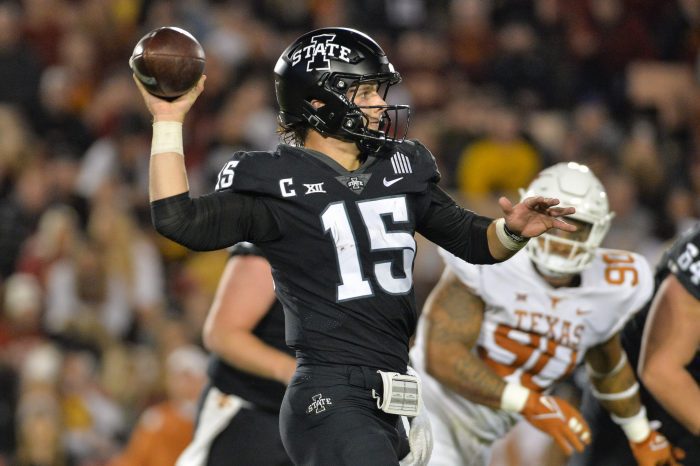 Here is everything you need to know about the Iowa State Cyclones and the Clemson Tigers in our Iowa State vs. Clemson Cheez-It Bowl preview.
Game Info
Wednesday, December 29, 2021, 4:45 PM CST, Camping World Stadium, Orlando, Florida
TV: ESPN
Iowa State Radio: Cyclone Radio Network
Records: Iowa State: 7-5; Clemson: 9-3
Rankings: Iowa State: Unranked; Clemson: No.19 (CFP)
Last Game: Iowa State: def. TCU 48-14; Clemson: def. South Carolina 30-0
Fun Fact: Believe it or not, these two programs have never met on the football field. That will change on December 28th.
Key Players
Iowa State
QB Brock Purdy
With Breece Hall off to the NFL, he won't be playing in this game. That means Brock Purdy is going to have to carry more of the load on offense if Breece Hall isn't in the backfield. I had Brock as my first team All-Big 12 quarterback, but he still hasn't been as good as he was in his sophomore season. However, his completion percentage this season was a career best as he completed over 73% of his passes. The good news for Brock is that he will still have his weapons on the outside to catch some passes.
DE Will McDonald IV
While he didn't win Big 12 defensive player of the year, Will McDonald IV still led the Big 12 in sacks this past season with 11.5. He is the best pure pass rusher in the entire conference and to my surprise he announced that he would be back in Ames for the 2022 season. Going into next year, he will be one of the favorites to be Big 12 defensive player of the year and when you watch him play, it's easy to see why.
Clemson
QB D.J. Uiagalelei
D.J. was supposed to be the guy who kept Clemson in the national title picture and instead he had an up and down season. He was inaccurate and more times than not, he failed to get the Clemson offense looking like anything they have been over the last few years with Trevor Lawrence. He was a little banged up late in the season, but I am interested to see how he handles himself in the bowl game.
DE Myles Murphy
While the offense for Clemson has been a little shaky, their defense still has plenty of young talent across the board. That includes sophomore defensive lineman Myles Murphy who led the Tigers with eight sacks this season. Iowa State has had their fair share of struggles this season with pass protection so it will be crucial for them to know where Myles is at all times.
Key Storyline
How will these teams handle themselves?
It's not often I have the same storyline for both teams, but I feel like it is fair to ask who really wants to be here in the Cheez-It Bowl? Iowa State had Big 12 title hopes and instead they finished the 2021 season with a 7-5 regular season record. Without a doubt it was a little bit of a disappointing season in Ames.
Meanwhile Clemson is in the same boat here. They were supposed to continue their dominance in the ACC and win another conference crown for the seventh straight season. That didn't happen as they weren't even able to win their own division for the first time since 2014. Both teams had seasons they didn't expect and the question I have is which team wants to be here more?
Prediction: Clemson 27, Iowa State 21
Iowa State's offense revolves around Breece Hall and with him heading off to the NFL, I have hard time seeing the Cyclones have success on offense. Clemson has some young talent on defense, and I am not confident in Iowa State's ability to keep Brock Purdy upright in this game. Clemson's offense is no juggernaut by any means, but I have a tough time seeing the Cyclones pull this one off without Breece Hall.