Big 12 News
Oklahoma DL Perrion Winfrey Suggests Lincoln Riley Was the 'Problem' in 2021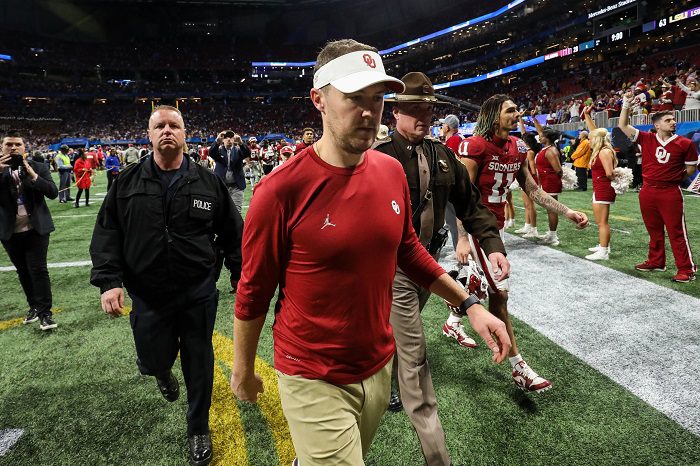 The Oklahoma Sooners ended the 2021 season with a dominant win over the Oregon Ducks in the Alamo Bowl. It had feel-good stories like Drake Stoops catching a touchdown and getting greeted by his dad, Bob, on the sidelines. It saw big plays from Kennedy Brooks and much more.
In many ways, this was the OU team that fans expected this season. Unfortunately, the team felt and seemed out of sorts the entire season.
But at least one Oklahoma player thinks he has the answer. Defensive lineman Perrion Winfrey, who elected to begin preparing for the NFL Draft, tweeted during the Alamo Bowl on Wednesday night, "I wonder what the problem was."
Clearly, Winfrey is referring to his former head coach, Lincoln Riley, who bolted Oklahoma for USC after the regular season ended last month.
There's no question that Riley came off as pre-occupied at times this season and his team never looked like the one that many of us expected, especially given the talent that was on the roster. It was arguably Riley's most complete group in Norman, and it played like anything but that for much of the 2021 campaign.
And the fact that his former players are throwing this kind of shade at him on social media isn't a good look for Riley as he tries to build trust and a program at his new school in Southern California.
Something else to note: It sure looks like the OU players are having a blast playing for Bob Stoops. Their enthusiasm and body language has made that clear. It's also very different from what we saw during most of the 2021 season. Make of that what you will.
The ESPN 30 for 30 on the Oklahoma Sooners 2021 football season is one I am anxiously awaiting and hoping will one day be made. We deserve it.