Baylor Bears
Five Storylines to Watch Entering Big 12 Men's Basketball Conference Play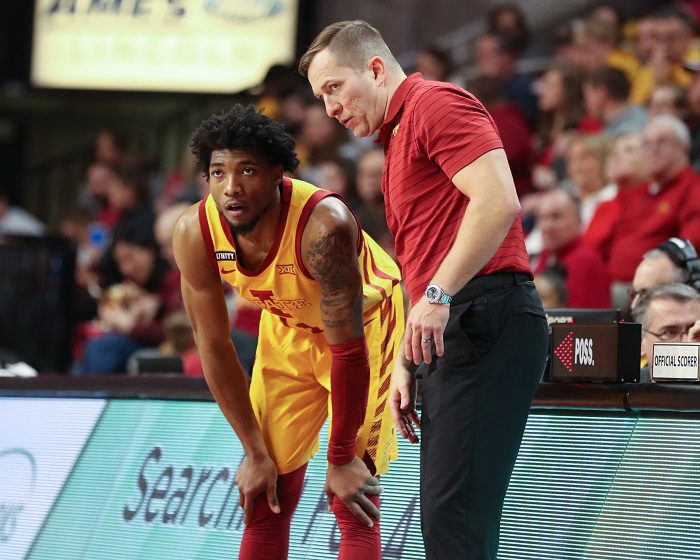 Big 12 Conference starts on New Year's Day with a truncated slate of games. For the next two months and change, one of the best leagues in college hoops will decide its regular-season champ.
We're already seeing that the Big 12 will need to be flexible due to COVID-19. TCU has already postponed its first two league games due to COVID, which has impacted Kansas and West Virginia. Oklahoma State and Texas Tech had to reschedule their Big 12 opener to Jan. 13. The Big 12 also adjusted its return-to-play rules, which were detailed last week.
So, besides COVID-19, what are the five things to take with you into league play on Saturday? Let's take a look.
1. The Title Runs Through Waco
With apologies to Kansas and Iowa State, both of which are in the AP Top 10, I believe the road to the Big 12 regular-season title will go through Waco, Texas, for another season. The No. 1 Baylor Bears have exceeded expectations so far, and it's not like the expectations were low. The Bears started the season as a Top 10 team, and the big question was whether the Bears could replicate their amazing backcourt from last season. The Bears have answered that question with transfer James Akinjo (12.8 points per game, a team-leading 76 assists), second-year guard LJ Cryer (a team-leading 13.6 points per game) and last year's first guard off the bench Adam Flagler (10.7 points per game). The frontcourt of Matthew Mayer (9.2 points per game), Flo Thamba (5.3 rebounds per game) and Jonathan Tchamwa Tchatchoua (9.0 points and a team-leading 8.4 rebounds pe game) is stable, and better, than a year ago. The contributions of true freshmen Kendall Brown (13 points per game) and Jeremy Sochan (8.5 points per game) — both of whom are already on NBA radars — has only added to the defending national champion's potential dominance. This isn't to say the Bears will run the table in the Big 12. But, the only way the Bears aren't going to win the Big 12's regular-season crown once again is if someone takes it from them.
2. Kansas has a David McCormack problem
I saw Kansas beat Stephen F. Austin in person earlier this month. David McCormack, the Jayhawks' talented center, was non-existent in that game. Some of it was about the matchup and foul trouble. But the senior has been inconsistent all season. Now, last year he had similar issues in non-conference, turned it on and became the most improved player in the Big 12. But the Jayhawks expected McCormack to turn it on from the start. And he hasn't.
That puts Kansas in a bind inside. Around McCormack, the team is in great shape. Between Ochai Agbaji (22 points per game), Christian Braun (16.8 points per game), Remy Martin (10.9 points per game), Dajuan Harris (a team-leading 39 assists) and Jalen Wilson (averaging five points and five rebounds off the bench), the Jayhawks have more than enough firepower to take on anyone in the conference. But, if McCormack — who is averaging 8.5 points and 5.4 rebounds entering this weekend — can't elevate his play and be consistent, you'll see more of Mitch Lightfoot and a young group of interior players.
Kansas can make that work in the Big 12. But, McCormack is the difference between Kansas being a great team and a Final Four-caliber team. Tracking his play early in Big 12 action would be wise.
3. The Big 12 Team You DON'T Want To Play in March
Texas, oh Texas. The Longhorns haven't looked as cohesive as Baylor, Kansas or Iowa State this season. But given the number of transfers and new players head coach Chris Beard is integrating, that was to be expected. But there are signs. The return to Dylan Disu to the lineup seems to have jolted the Longhorns' frontcourt depth. Sliding guard Devin Askew into the starting lineup for Marcus Carr gave the Longhorns another look in two pre-holiday games.
I suspect Texas will struggle a bit to start Big 12 play. After all, Texas is 0-2 against ranked opponents. But, as the season goes on, and as Beard finds the right chemistry in this team's extraordinary depth, this is the team that could end up heavily influencing the Big 12 race on the back end of the schedule and being a troublesome team in March.
4. We're Going to Find Out About Iowa State Real Fast
If you had Iowa State going 12-0 in men's basketball to start the 2021-22 season on your 2021 bingo card, I suggest you hop a flight to Las Vegas right now and place all the bets.
But what happens the next three weeks should tell us just how far these Cyclones can go.
The Cyclones host No. 1 Baylor in a massive Top 10 showdown on New Year's Day. After that, the Cyclones host No. 25 Texas Tech on Jan. 5. Then, it's a trip on Jan. 8 to should-be-ranked Oklahoma. The next three games are at Lawrence, Kansas, to take on Kansas on Jan. 11; back in Ames, Iowa to take on No. 17 Texas on Jan. 15; and then a trip to Lubbock, Texas, to take on No. 25 Texas Tech once again on Jan. 18.
That. Is. Brutal. And it's going to show us what these Cyclones are made of. Iowa State is one of the best defensive teams in the country. Izaiah Brockington is having an incredible offensive season to this point (16.9 points and 8.4 rebounds per game), and Gabe Kalscheur (11.2 points per game) is one of ISU's better outside shooters. Freshman Tyrese Hunter (9.8 points and a team-leading 34 assists) has quickly become a quality point guard.
The question I have is which player among Caleb Grill, Aljaz Kunc, Tristan Enaruna or George Conditt IV will become that trusted 'fourth scorer' in Big 12 action? In a conference where 3-point shooting is a big key to success, keeping an eye on Grill (a team-leading 23 made 3-pointers and 46 percent from the arc) would be wise.
5. The Depth of This League is Incredible
Going into Big 12 play, the 10 men's teams have lost a grand total of 15 games, which almost seems like one is talking some made-up language. As of Dec. 27, every Big 12 team was in the Top 100 in NET, with seven in the Top 50.
It's not like the league is ducking powerful teams, either. The only three teams without Quad 1 wins are TCU, Texas and Oklahoma State. TCU is the only one that hasn't played a Quad 1 team.
While Baylor, Kansas and Iowa State feel like the front-runners right now, West Virginia, Texas Tech and Oklahoma are going to play significant roles in determining who wins the conference and how seeding will take place for the NCAA Tournament.
It's no surprise that West Virginia, Texas Tech and Oklahoma are in the Top 50 in NET, as they have a combined five losses. West Virginia travels to Texas on Saturday, a place where the Mountaineers seem to play well. Oklahoma hosts Kansas State, a game that should favor the Sooners. Both the Mountaineers and the Sooners could be 1-0 entering the first full week of Big 12 action, but all three of those teams are vying for NCAA Tournament berths, whether they win the league or not.
You can find Matthew Postins on Twitter @PostinsPostcard.