Oklahoma Sooners
Oklahoma Signee Kobie McKinzie Rips Texas Over Money-Focused Recruitment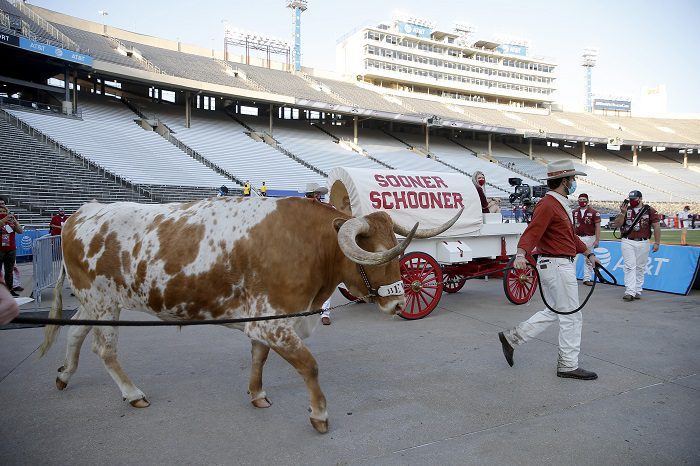 Several times over the years, a recruiting battle has come down to the teams on either side of the Red River. The most memorable one was a battle for Adrian Peterson, and we all know how that story went.
Now, four-star linebacker Kobie McKinzie may not be as sought-after as Peterson was, but you can be damn sure that both teams wanted his services badly in 2022. He comes into college at 6'2″ and 245-pounds as a freshman and possesses natural skills at the position that could make him an early contributor in 2022. That's why Sooner Nation threw a party when McKinzie flipped back to OU before signing with the Sooners on Early Signing Day.
But what about Texas? Why weren't they able to keep McKinzie in the aftermath of Oklahoma's entire defensive staff packing their bags and heading elsewhere? Well, according to the young man himself, it's because Texas had their priorities all wrong.
Immediately after McKinzie decommited from OU amid Lincoln Riley's departure, the Longhorns staff secured a commitment from the coveted defender from Lubbock, Texas. However, shortly thereafter Oklahoma announced Brent Venables as its next head coach and the battle was on.
Here is how things went down with McKinzie's recruitment, according to Ryan Chapman of SI Sooners.
"Coach [Cale] Gundy texted me and said, 'do you see who we just got?' And I was shocked because I didn't know what to say," McKinzie said. "And so I didn't text Coach Gundy back for like two days.
"When I finally got back to Coach Gundy he said 'Coach V is calling you,' and Coach V called me and said I'm coming out to Lubbock tomorrow. I've got to see you before it gets too far and I really don't have a chance. So he was playing from behind, but I didn't see it that way. A lot of people do, but I felt like it was fair ground for everybody because I had only knew those Texas guys for the same time I knew Coach V."
When Venables made that all-important trip to Lubbock, McKinzie noticed how much Oklahoma's pitch differed from the arch-enemies down in Austin.
"When [Venables] came to Lubbock, Texas had came the day before and their whole selling point to me was money," McKinzie said. "Like that's all they talked about in the meeting and that just didn't sit right with me. I understand the opportunities money-wise there were amazing, but how do we change this football program?
"I'm going there to play football. That's short money what NIL is, and I want to make long money to get what my main goal is and that's the NFL. So Coach V came in and said I want you, I don't need you. And that's big picture for me. You want me but don't need me? Okay I want to prove to you that I belong on this defense, that I can help this defense elevate."
At the end of the day, players like McKinzie see past the allure of short-term incentives and are looking to build for their futures. McKinzie felt like the place to do that was Oklahoma.
"I looked back at that situation and I sat down and I looked at the man in the mirror and I said what do you truly want? Do you want to go play in a National Championship or do you want to be content with being alright? And I definitely don't want to be content. I want to compete on the biggest stage there is, and that's the National Championship. And I think those guys up in Norman, Coach Venables specifically, he's been in a lot of National Championships. He knows how to get there."
"The recruiting process either exposes you or molds you, and it definitely molded me," McKinzie said. "And I definitely know how I want a coach to recruit me, because at the end of the day, some coaches lie to your face and some people just be flat-out true honest with you.
"And that's what Coach V was with me and I loved it. I couldn't do nothing but respect it."