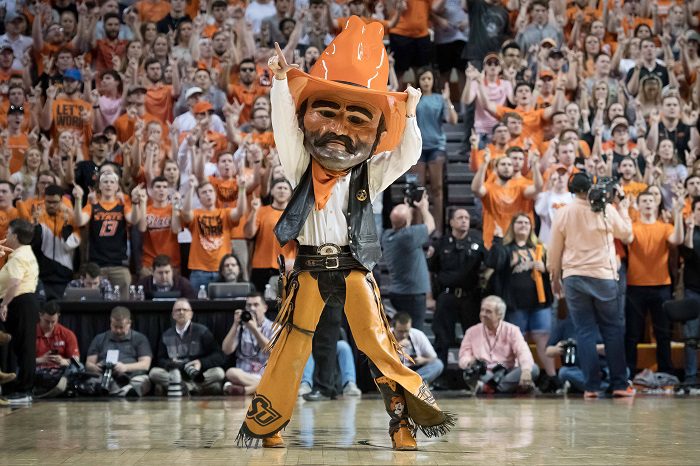 With Oklahoma State set to face off against fifth-ranked Notre Dame in the Fiesta Bowl on New Year's Day, I decided to look away from the battle between the players on the field, since I've pretty much dissected every position and coach matchup in this game, and focused my idle mind on who would win in a scrap between the two mascots, OSU's Pistol Pete or Notre Dame's Leprechaun?
I'll be pitting the two against each other in a mano y mano, old-fashioned brawl. The fight will be between the current versions of the mascots, meaning Frank Eaton himself will not participate and the Leprechaun won't be able to use the whiskey bottle that accompanied him back in the '50s. I'll also try to keep the obvious bias out of my decision-making process.
Mobility
Pistol Pete's gigantic 35-40 pound head grants him a disadvantage, making him a top-heavy bobblehead with limited mobility. As opposed to the Leprechaun, who wears no giant head or even a felt suit. He's just a college student in a green Leprechaun suit, although the buckled shoes might not be the most mobile of footwear. In regards to mobility, I give the edge to the Leprechaun as he has no giant head to lug around and is presumably younger than Pete.
Advantage: Leprechaun
Weaponry
When it comes to weapons, I think Pete has an obvious, unfair advantage with his two .357 Magnum revolvers and occasional double-barrel 12-gauge shotgun when he feels like pumping up a crowded Boone Pickens Stadium. The Leprechaun isn't as well equipped, wielding a wooden walking stick with a club at the top, called a shillelagh. Essentially, it could get real ugly real fast for the Leprechaun unless he can Matrix-dodge Pete's bullets until he needs to reload. That's when he attacks with his shillelagh to gain the upper hand.
Advantage: Pistol Pete
Fighting Spirit
The Leprechaun is seen leading the Notre Dame student section in chants at sporting events, exuberating energy, and passion as he fires up fans. I have no doubt in my mind that he would show up to this fight pumped and out for blood. Pistol Pete, unlike the man he was modeled after, has never been one for fighting. He has always been a fair-weathered cowboy who treats everyone he comes across with kindness. He only ever holds one facial expression, a stern gaze that pierces your soul. Perhaps Pete shows only one emotion because he is used to letting his firearms do the talking. Regardless, I'll have to take the Leprechaun's fighting spirit over Pete's.
Advantage: Leprechaun
Who Wins?
Now, in a straight-up battle who wins?
Obviously, Pistol Pete's guns make this an easy fight to pick. He could end the fight pretty quickly if he wanted to, but if we were to remove all weapons from the equation and make it a fistfight or wrestling match… I think I gotta go with the Leprechaun. That humongous head on Pete's shoulders will make it very difficult for him to move at all while trying to keep up with the nimble Irishman.
In conclusion, if the mascots are left to their own devices, Pistol Pete wins easily, but if weapons are taken away I think the more agile Leprechaun can outlast the stoic cowboy.
Winner: (Straight-Up) Pistol Pete; (Fair Fight) Leprechaun
But one thing is for sure, something I can say with unequivocal and absolute certainty; both mascots would without a doubt beat Jake Paul.