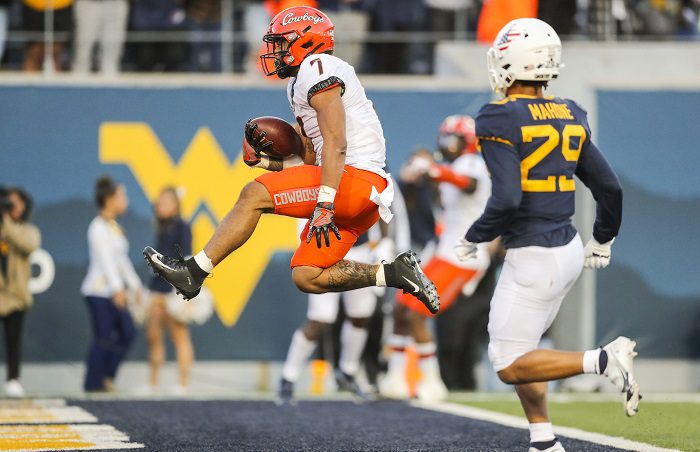 2021 has come and gone and we are now off to 2022. For the Big 12 Conference, it was the most dramatic year the conference has had, arguably, ever, after Texas and Oklahoma announced they were leaving the league, which put the entire conference in peril. Thankfully, the Big 12 will survive, and it looks like it's ready to thrive, with UCF, Cincinnati, Houston and BYU all set to join the league in the coming years.
But let's spend some time looking back on 2021 from a Big 12 football perspective as we dive into our Top 5 biggest Big 12 football winners from the last 12 months.
1. Dave Aranda and the Baylor Bears
The Baylor Bears were picked 8th in the 2021 Big 12 football preseason poll. Dave Aranda was coming off a 2-7 inaugural season in Waco. And what did the Bears do? They won the Big 12 Championship and punched a ticket to the Sugar Bowl. From Abram Smith making the move from linebacker to running back and becoming one of the best rushers in the Big 12, to Jalen Pitre winning the Big 12 Defensive Player of the Year award, this team was well balanced and earned everything they got in 2021. Then, Aranda became tied to some of the biggest coaching openings in college football, but what did he do? Stay loyal to Baylor. You can't script a better 2021 for Baylor fans (especially if we were to add on the hoops National Title, but we're just talking football right now). What a year.
2. Jim Knowles
The now former Oklahoma State defensive coordinator was the reason this team was in contention for a College Football Playoff and Big 12 Championship this season. Knowles' defense was a top 5 unit in the country and helped redefine Big 12 football, at least for those paying attention, from an offense-only, no-defense, league, to one that can more than hold its own defensively. And Jim Knowles then parlayed this performance to a big-time payday to become Ohio State's defensive coordinator. While we're disappointed Knowles won't be in the Big 12 going forward, he had himself a helluva 2021.
3. Joey McGuire
Joey McGuire was coaching high school football a few years ago. He then joined Matt Rhule's staff at Baylor to give Rhule some credibility amongst Texas high school football coaches. He was a candidate for the head job when Rhule left for the NFL, but ultimately it went to Dave Aranda. But McGuire survived the coaching change and was the associate head coach, but after a bad 2020 season, when Aranda could have made staff changes for the sake of it, he didn't. And now Joey McGuire is the head coach of the Texas Tech Red Raiders, replacing Matt Wells. And McGuire has promptly been a breath of fresh air for the West Texas faithful and has already fired up the current team, fan base and recruiting trail.
4. Kansas Jayhawks
While one typically wouldn't think a two-win team would be considered a "winner", KU football deserves the recognition. The Jeff Long/Les Miles ending was a messy one, but it many ways it delayed the inevitable. Miles was not the answer for this program, and he was never going to be. But as long as his buddy Jeff Long stayed in as the AD, Miles was going to have a long leash. KU cleaned house and hired Lance Leipold, who didn't just do things like beat Texas, Kansas football played hard-nosed competitive football for most of the second half of the season against Oklahoma, TCU and West Virginia. This was a disciplined team, the least-penalized in the Big 12, and for the first time in over a decade, it felt like a program was genuinely being built in Lawrence.
5. Jaylen Warren
Jaylen Warren came to the Oklahoma State Cowboys as a transfer from Utah State. It wasn't exactly predicted to be a game-changer of a transfer in the Big 12. He was expected to compete in a running back room that was actually considered pretty deep, despite the departure of Chuba Hubbard to the NFL. But Warren came in and carried Oklahoma State, especially through the early part of the season, when the Pokes were winning close games against mediocre, at best, competition. He dealt with some injuries as the season progressed and didn't play in the Big 12 Championship Game, but still finished the year 7th in the Big 12 in rushing yards with 1,134 and 11 touchdowns. Pound-for-pound he became one of the top running backs in the league, which given the depth at the position this season, is an impressive feat.
Honorable Mention: Sonny Dykes
Well, Dykes technically wasn't in the Big 12 until recently, but the former SMU coach had himself a solid season, beating TCU back in September, and finishing the season with an 8-4 record. That helped him land the TCU head coaching job after the program parted ways with Gary Patterson. Sonny Dykes is now a Power 5 head coach in the state of Texas and will try to turn around a TCU program mired in mediocrity.