Baylor Bears
Five Storylines to Watch Entering Big 12 Women's Basketball Conference Play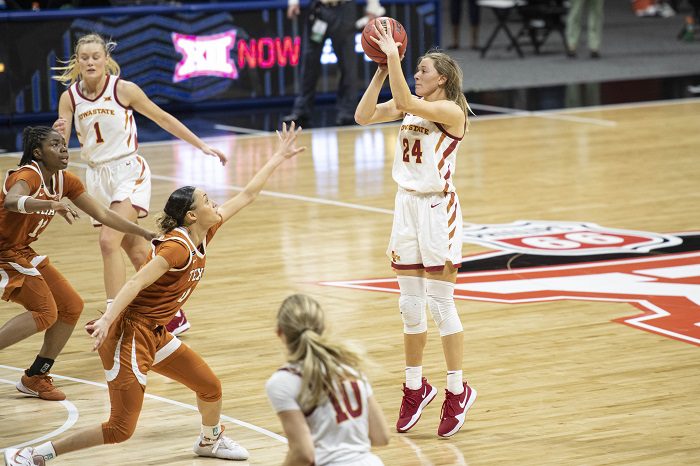 Big 12 Conference starts on Jan. 2 with a full slate of games. For the next two months and change, one of the best leagues in college basketball will decide its regular-season champ.
So what are the five things to take with you into league play on Sunday? Let's take a look.
There's a Clear Tier 1
While the Big 12 is deeper than last year, there is a clear first tier when it comes to the Big 12 regular-season race. The league's three ranked teams — No. 10 Baylor, No. 12 Texas and No. 14 Iowa State — are the league's three best teams. Any one of them could win the regular-season crown.
Baylor isn't as deep as in years past (the Bears have 10 players on their roster). But forward NaLyssa Smith is having an incredible season right now (21.1 points and 13.1 rebounds per game). She told Sports Illustrated that new head coach Nicki Collen's new offense gives her more freedom, and that's a scary thought for Big 12 opponents. Queen Egbo is holding down the paint, Alabama transfer Jordan Lewis has integrated quickly into the Bears' overall scheme and the shooting of Sarah Andrews and Ja'Mee Asberry from outside is going to make a difference.
Texas is deep and talented and playing scary defense right now. The Longhorns played one of the toughest schedules in the country and went 2-1 against ranked teams. Texas has played for the last month without Aaliyah Moore, the Big 12 preseason freshman of the year. But that has given head coach Vic Schaefer time to develop DeYona Gaston and Latasha Lattimore inside. Guard Rori Harmon could end up being the Big 12 Freshman of the Year. And transfer guard Aliyah Matharu is one of the streakiest offensive forces in the league.
Iowa State is built around forward Ashley Joens, who at some point this season should become the program's all-time leading scorer. But, ISU has two of the league's best 3-point shooters in Lexi Donarski and Joens' younger sister, Aubrey. Emily Ryan is playing the best point guard of anyone in the conference (including Harmon and Lewis). And this team has sneaky nine-player depth, especially with the return of Maggie Espenmiller-McGraw.
The games between these three programs will be worth the price of admission.
A Seven-Bid Big 12?
The NCAA Women's Tournament expansion to 68 teams helps the Big 12 significantly. The league had five berths last season. Now, there's a chance the Big 12 could have seven. And that could help some teams that are trying to end some NCAA Tournament droughts.
Kansas State hasn't been since 2019, and the Wildcats are sitting on one of the best NET ratings in the country. The Wildcats' only losses are to Top 5 teams.
Kansas hasn't been since 2013 and the Jayhawks are well-positioned to end that streak.
Oklahoma hasn't been in the past three seasons and first-year coach Michelle Baranczyk has the Sooners poised to end that drought, too.
Throw in the 'first tier' of teams, and West Virginia — which made the Tournament last year and has just three losses so far — and the Big 12 women could have as many NCAA Tournament berths as their male counterparts on Selection Sunday.
Who's the Party Crasher?
While there's a clear Tier 1 in this conference, in my opinion, there is always a team that tries to crash that party. This year the candidates are Kansas State and Oklahoma.
Ayoka Lee, the 6-foot-6 Kansas State junior, is averaging 23.8 points, 11.1 rebounds and four blocked shots per game. If she does that against Big 12 competition she'll be a part of Big 12 Player of the Year conversation — and Kansas State will influence the Big 12 race. Lee has sharpshooters around her in Serena Sundell and Brylee Glenn. What she and these Wildcats need is a second solid rebounder.
Oklahoma is built to score. Now fully healthy, the Sooners have outscored their opponents by an average of 16 points, and the trio of Taylor Robertson (19.8 points per game), Ana Llanusa (17.3 points per game) and Madi Williams (17.1 points per game) are going to give Big 12 defenses fits. The Sooners are a middle-of-the-road shooting team in the Big 12 (by percentage), and if a second consistent sharpshooter can join Robertson at the arc (where the senior shoots an insane 48.7 percent), the Sooners will be a tough out.
The Duality of Oklahoma State
The Cowgirls went to the NCAA Tournament last year. At just 5-4 so far, OSU has a path to get there. But the needle is narrow, thanks to one of the oddest team stat lines in the Big 12.
The Cowgirls are No. 10 in scoring offense at 60 points per game. In fact, the Cowgirls have scored nearly 75 points fewer than the next team, TCU. To be fair to OSU, it lost its last two games to COVID-19. But the Cowgirls are having trouble scoring points.
OSU is not having issues defending. In fact, the Cowgirls are No. 1 in scoring defense, averaging 50.8 points per game.
The Cowgirls lost their last tune-up with Tulsa due to COVID-19. Their league opener is with Texas, which is No. 2 in scoring defense. The Longhorns are No. 3 in scoring offense, a full 21 points better than Oklahoma State. That puts more pressure on Lauren Fields (14.3 points per game) and Taylen Collins (9.3 points per game) to score. What the Cowgirls really need is a consistent third option. The closest thing they have to that is Lexy Keys and N'Yah Boyd, both of whom average 6.2 points per game.
The Big Early Game
The Big 12 did ESPN right on Sunday, Jan. 9. Texas is at Baylor at 2 p.m. in Waco. I may have to slip down to Waco for that one.
You can find Matthew Postins on Twitter @PostinsPostcard.