Big 12 Sports Articles
Winless Pac-12 Bowl Season is Another Example Anti-Big 12 Bias from College Football Media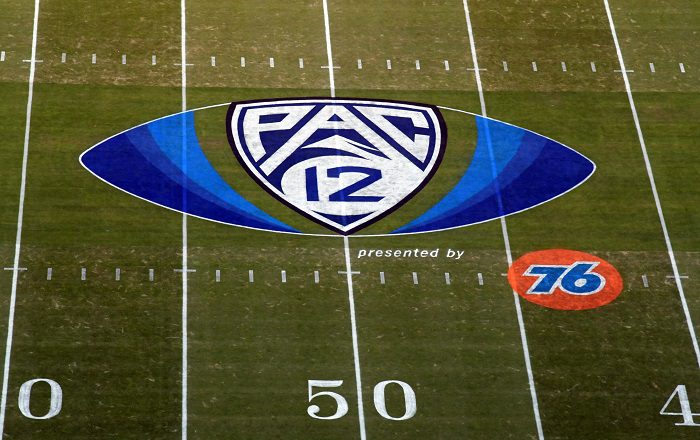 When it was announced that Texas and Oklahoma were heading to the SEC, the Big 12 Conference turned into the punching bag of college football.
Many people such as The Athletic's Stewart Mandel and other national media talking heads took their shots at the conference during its weakest moment. Eventually, the Big 12 responded with adding four schools however some people forgot who the worst power five conference in college football is. It's been the Pac-12 and it's not even close.
With dwindling attendance and their lack of caring for football, some national media members have completely ignored what is currently going on out west.
Remember when they didn't want to play football in 2020? Or how about this year when fans didn't bother showing up to games?
And of course, we can never forget about the excuses they get like this one.
Yet despite all of these obvious signs, some people out there thought that the Pac-12 would be better than the new look Big 12 without Oklahoma and Texas. After this season, it would be foolish to think that.
For the second straight bowl season, the Pac-12 didn't have a single bowl game win. The "Conference of Champions" failed to win a single game out of their five bowl games and don't forget about UCLA cancelling the Holiday Bowl and packing up hours before telling anyone.
Believe it or not this is not the first winless bowl season for the Pac-12. Just last year, the Pac-12 went 0-2 in their bowl games which means the conference hasn't won a single bowl game in two years which is pathetic.
However, their struggles go back much further than just the past two seasons. In the last five seasons the Pac-12 has just one NY6 bowl win. That was when Oregon beat Wisconsin in the Rose Bowl two years ago. Before that you have to go all the way back to the 2017 Rose Bowl when Sam Darnold and USC beat Penn State.
Outside of their bowl struggles, the Pac-12 also has had trouble making the playoffs. The conference hasn't had a playoff team since 2016 and since the 2015 season, the Pac-12 has scored a whopping SEVEN points in the College Football Playoff.
But go ahead and keep laughing at the Big 12, national media. Heck, could you imagine if the track record I just laid out was on the Big 12's resume instead of the Pac-12's? It would get non-stop attention from the college football media's national talking heads.
And all along these same people were saying that there wasn't going to be five power conferences anymore. Those people were right because the Pac-12 doesn't belong in the Power Five.