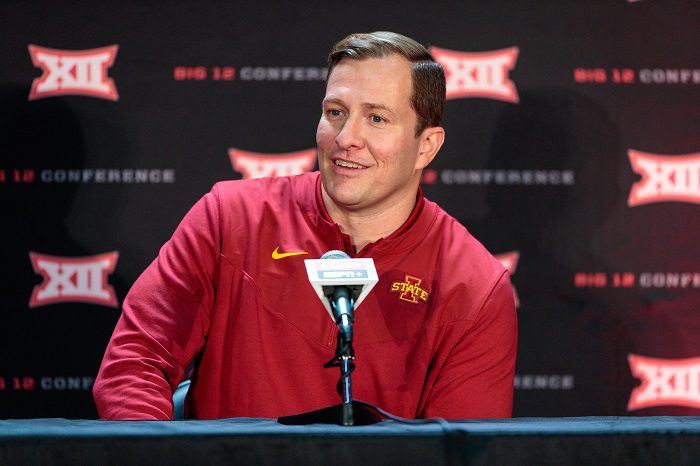 The Big 12 Conference is done with Week 8 of the 2021-22 men's basketball season. Just some of the things that happened last week:
Baylor went into Iowa State and remained undefeated in a matchup of Top 10 teams.
Bob Huggins and West Virginia lost to Texas on the road, but he threw some shade on the Longhorns' gameday environment on the way out. Mountaineers guard Taz Sherman and two other players missed that game due to COVID-19.
Kansas scheduled George Mason and a 'selfless benefactor' bought the extra tickets and handed them out for free to keep the sellout streak alive at Allen Fieldhouse.
TCU had to postpone its first two Big 12 games due to COVID-19.
That, and so much more, happened in Week 8. Here are our five takeaways.
The New Reality With COVID
The Big 12's return-to-play policy when it comes to COVID-19, which was amended just a couple of weeks ago to move to a postponement policy instead of a forfeiture policy, was the right call.
But, another piece of that change was the minimums to play a conference game — six available scholarship players and one available coach.
It means the Big 12 is going to play on, even if a team has two or three players out with COVID.
That had a significant influence on the Texas-West Virginia game on Saturday. Everyone was looking forward to a great matchup, but West Virginia wasn't full strength. The Mountaineers were without Taz Sherman, Gabe Osabuohein and Kobe Johnson. Sherman is the Big 12's second-leading scorer. It's not hyperbole to say that Osabouhein is the Mountaineers' defensive heartbeat.
WVU never found its footing and lost 74-59. The Mountaineers were down by 19 at the break.
Meanwhile, Oklahoma was without Tanner Groves, Jacob Groves and Bijan Cortes due to COVID health and safety protocols. That left the Sooners without their leading scorer. But, OU was able to squeak by Kansas State, 81-79. Kansas State was without guard Markquis Nowell, who was averaging 12.8 points per game. But Mark Smith had a double-double and the Wildcats went in that game until the final seconds.
TCU, which is shut down due to COVID, is one end of the spectrum. But you can expect other games like the Texas-WVU and OU-K-State games, where teams are missing players due to COVID, but they play on. The Big 12 is treating COVID more like an injury this season, and that means teams will have to adjust — and mind their health and safety protocols.
The Rise of Elijah
This time last year Oklahoma guard Elijah Harkless was just trying to figure things out. He had just become eligible after the NCAA granted all transfers a waiver for that season. By season's end, Harkless became the Sooners' primary defensive stopper on the perimeter. But, with De'Vion Harmon, Austin Reaves and Umoja Gibson, there wasn't a need for Harkless to be a big-time scorer.
And, going into this season, with transfers like Jordan Goldwire and Gibson returning from last season, the thought was that Harkless might be a solid third option.
But, things change.
Harkless scored 21 points, was a perfect 4-for-4 from the 3-point line, had seven rebounds and scored the tie-breaking basket in the final minute as the Sooners escaped with a 71-69 win. With no Tanner Groves due to COVID-19, the Sooners needed some scoring from someone. But, the fact is the defensive stopper from last season is so much more now.
He was averaging nearly 10 points per game going into the K-State game, along with 5.1 rebounds per game (second-best on the team) and was one of five Sooners with 10 or more steals.
If Harkless keeps playing offense like this, the Sooners will be even more dangerous.
The Depth of the Big 12
West Virginia head coach Bob Huggins may have said it best about the Big 12 when he talked with ESPN before the game — "Right now, everyone is NCAA Tournament worthy."
I suppose that includes TCU, which has lost just one game but won't play a conference game until at least Saturday. I suppose that includes Kansas State, which is trying to get back above .500 by season's end for the first time since the 2018-19 season. Obviously, Oklahoma State can't go to the NCAA Tournament due to sanctions.
Huggins' point was more about just how tough this league is, and you don't need advanced metrics for that. Right now, his Mountaineers look like the Big 12 team that could have the most trouble with the NCAA Tournament bubble. Why? Without Sherman against Texas, the Mountaineers didn't have anyone that could consistently finish at the basket and the game continued to expose rebounding problems at the defensive end. Those are things teams need in this conference. The good news Huggins has two months to fix it.
Baylor is an 'Elite' Program. Here's Why
No long, drawn-out explanation or analysis. Just. One. Tweet.
Three Games That Intrigue Me This Week
Oklahoma at Baylor, Jan. 4: It gets no easier for the Bears, but at least they're at home this time. New Sooners head coach Porter Moser has built a highly-competitive team in Norman. But now we find out just HOW competitive it can be. Will Tanner Groves be back?
Texas Tech at Iowa State, Jan. 5: Two more teams that make defense their calling card. How much rust will Texas Tech have after not playing on Saturday?
Kansas State at West Virginia, Jan. 8: The Mountaineers will be on a week's rest after its TCU game was postponed due to COVID-19. They're in need of a bounce-back — and they need Taz Sherman back. Could the Wildcats go into the Coliseum and steal one?