Big 12 News
Oklahoma QB Caleb Williams Enters Transfer Portal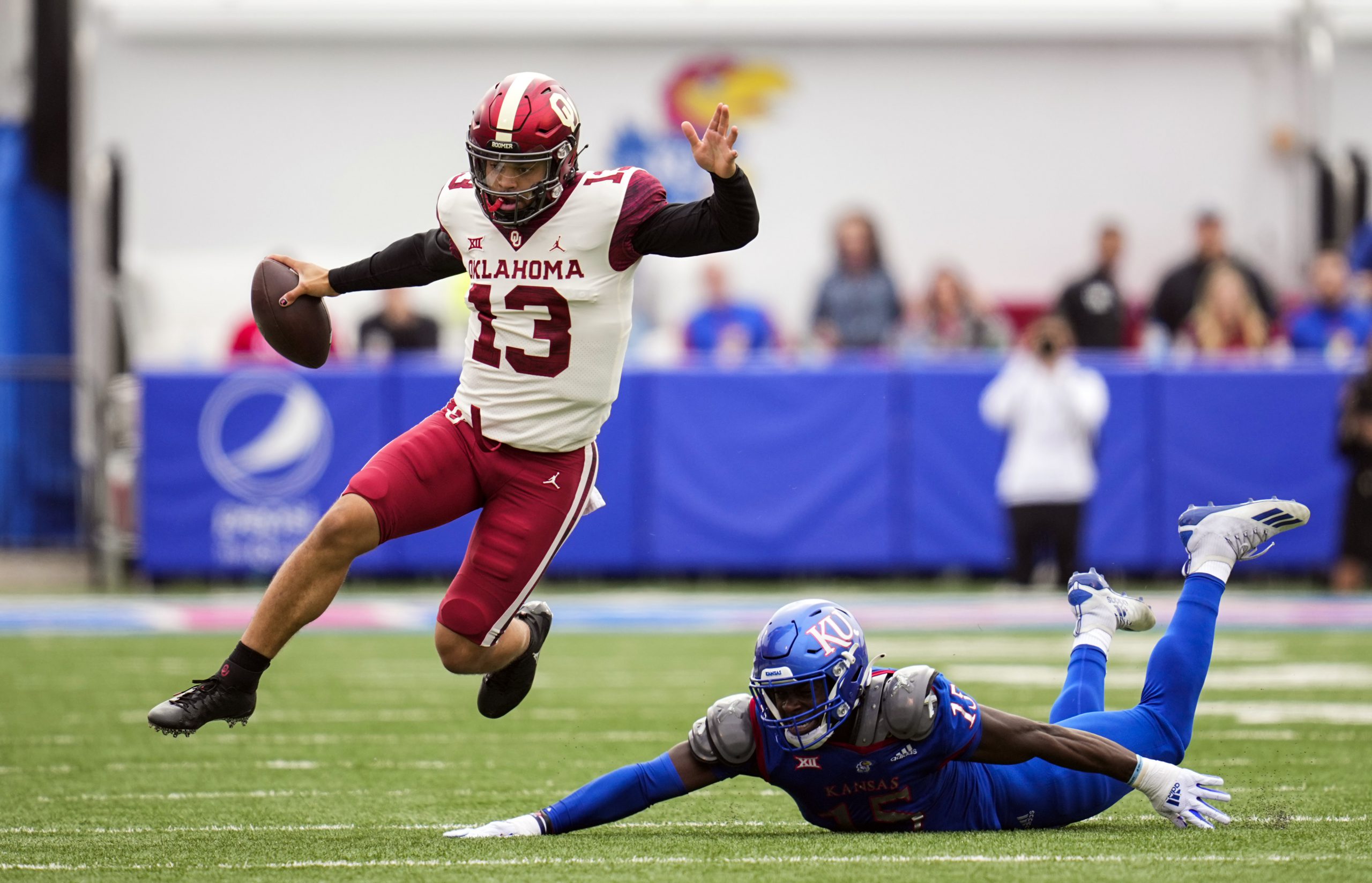 Oklahoma's freshman-phenom quarterback Caleb Williams has entered the NCAA Transfer Portal and will explore his options going into the 2022 season.
This is an announcement that Oklahoma fans have been dreading for weeks after Lincoln Riley's departure to USC and could be detrimental to the Sooners going forward.
Williams just finished leading Oklahoma to a 47-32 victory over Oregon in the Valero Alamo Bowl in what could be his final game as a Sooner.
Here is Williams' official announcement on Twitter Monday afternoon.
Williams started seven games for the Sooners in 2021 after usurping Spencer Rattler as the starter against Texas. Williams finished the year 136/211 (64.5%) for 1,912 yards and 21 scores to 4 INTs, adding 79 rushes for 442 yards and six scores on the ground.
It has been rumored for a while now that Williams would, at the very least, explore other avenues, so it's not really that shocking if you have paid attention to his situation. At the end of the day, Williams committed to Oklahoma because Lincoln Riley had an unmatched pedigree for developing quarterbacks into NFL-ready players. That is ultimately what this decision will boil down to and could very well lead Caleb right back to Norman.
However, now that other schools can contact Williams, it will be hard to keep him around., but Oklahoma isn't going down without a fight.
Just minutes after his announcement, a joint statement from Joe Castiglione and Brent Venables was released regarding the decision.
Lincoln Riley is sure to throw his hat in the ring, although I don't know what his odds of landing Caleb at USC are after he burned the Williams family just one month ago.
Schools like Georgia, Auburn, and Miami are rumored to be throwing their hats in the ring for Williams, but nothing has been confirmed as of yet.
At the end of the day, Oklahoma has a good shot of retaining Williams at this point and could likely be the best situation for him. The Williams family is very calculated though and will look at all other avenues before deciding where his best landing spot is.
As for my two cents on the subject, I think Oklahoma has done enough to keep Williams. Jeff Lebby is one of the top offensive minds in football and just developed Matt Corral into a likely top 15 pick in this year's draft. But, what Lincoln Riley has done with quarterbacks is unmatched. At this point, if Williams made a business decision to head west it wouldn't surprise me. Buckle up and hang on Sooner Nation, its gonna be a long week.