Trending Now
Pac-12 Commissioner Ready to Start Playing Games vs. Big Ten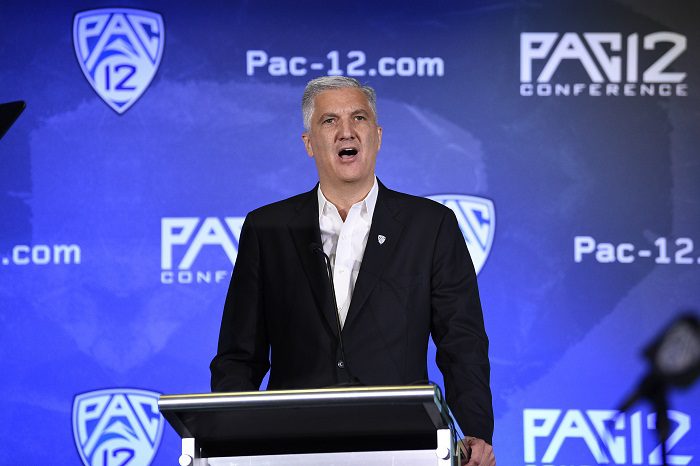 Pac-12 commissioner George Kliavkoff is ready for his conference to make a change and play one less conference game every season. So what's the hold-up?
As of right now, the Big Ten, Pac-12, and Big 12 play nine conference games a year, whereas the ACC and SEC play eight. The extra non-conference game allows those conferences to honor longstanding rivalries (i.e. Clemson/South Carolina, Florida/Florida State, etc.) or allows teams to schedule cupcakes like Mercer (sorry Bears) to get a win on the schedule.
Well, if it were as easy as just declaring the new schedule changes then it would already be done; unfortunately, that's not how it works. College football scheduling happens years, sometimes decades, in advance, making it nearly impossible to implement changes in a quick and orderly fashion. That means finding opponents three or four years into the future can be challenging, as Kliavkoff addressed in an interview with the Los Angeles Times following his first season as the Pac-12 conference's commissioner.
We're not ready to announce anything, but I've been public about the fact we're ready to go from nine conference games to eight immediately," Kliavkoff said. "The issue is everybody else is booked. We would not be able to fill those games in if we decided to do that. The fastest path to get there is if the Big Ten decided to do the same thing, and then we could just schedule 12 games against the Big Ten, and we'd be happy to do that for next season. The Big Ten is not ready to make that move yet, and it's not my place to put them on a timeline to do that. They're in the middle of their media rights negotiations. The minute the Big Ten is ready to play 12 games against us every year, we're ready."
Getting a deal done with the Big Ten could take a while though, as the conference's television contracts currently run through 2024. If the two conferences can work something out though, it would be beneficial for everyone involved. Can you imagine the draw some of those matchups would draw in the regular season? Ohio State vs. USC. Oregon vs. Michigan. UCLA vs Penn State. How about an old Big 12 rivalry in Colorado vs Nebraska? Sign me up.