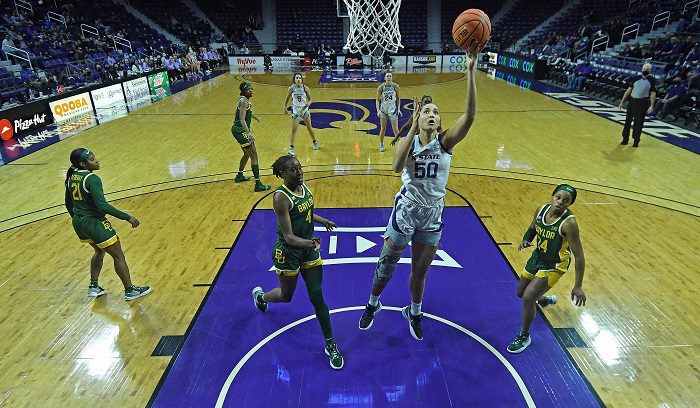 The Big 12 Conference finished Week 8 of its 2021-22 women's basketball season last week. Just some of the things that happened last week:
Kansas State scored its biggest win in recent memory against Baylor.
Kansas State center Ayoka Lee and Oklahoma's Kelbie Washington are the Big 12 Player and Freshman of the Week for Week 8, respectively.
A preview of the top storylines in Big 12 women's basketball.
Also check out our Big 12 Basketball Tracker for updated men's and women's news every day.
That, and so much more, happened in Week 8. Here are our five takeaways.
Dealing with COVID
Like the Big 12 men, COVID-19 and health and safety protocols influenced a good portion of the schedule.
Baylor was down to seven scholarship players against Kansas State, and the Wildcats exploited that lack of depth to claim their first win over Baylor since 2004.
West Virginia was without four players, including forwards Esmery Martinez and Kari Niblack, in its loss to Iowa State. The four Mountaineers that sat out accounted for 28 points and 20 rebounds per game.
Texas Tech and Oklahoma State managed to get out of health and safety protocols but failed to win their Big 12 openers. Texas was without three players due to health and safety protocols, but still beat OSU.
TCU was able to get out of health and safety protocols but saw their Big 12 opener against Kansas postponed because the Jayhawks had issues of their own.
Looking ahead to next week, Kansas' second Big 12 game with West Virginia has already been postponed. That helps West Virginia, which hopes to have most of its missing players back soon.
The rules are clear. Stay healthy, and if your players fall into protocols, but you have enough scholarship players to play (the minimum is six), then you're going to play. And you'll have to make the best of it.
Where Baylor Has to Get Better
No one needs to push the panic button on Baylor. The Bears' three losses are to two ranked teams and to a Kansas State team that should be ranked (and, for now, isn't).
But, if Baylor wants to be a team that makes the second weekend of the NCAA Tournament and contends for a trip to the Final Four, a few things need to happen.
First, the shooting has to get better. The Bears entered Sunday's game shooting 44.3 percent from the floor. But, it's Baylor's 3-point shooting that really needs to pick up. The Bears are shooting just 32.1 percent from the arc, and that deficiency was a significant part of why Baylor lost to K-State.
Second, the offensive rebounding margin needs to widen. Despite having NaLyssa Smith and Queen Egbo, the Bears were just plus-17 on the offensive glass. The Bears need improvement there, too.
Third, while Baylor has a stable starting lineup, and a quality first forward off the bench in Caitlin Bickle, the Bears really need one of the following players to become a stronger force off the bench — Kendra Gillispie, Kamaria McDaniel, Jaden Owens or Andrea Katramados. All four are scoring less than three points per game. Watch McDaniel and Owens. Both are averaging more than 15 minutes per game. As the pair earn more trust with head coach Nicki Collen, the hope is their game will grow, and they'll contribute more.
If the Bears can improve in those three areas, getting to the second weekend of the NCAA Tournament, and beyond is a possibility.
The Sooners Find Ways to Adjust
Ana Llanusa is likely out for the season, Oklahoma head coach Jennie Baranczyk revealed on her radio show a couple of days before Oklahoma's 97-91 win over Texas Tech. That's a huge loss. Llanusa was averaging 17.3 points per game, one of three Sooners averaging at least 17 points per game.
So, now what?
You saw the Sooners scored 97 points on Sunday, right?
Baranczyk started Madi Williams, Taylor Robertson, Kelbie Washington, Kennady Tucker and Liz Scott. Williams, Robertson and Washington just kept rolling along, with 24 points, 17 points and 10 points, respectively. But, the push Skylar Vann is making off the bench is the biggest note from the past week. Vann scored 19 points for the Sooners against Texas Tech. The sophomore scored 21 points against Wichita State in her first start on Dec. 29. The 21 points is her season high.
Vann was already a solid contributor outside of OU's 'Big Three' before Llanusa's injury. Now, Vann, potentially, could provide the Sooners another option offensively. Then toss in Washington — who is OU's fifth-leading scorer and has hit double figures in four of her last six games — and you have a Sooners team that can survive without Llanusa, and perhaps thrive.
But, OU's defense clearly has to get better. Giving up 91 points to Texas Tech pushed the Sooners' points allowed per game to 74.7 points per game. And Iowa State, perhaps the conference's best offensive team overall, comes to Norman on Wednesday. Thanks to the AP voters that finally wised up, the Sooners, ranked No. 23, have a Top 25 matchup on their hands.
This week's edition of 'Emily Ryan is Ridiculous'
The Cyclones defeated West Virginia, 88-72, in their Big 12 opener. Of course, you can't have 16 assists unless you have great-scoring teammates, and Ryan has plenty. Ashley Joens (29 points, 11 rebounds), Lexi Donarski (14 points), Jordao Beatriz (14 points) and Morgan Cane (10 points) all hit shots. Heck, Ryan nearly had a TRIPLE-DOUBLE with 10 points, 16 assists and nine rebounds.
There are several great point guards in the Big 12. Ryan, right now, is playing the best.
Three Games I'm Intrigued by This Week
No. 12 Iowa State at No. 23 Oklahoma, Jan. 5: Both of these teams seem to score whenever they want. Could we see one, or both, pass three figures?
Kansas State at West Virginia, Jan. 8: West Virginia gets a week to get right, health-wise. I want to see WVU's Esmery Martinez and K-State's Ayoka Lee square off for 40 minutes.
No. 9 Texas at No. 14 Baylor, Jan. 9: No big shock here. Expect a rock fight.
You can find Matthew Postins on Twitter @PostinsPostcard.