Big 12 News
LaDanian Tomlinson Make Pitch to Keep Zach Evans at TCU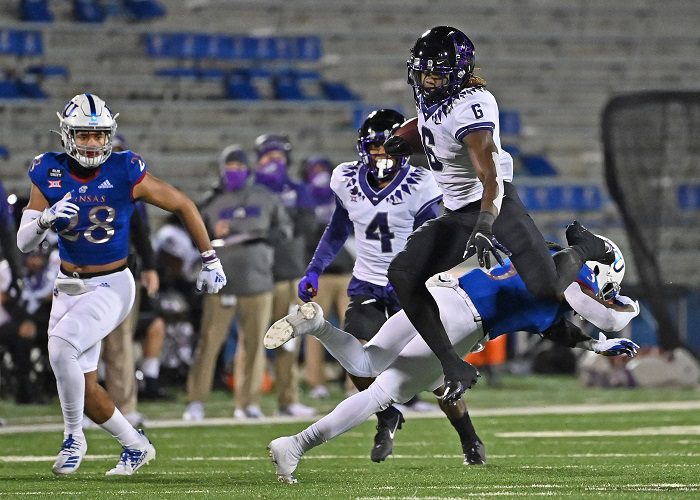 TCU's football program is preparing for life after Zach Evans but that hasn't stopped a Horned Frogs' legend from doing his part to keep the former five-star running back in Fort Worth.
LaDanian Tomlinson, a member of the Pro Football Hall of Fame and widely considered one of the best running backs to ever grace the field, is doing his part to keep Evans around.
According to Drew Davison of the Fort Worth Star-Telegram, Tomlinson and Evans had a conversation on Tuesday evening in a last-ditch effort to keep the talented ball carrier in the Purple and White.
According to Davison, Tomlison focused on the new staff at TCU and how Sonny Dykes' "Air Raid" offense is actually centered around a feature running back. Two backs at SMU had over 700 yards from scrimmage in 2021 and their lead back, Ulysses Bentley IV rushed for 913 and 10 touchdowns in the same offense in 2020.
However, it sounds like Ole Miss could have caught Evans eye, as the Rebels lost thier top running back Jerrion Ealy to the 2022 NFL Draft and will be looking for someone to rekindle a rushing attack that was 11th in the country in 2021.
Name, image, and likeness, or NIL, is said to play a big role in Evans' decision and Ole Miss, being an SEC program, can likely offer more financial compensation for someone of Evans' stature.
Evans showed flashes of brilliance in 2021, but his season was injury-ridden, forcing him to six of the Horned Frogs final seven games. Still, Evans led TCU with 648 rushing yards and added five touchdowns in six games.
Kendre Miller took over in Evans' absence, rushing for 623 yards and seven touchdowns in 2021, and will be the lead back in Fort Worth if Evans decides to leave.