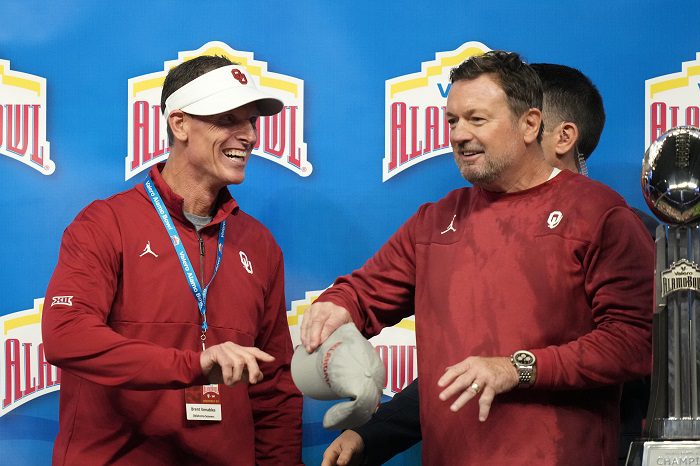 It has been one heck of a football season in the Big 12. From surprises to disappointments, we have all seen the ups and downs of a college football season. It feels like just yesterday the season was getting started and before you know it, you are left wondering where the season went. As we wrap up the bowl games, we say goodbye to the college football season but before we do, I thought I would share my five thoughts on the Big 12 bowl season.
1. It Just Means More
While Georgia and Alabama battle it out for the title, the rest of the SEC has some explaining to do. The Big 12 went a perfect 3-0 against the SEC this bowl season as the conference outscored them 97-34 in the three games. In fact, none of the games were close as Texas Tech, Baylor and Kansas State all put a beatdown on their opponents. Paul Finebaum can talk all day about the SEC dominance in the title game but keep in mind, it really is Alabama and everyone else. I am sick of the SEC bias because in reality, the SEC is Alabama and the rest of the teams in that conference are shinning Nick Saban's shoes. You want to go on and on about Alabama? Fine but let's not act like LSU, Ole Miss and Mississippi State are on that same level.  
2. Goodbye Quarterbacks
When a season ends, you don't realize that this will be the final time you see certain players suit up for their school. For Brock Purdy (Iowa State) and Skylar Thompson (Kansas State), the bowl game was the last opportunity to see them put on a college jersey. Even though Iowa State lost their bowl game, Brock Purdy is someone who Iowa State fans should genuinely appreciate. He helped build the culture in Ames and helped put Iowa State football on the map. The man owns just about every school record in the book and in my opinion is the best quarterback in Iowa State history.
The Same goes for Skylar Thompson at Kansas State. He ended his career on a high note as he torched the LSU defense in the Texas Bowl. Thompson was one hell of a football player and was a great leader during his time at Kansas State. It is going to be weird not to see him wearing purple next season.
3. I Love Retirement Bob Stoops
How about coming out of retirement for the love of Oklahoma football? That's what Bob Stoops did this winter. When the football program desperately needed some positive news after Lincoln Riley left, Bob Stoops came out of retirement and picked up the broken pieces. The man even went as far as going to the living rooms of recruits selling them on the idea of coming to Oklahoma. He is a one loyal man, and I am sure that Sooner fans are grateful of the job he did during bowl season. Bob got the team ready to play and it showed in the Alamo Bowl. Plus, how about when he passed his visor to Brent Venables after the game? It was a moment to remember.
4. Hats off to Baylor and Oklahoma State
I said it after the Big 12 title game but once again, these two programs had a hell of a year. Oklahoma State showed the country that the Big 12 can play some defense this year, although it took them until the second half of the Fiesta Bowl to make it happen in a 37-35 win over Notre Dame. Meanwhile Baylor shut down the Ole Miss offense in dominant fashion racking up ten sacks in the Sugar Bowl in a 21-7 win. Both teams came out of nowhere this season and shocked us all. Oklahoma State and Baylor walked away as champions of their bowl game and were the cream of the crop of the Big 12. I look forward to seeing how these programs build upon the great seasons they just had. Dave Aranda and Mike Gundy are two outstanding football coaches and are doing an excellent job of building their programs the right way.
5. What's Next for West Virginia?
If there was one team I came away disappointed with this bowl season (Outside of TCU and Texas for not making a bowl game), it was West Virginia. The Mountaineers didn't even bother to show up in the Guaranteed Rate Bowl and I seriously questioned what they did during their bowl practices because they looked completely unprepared to play against Minnesota. Since their game, quarterback Jarret Doege is in the transfer portal along with Winston Wright and Sean Ryan who are two of their top four receivers. There was already a lot of pressure for Neal Brown to produce better results going into year four and with the loss of some key players, he better get things figured out this offseason or else his seat will be scorching hot in 2022.