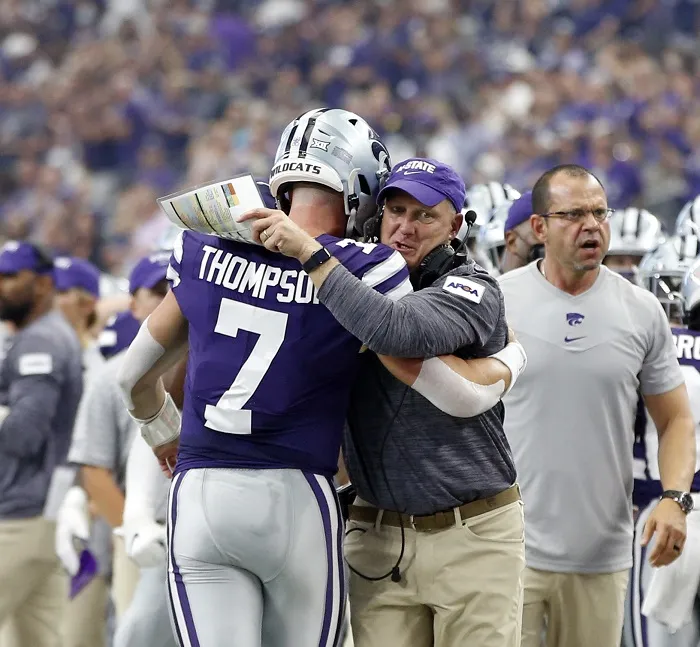 As Skylar Thompson walked off the field for the final time last night during the final moments of the Texas Bowl, I felt some nostalgia and a sense of melancholy. The feeling of nostalgia came from thinking back on all of the great games he had, starting with the comeback victory against Iowa State in 2017 when he threw the winning touchdown pass on the last play of the game as time expired. The feeling of melancholy was because I will never see him play for the Wildcats again.
Thompson has definitely made his mark in the record books at Kansas State. He has started and won more games than any Wildcat quarterback since 1990. Oddly, K-State did not keep statistics regarding quarterback starts and wins before that year. Sure, he had the extra year of eligibility due to Covid, but he only played in three games in 2020 anyway. He played in eight games as a freshman, 11 as a sophomore, 13 as a junior, three in 2020, and 10 this past season. That is a lot of games, considering he was injured quite a bit along the way. What a warrior. I will miss him. It will be a bit odd watching K-State football next fall without him since he has been such an influential piece of the football program for the last six years.
I was planning on writing a piece about Skylar Thompson's place in K-State history before his great game Tuesday night in which he passed for 259 yards and three touchdowns. Since he went out with a bang, it's good timing to talk about where he fits in K-State football history.
Fans love to argue about the top players at any position for any school or team, and a common way to do that is to list their "Mount Rushmore" of players for any given category. In this case, I would ask "who is on your Mount Rushmore of K-State quarterbacks?" Does Skylar Thompson make the list of the top four quarterbacks in program history? Even though he played five years when most players have gotten four years to play, you can still look at statistics not related to longevity or the number of games played and compare him to some of the K-State greats.
Take a look at all of the key quarterback categories in which Skylar Thompson has finished in the top five in the Kansas State record books.
Career pass attempts
Josh Freeman 1,151
Lynn Dickey 994
Skylar Thompson 885
Carl Straw 833
Chad May 687
Josh Freeman and Lynn Dickey quarterbacked a couple of pass-happy K-State offenses in Manhattan, and Thompson is right behind them in third place.
Career Completions
Josh Freeman 680
Skylar Thompson 552
Lynn Dickey 501
Carl Straw 448
Jake Waters 421
This is a strong second-place showing for Thompson.
Completion Percentage (Minimum 400 attempts)
Jake Waters 64.08%
Carson Coffman 63.38%
Skylar Thompson 62.40%
Colin Klein 61.26%
Josh Freeman 59.08%
Completion percentage is a key stat for me. Skylar Thompson has always been strong in this area. I'm a bit surprised to see Carson Coffman and Colin Klein in the top five. I would have never guessed that Jake Waters is number one. Thompson is solidly in third place.
Career Passing Yardage
Josh Freeman 8,078
Skylar Thompson 7,124
Lynn Dickey 6,208
Jake Waters 5,970
Chad May 5,253
Thompson has second place wrapped up by a little over 900 yards. I would guess he will hold that position for a long time.
Career Yards Per Attempt (minimum 500 attempts)
Jake Waters 9.09
Jonathan Beasley 8.53
Ell Roberson 8.12
Skylar Thompson 8.05
Collin Klein 7.82
There is Jake Waters at number one again. If you were to ask who is on the Mount Rushmore of K-State quarterbacks, two or three might likely come from this group of five.
Career Yards Per Completion (Minimum 300 Completions)
Ell Roberson 16.61
Jake Waters 14.18
Chad May 13.64
Paul Watson 13.17
Skylar Thompson 12.91
Both Ell Roberson and Jake Waters chucked it pretty far down the field when they quarterbacked the Wildcats. Thompson shows up here at number five.
Career Touchdown Passes
Josh Freeman 44
Skylar Thompson 42
Jake Waters 40
Ell Roberson 37
Michael Bishop 36
Thompson ended his career as number two on the all-time touchdown list, two behind Josh Freeman.
Career Passer Rating (Minimum 200 attempts)
Jake Waters 155.6
Matt Miller 152.6
Michael Bishop 147.6
Skylar Thompson 142.0
Collin Klein 138.4
Passer rating is another stat that shows efficiency regardless of the number of starts or the number of games. Thompson is solidly in fourth place. Matt Miller at number two kind of surprised me, but there is Jake Waters at number one again.
Total Career Touchdowns
Collin Klein 87
Ell Roberson 77
Skylar Thompson 68
Josh Freeman 64
(TIE) Jonathan Beasley; Michael Bishop 59
This is an elite list of quarterbacks, and Thompson sits in third place.
Career Rushing Touchdowns By A Quarterback
Collin Klein 56
Ell Roberson 40
Skylar Thompson 26
Jonathan Beasley 26
Michael Bishop 23
Thompson is tied for third on the all-time rushing touchdown list for quarterbacks.
In addition to these statistics, no quarterback in school history has started more games (40) or won more games as a starter (24) than Thompson since K-State began keeping track of those statistics in 1990. In addition, his 69.53 completion percentage this year is a new school record.
So is Skylar Thompson on the Mount Rushmore of K-State quarterbacks? You're darn right he is.