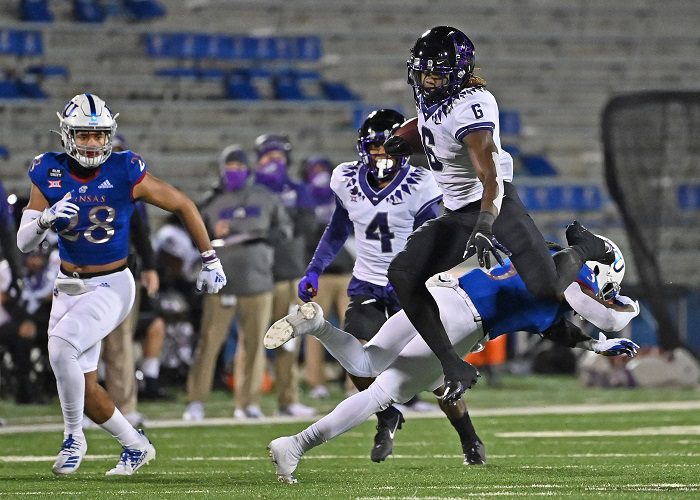 Apparently having Hall of Fame running back LaDanian Tomlinson in your corner doesn't stack up to NIL opportunities in 2022, showing just how much the game of college football has changed as of late.
The top recruit in TCU history is headed to the SEC, as Zach Evans has announced that he will transfer to Ole Miss and play for the Rebels in 2022.
Evans entered the transfer portal back in November after Gary Patterson was forced to resign after a 3-5 start to the 2021 season. The former five-star running back, the only five-star recruit ever secured by the Horned Frogs, missed six of TCU's final seven games with a toe injury.
In the six games he appeared in, Evans led TCU's rushing attack with 648 yards on the ground and five scores. Here is his announcement on Thursday via Twitter.
If healthy, Evans will be one of the top backs in the SEC in 2022. He has a rare combination of elite speed and mobility and drew comparisons to Melvin Gordon coming out of high school, according to 247Sports recruiting analyst Gabe Brooks.
"Dynamically athletic running back with prototype size and frame potential relative to the position," Brooks writes. "Owns college-ready build with frame space to add more bulk. Flashes elite athleticism verified in combine testing environment. Makes it look easy, sometimes to the point that it's deceptive. Shows great top-end speed and outstanding close-quarters lateral mobility confirmed by a 3.91 shuttle. Flashes devastating start-stop-start ability in close quarters, coupled with impressive hesitation stutter. Effortlessly strings moves together in the open field to elude multiple defenders. Chameleon in ability to alter running styles, going from elusive darter to hole-punching, straight-line galloper. Home run hitter with high-volume capability. Patient and presses the line of scrimmage to set up blocks. Size and strength potential could provide high ceiling in blitz pickup. At times dances in the backfield rather than accelerating through the hole. Sometimes an upright runner who presents a bigger target. Does not always finish runs with expected strength. Will try to bounce runs too often. Could get on the field immediately at high-major level and become a Power 5 star, in addition to first-round NFL Draft ceiling."
In two seasons with the Horned Frogs, Evans attempted 146 rushes for 1,063 yards and nine touchdowns, adding 18 receptions for 206 yards and one score.
Kendre Miller will now be the lead back for TCU barring a new arrival to supplant him. Miller rushed for 623 yards and seven touchdowns, adding 12 receptions for 117 yards and one touchdown in 2021.