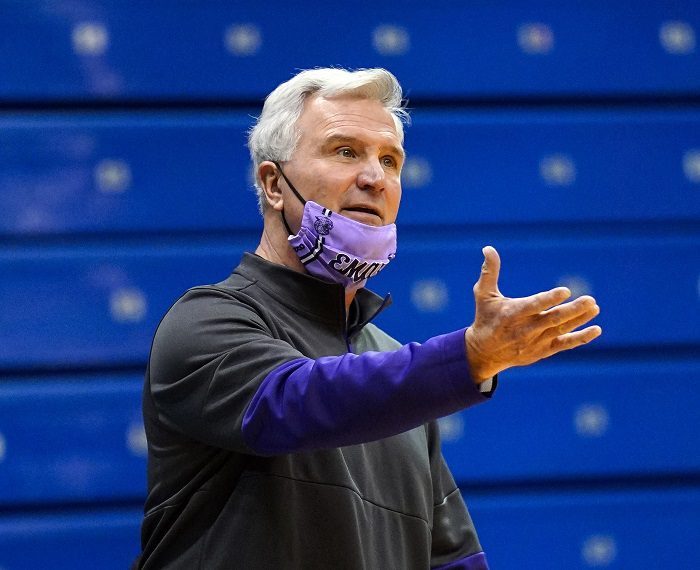 Welcome to the HCS Big 12 basketball mailbag, our first of the 2021-22 Big 12 men's and women's basketball season.
This mailbag is for all you basketball junkies out there who root for a Big 12 school that not only have questions about your team, but other teams in the conference. So, join me, grab your favorite drink (I'm sipping a little Tito's and soda tonight), and relax as I answer all your Big 12 questions.
For those interested, I will send out a tweet (@PostinsPostcard) every Thursday until 5 PM CT for you to send in your questions to be answered every Friday right here at Heartland College Sports. And our site owner, Pete Mundo, will solicit questions on our Facebook page.
I want to thank each one of you who submitted a question this week and for those reading. For future reference, feel free to answer questions about men's and women's basketball, as we've added women's Big 12 coverage to our HCS content this season.
Note: We had so many GOOD questions that we'll have an 'overflow' mailbag on Monday. So watch for that.
AP_Dubya on Twitter asks: What depths of mediocrity must be achieved for K-State to part ways with Bruce Weber?
I see you're not a Bruce Weber fan? And I can see why. Since that run of three straight NCAA Tournament appearances with Barry Brown Jr., Kamau Stokes and Dean Wade, the Wildcats are 28-46. Right now, the Wildcats are the only two-loss team in the Big 12.
The complexion of college basketball has changed in the past year with the transfer portal and Name, Image and Likeness. Kansas State has been best under Weber when he's had time to develop talent. But, after Brown, Stokes and Wade left, I believe he and his staff didn't do a good enough job of developing the talent behind those three. That's a big part of the reason K-State is in the predicament they're in.
I like some of the young pieces the Wildcats have, most notably Nijel Pack. I love the way they played against Texas on Tuesday. But, they still lost. Weber, to me, has the hottest seat in the conference and it's really not close. A third losing season, combined with the shifting landscape of the college game, may force athletic director Gene Taylor's hand in looking for a new head coach. If you recall, he 'evaluated' Weber last year, whatever that means. I see this as Weber's last chance. If the Wildcats have another season like the last two, I think Weber may be looking for work.
And I'll tell you something else — how quickly Iowa State head coach T.J. Otzelberber has turned around the Cyclones isn't going to help matters. Seeing what Kansas State's 'Farmageddon' rival is doing now has to sting just a little bit in Manhattan.
DavidHornbeak on Twitter asks: How many Big 12 losses does the conference champ have at the end of the year?
Note that David isn't asking 'who' will win, just how many losses the Big 12 champ will have. It's an interesting question. I have my thoughts on who will win the men's and women's regular-season crowns. But, let's stick to the question, shall we?
Men: Two losses.
Women: Four losses.
It's like the 'Ozark' Season 4 preview I just saw today — 'No One Gets Out Clean.'
AsherWright3 on Twitter asks: How does the future look at OU with Porter Moser?
I like what Moser has done there so far. He inherited a similar situation to T.J. Otzelberger at Iowa State — a lot of players transferred away. OU lost a little less in keeping Elijah Harkless and Umoja Gibson. But they had to replace Austin Reaves, De'Vion Harmon and Brady Manek. Plus, the pipeline of young talent that Lon Kruger left basically disappeared.
Moser turned it around mostly with the transfer portal, snagging Kansas' NCAA Tournament nightmare from a season ago in forward Tanner Groves (along with his brother, Jacob), Duke guard Jordan Goldwire and accelerating the development of holdovers like Jalen Hill. It's come together faster than I thought it would. The Sooners look like an NCAA Tournament team this year.
The future? Well that all depends on how Moser wants to build the program. At Loyola-Chicago, he was used to recruiting and developing talent. At Oklahoma, he has far more resources, and I'm interested to see if he will lean more toward transfers or recruiting. Right now, he has a two-player 2022 recruiting class, both of which are four-star players and Top 125 recruits, per 247Sports.com. But, neither are in-state guys. He's going to have a fight on his hands with Oklahoma State's Mike Boynton Jr. for the kids in Norman, Oklahoma City and Tulsa. Boynton has in-state credentials built up that Moser can only acquire with time. And the fight won't end when OU migrates to the SEC.
The jury is out on what his philosophy will be at OU, in terms of procuring players. But Moser has a track record for developing talent, fielding competitive teams and getting them to buy into his system, particularly on defense. To me, the future baseline is 20-win seasons under Moser, with the ceiling determined by how he goes about gathering talent.
Carlos Contreras on Facebook asks: This question is for Pete … So we know you hate Baylor football but is it just Baylor football or the whole athletics department?
Carlos, c'mon. Pete doesn't hate Baylor. He's tailgated there. He's partied with the Waco folks. Pretty sure his wife made him go to the Magnolia once. They're good people down there. We're good friends with the folks at SicEm365.com. Nothing but love, man.
And massive respect to that athletic department and what it's done in the last 12 months. A national championship in men's basketball, an Elite Eight appearance in women's basketball and a Big 12 championship in football. And let's toss in that Elite Eight appearance for women's volleyball. Combine ALL that with traditional quality of the baseball and track and field programs, and it's the golden age of Baylor sports. Plus, that new basketball arena is coming soon. I can't wait to cover a game there.
You can find Matthew Postins on Twitter @PostinsPostcard.