Kansas Jayhawks
KU Chancellor Threatens Reducing KU Basketball Capacity Over Mask Mandate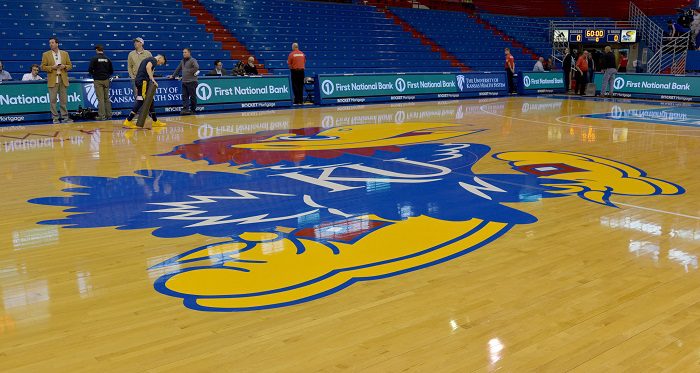 No matter how badly we want to put this behind us, COVID-19 is going to continue to have an impact on collegiate athletics for the foreseeable future. It's just the world we live in now, and if we want to continue enjoying the sports we love, fans will have to continue making sacrifices or changes to their routines.
University of Kansas Chancellor Douglas Girod released a statement to the community surrounding KU's campus in Lawrence, Kansas, that the new mask mandate in Douglas County does include Allen Fieldhouse.
There have been several instances since COVID started where every single fan in a television camera angle is maskless. Girod wants to be extremely clear about the new rules and stressed that they must be followed, or else.
"I want to be very clear how important it is that fans adhere to the mask policy within Allen Fieldhouse beginning with our next women's home game on Saturday, Jan. 8, versus Oklahoma and our men's game Tuesday, Jan. 11, versus Iowa State," Girod writes. "The reality is, if the situation in our county continues to deteriorate, and if mask-wearing continues to be a challenge inside the Fieldhouse, likely next steps include closing concessions and reducing fan attendance for men's basketball games."
The policy within the fieldhouse currently allows fans to have their masks off while eating or drinking, but closing the concession stands would hypothetically mean masks would need to be worn at all times. This would make it much easier for KU officials to spot those who fail to adhere to the rules and address the issue accordingly.
Girod, like the rest of us, understands the toll that this pandemic has taken on people, and sympathized with those who have grown tired of the requirements that it places on society.
"We recognize the pandemic has taken a toll on each of us, and we are all weary," Girod said. "But the virus continues to impact our community. Now is the time to renew our efforts – both on campus and throughout the county – to protect our community. I know I can count on you to do this, beginning with mask-wearing in Allen Fieldhouse."
One day we will have sporting events free of mask mandates, testing, thermometer readings, and virus-driven hysteria. Unfortunately, that seems like a distant future and it's quite hard to remember what things were like before we all had to wear masks.