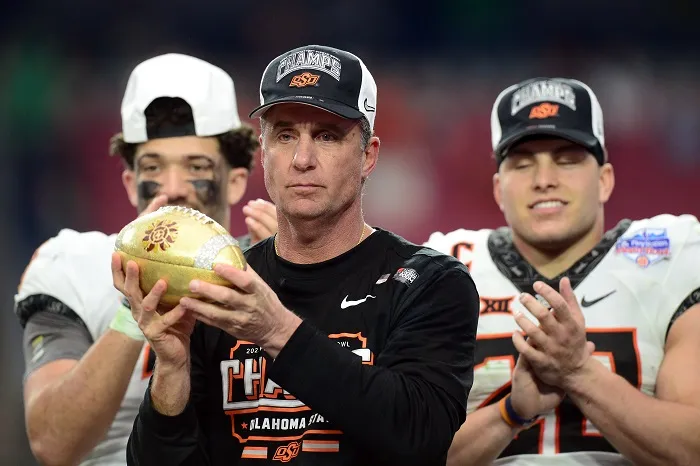 After Oklahoma State capped off a superb 11-2 season by defeating No. 5 Notre Dame, 37-35, in the Fiesta Bowl, Mike Gundy declared the victory, "the biggest win in the history of the school." While many agreed, citing the stature of Notre Dame historically, others refuted Gundy's claim.
Without a doubt, the come-from-behind victory that saw OSU score 30 unanswered points after trailing Notre Dame 28-7 is one of the biggest and most important wins in program history. Yes, I do mean "one of."
For me, it's difficult to put this year's Fiesta Bowl above the 2012 Fiesta Bowl win over Stanford or the 2011 Bedlam win. Though OSU's rise to national prominence began way before these two games, I think they displayed to the entire college football world that the Cowboys were now a force to be reckoned with. By dismantling your bitter rival and No. 10 team in the country in Oklahoma by 34 points, then beating Andrew Luck and a fourth-ranked Stanford squad in back-to-back games, Oklahoma State put itself on the map among college football's best.
Those two wins jump-started a stretch of, undeniably, the best decade in the history of OSU football. After the win over Notre Dame, Oklahoma State now has 113 wins since 2010, which is good for eleventh in the country and second in the Big 12. The Cowboys have also never missed a bowl appearance and haven't had a losing season in that time. In the span of a decade, Oklahoma State established itself as a top 15 program in the country and the second-best team in the Big 12.
As much as the rest of the country discounts OSU and as much as ESPN mistakes them for Oklahoma on nationally televised graphics, Mike Gundy and the Cowboys are in the upper echelons of college football, and it is because of those two wins in 2011-2012. THAT is why they are the biggest wins in the history of the school, right now. 
We'll need to wait a few seasons to truly see what impact the 2022 Fiesta Bowl has on the program in regards to national recognition, recruiting, and other variables. Who knows, in five to ten years' time, we could be talking about how this game skyrocketed the Oklahoma State football program to incredible heights. To a level where the Pokes become the dominant force of the new Big 12 and consistently compete with the top dawgs of college football.
Until then, I'll be waiting patiently to see Mike Gundy's statement come to fruition and to see if Oklahoma State can build on a historic season going forward.