Big 12 News
Texas QB Casey Thompson Transfers to Nebraska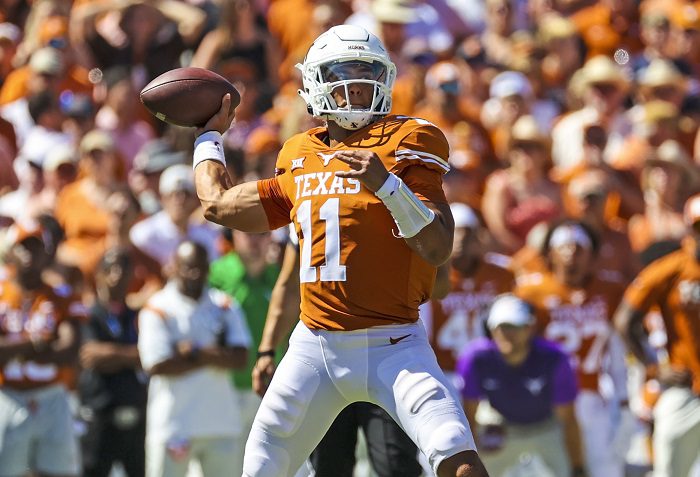 The moment that Quinn Ewers committed to Texas, everyone in Austin forgot who Casey Thompson was. Yes, Ewers might just be a generational talent at quarterback, but Thompson just led the Big 12 in passing touchdowns in 2021 and was great for the Longhorns in spurts this season, particularly before injuring his hand against Oklahoma.
There should've been someone in his corner going into next season, but according to his father Charles, it sure didn't feel that way.
"To say the job was 'open' after a guy starts 10 games and leads the Big 12 in passing touchdowns and breaks some school records while playing hurt in his first year as a starter, it just felt like there was no one in Casey's corner," Charles said to 247Sports' Chip Brown.
Ultimately, that feeling led Casey Thompson to do what so many quarterbacks have done this season: enter the NCAA Transfer Portal. *ominous music*
On Friday afternoon, Thompson announced that he would leave Austin and head to Lincoln, Nebraska, to play for Scott Frost and the Cornhuskers.
In 10 starts for Texas, Thompson was responsible for 2,270 total yards and 28 touchdowns. The four-star quarterback from Oklahoma City could be just what Nebraska needs to get over the hump, but one has to wonder how his father feels about all this.
Charles Thompson, a well-known Oklahoma quarterback in the 80's when the Sooners were in the "Big 8." Who were the Sooners' biggest rivals back then? Texas and Nebraska. Where will his son play quarterback for in back-to-back years? Texas and Nebraska. The only thing that could make it worse was if he played for the Cornhuskers and then transferred to Oklahoma State next year. Let's just hope, for Casey and for Charles's sake, that Nebraska is the place to be.