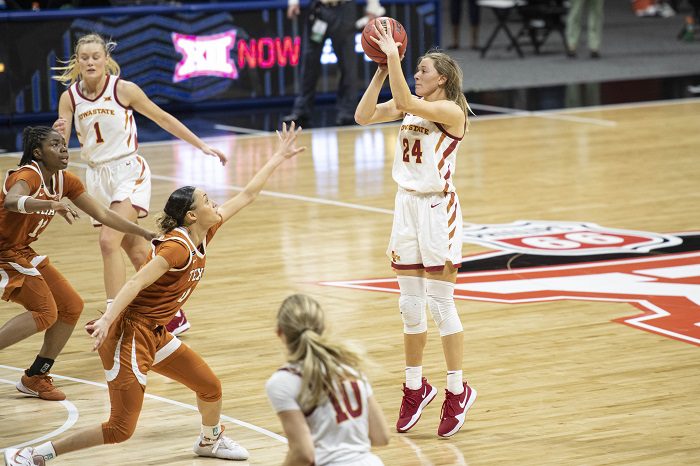 The Iowa State Cyclones, fresh off a victory over TCU, is the top Big 12 women's team in the most recent NCAA Women's Tournament Bracketology released by ESPN.
ESPN's Charlie Crème had the Cyclones as a No. 2 seed in the Greensboro Region, where they would face Northern Arizona.
The Cyclones (14-1, 3-0 in Big 12) took care of TCU on Saturday, 78-47, behind a 21-point, 11-rebound performance by Ashley Joens. She was one of four ISU players in double figures in the game.
Iowa State's next matchup is against Kansas State on Tuesday. The Wildcats (13-2, 3-0), which beat West Virginia, 71-61, saw its Bracketology stock rise after last Saturday's win over then-No. 10 Baylor. The Wildcats moved up to a No. 6 seed. Ayoka Lee led the Wildcats with 14 points, 12 rebounds and three steals.
West Virginia (7-5, 0-2), which made the NCAA Tournament last year, fell out of the Bracketology field and is considered by Crème to be one of the 'First Four Out' of the tournament. KK Deans led the Mountaineers with 16 points, seven rebounds and five assists against K-State.
Baylor (10-3, 0-1) and Texas (10-2, 1-1), which had to postpone its highly-anticipated matchup on Sunday due to COVID issues at Baylor, both remained Top 4 seeds. Texas is set to host UT-Rio Grande Valley on Sunday.
Kansas (9-2, 0-1) and Oklahoma (13-2, 2-1) rounded out the six Big 12 teams in the field. The two teams faced each other on Saturday, with Oklahoma defeating Kansas, 82-68. Taylor Robertson led the Sooners with 24 points, while Taiyanna Jackson had a double-double for Kansas, scoring 12 points and grabbing 12 rebounds.
Saturday's other Big 12 game pitted two teams trying to play their way into the NCAA Tournament, as Oklahoma State (6-6, 1-2) beat Texas Tech (8-6, 1-2), 57-55. Lauren Fields led Oklahoma State with 19 points, while Lexy Hightower had 16 points for Texas Tech.
How the bracket looks for the Big 12 as of now:
Bridgeport Region
No. 4 Baylor vs. No. 13 Youngstown State
No. 10 Kansas vs. No. 7 Colorado
Greensboro Region
No. 2 Iowa State vs. No. 15 Northern Arizona
Wichita Region
No. 6 Kansas State vs. No. 11 South Dakota
No. 8 Oklahoma vs. No. 9 Northwestern
Spokane Region
No. 3 Texas vs. No. 14 Troy
Future Big 12 members
Bridgeport Region
No. 5 BYU vs. No. 12 Long Beach State
Spokane Region
No. 10 UCF vs. No. 7 Missouri.
You can find Matthew Postins on Twitter @PostinsPostcard.
**Want to win a $20 gift card? Go sign up here and join our conversation! The best poster each week wins a gift card to your favorite establishment!**