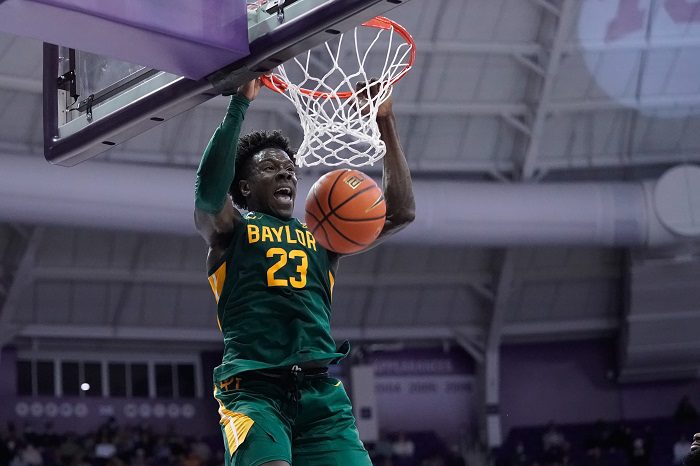 The Baylor Bears remained No. 1 in the Heartland College Sports Big 12 men's basketball power rankings after Week 9 of the 2021-22 season. Most Big 12 teams played two games last week, and now that the league's teams are facing each other, we're bound to see more volatility in these rankings from week to week. Our Power Rankings will appear every Monday.
1. BAYLOR (15-0, 3-0 in Big 12) (Last Week: 1)
At least this remained the same. The Bears won both of their games last week, thought TCU gave the Bears some issues on Saturday. I made it clear in my mailbag on Friday that I believe the Big 12's regular-season title winner will have two losses. So I don't see the Bears running the table. But the ever-so-slight step back I thought they would take after last year's title is not happening.
After the Bears? This is where things start to get REALLY difficult.
2. OKLAHOMA (12-3, 2-1) (Last Week: 4)
Oklahoma at No. 2? Well, it will probably be short-lived. But let's give the Sooners some credit for that win over Iowa State, their third over an AP Top 15 team this season. Plus, I felt they were solid against Baylor early last week, but they're just not Baylor's talent equal. The Sooners, in my opinion, should have already been ranked nationally by now. The future looks bright for the Sooners under Porter Moser, and I don't just mean this season.
3. KANSAS (12-2, 1-1) (Last Week: 2)
I drop Kansas a spot after the loss to Texas Tech on Saturday. The Jayhawks have an 'away-from-home' problem against ranked teams (their last five road games against AP Top 25 teams have resulted in losses). It was encouraging to see both David McCormack and Jalen Wilson finally have big games. Of course, they happened in separate games. This team still isn't quite there yet.
4. IOWA STATE (13-2, 1-2) (Last Week: 3)
The Cyclones had to fend off a relentless, but short-handed, Texas Tech team before falling to Oklahoma. It's weird to have a team with a under-.500 Big 12 record this high, honestly. But this is turning into a weird season. We are starting to see Iowa State's offensive limitations, though. But that defense? That side of the ball will single-handedly win the Cyclones a couple of games they shouldn't win.
5. TEXAS TECH (11-3, 1-1) (Last Week: 7)
The Red Raiders are the team I struggled with the most this week. They were without Terrence Shannon Jr. and Kevin McCullar, along with other players, all week and pushed Iowa State within an inch of its life on the road and then beat Kansas at home. I didn't feel comfortable leap-frogging Tech over Iowa State (which beat Tech), especially since I had Iowa State behind Kansas (which lost to Tech). You see how hard this is?
6. TEXAS (11-3, 2-1) (Last Week: 5)
Texas had two road games this week and struggled in both. After the loss to Oklahoma State, I wondered to myself what might have happened if Kansas State had been full strength against Texas earlier that week (a game Texas won by 13 but struggled to control for about 30 minutes). Guard Marcus Carr has finally figured out his role. So has forward Dylan Disu. But something still isn't quite right.
7. WEST VIRGINIA (12-2, 1-1) (Last Week: 6)
The Mountaineers, in dropping a spot, are victims of the reshuffling above them this week. The Mountaineers played one game and won, beating Kansas State. But they had to rally like crazy to pull off the win. WVU should start to look better this week, but they clearly need a boost when it comes to their interior offense.
8. OKLAHOMA STATE (8-5, 1-1) (Last Week: 10)
I wouldn't go so far as to say the Cowboys have figured things out, but their win over Texas shows they're getting there. COVID hit this program as hard as it hit TCU. Their loss to Kansas was off-kilter as the Cowboys had a chance, thanks to one of the most pronounced scoring droughts I've seen from Kansas.
9. TCU (10-2, 0-1) (Last Week: 8)
TCU finally got its first Big 12 game in, which turned into a loss to Baylor. But the Horned Frogs had a lead well into the second half of that game. Mike Miles isn't expected to miss any time after a right wrist injury, per the Fort Worth Star-Telegram. He's the one player the Horned Frogs can't afford to lose if they hope to make noise in the Big 12.
10. KANSAS STATE (8-6, 0-3) (Last Week: 9)
Bruce Weber is frustrated and I don't blame him. He missed both games due to COVID-19, his team was short-handed all week and the Wildcats weren't too far away from making this a 2-0 week. Weber's seat may be hot, but his team is playing out of its minds trying to win games. If they keep that attitude up, maybe they can squeeze out enough wins to stay at .500 or better and get into the NIT.