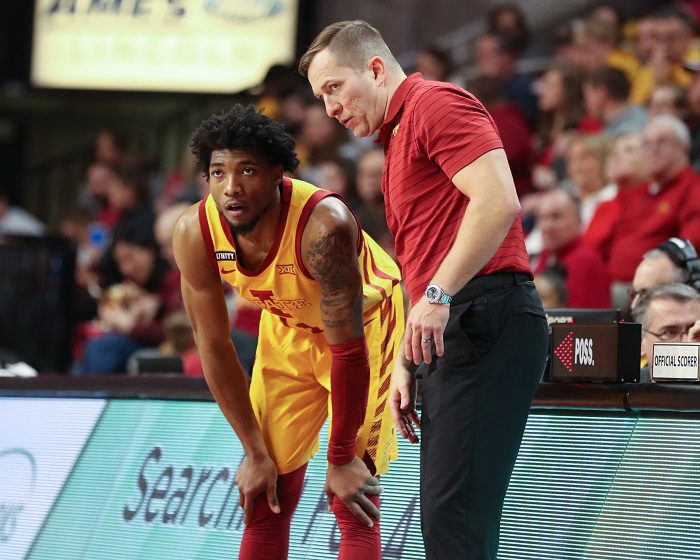 Iowa State is not the same basketball team that we saw last season, that much is certain. The Cyclones are 13-2, a far cry from the 2-22 team we saw last winter. Through three Big 12 games, we have seen some promising moments, most notably the way they played against Baylor. Then some moments that have surprised us, most notably the poor defense against Oklahoma. So what exactly can we expect from T.J. Otzelberger's group?
Here are a couple of thoughts with where Iowa State stands three games into conference play.
The Defense is Legit
Throughout the non-conference slate, we saw that Iowa State had an elite defense that turned you over and got in your face for 40 minutes. Saturday afternoon Iowa State battled in a hard-fought contest but ultimately came up short down in Norman. Iowa State took it on the chin, losing 79-66. The Sooners went on a 17-2 run over the final few minutes to put Iowa State to bed. After Saturday's loss to Oklahoma, Iowa State is now 13-2 and 1-2 in the Big 12. With that in mind, what can we make of this team defensively now that it has played stiffer competition?
The Cyclones make it very difficult for you to shoot at a high percentage, inside or out. The Cyclones did give up 77 points to Baylor and allowed 79 to Oklahoma on Saturday night. However, I don't hold anything against the Cyclones for the game against Baylor. If you watched the game, you saw Iowa State pressuring the ball at a very high rate and you saw them turn over the No. 1 team in America 19 times. Baylor just did an incredible job shooting the ball, knocking down 50% of their shots and 41% of their 3's. The Bears did a great job of knocking down shots with hands in their faces. What really disappointed me was, from the start, it seemed Oklahoma scored at will against Iowa State. Outside of one 10-minute stretch from the start of the second half, the Sooners did whatever they wanted offensively. It just seemed Iowa State was late in their rotations on defense and failed to pressure the ball in the same elite way we've grown accustomed to seeing them do. The good news is I do think that's a fluke. We saw them turn over Texas Tech 15 times and forced them to 38% shooting and 17% from deep. It's worth noting that Tech was missing their top scorer but, as we saw Saturday afternoon against Kansas, that hasn't slowed them down a ton. I trust T.J. will get this figured out. 
The Offense Isn't Terrible
The biggest concern all year for this squad has been their ability to put points on the board and at how high of a rate they would be able to do that. For the most part, we've seen that from Izaiah Brockington, the guy has been playing like a 1st Team All-American to this point in the year. However, a lot of the concern has been about who else is going to step up. We haven't seen one guy in particular step up, but rather it's been a group effort from all of the guys around him. Iowa State's offense has looked good in 2 out of the 3 conference games, however, we did see what every Iowa State fan has been worried about throughout the 2nd half of the Texas Tech game and over the last 10 minutes of the Oklahoma game. As we've seen this team is capable of putting up a lot of points but unfortunately, they are also very capable of going ice cold for long stretches of time. We saw it Saturday night when over the last 10 minutes Iowa State essentially stopped running their offense and just started settling for jumpers. This group of Cyclones cannot win that way. 
What is this team moving foward?
It's hard to say at this point, but one thing has rung true: the competition in the Big 12 is as advertised. Coming into conference play, the Big 12 had a cumulative record of 101-16, or 86%. That is, by far, the best in the country and goes to show that there will not be a true off-night. There are massive tests ahead of the 'Clones, including a three-game stretch that sees ISU host No. 9 Kansas, a road trip to No. 21 Texas, and a rematch with 19th-ranked Texas Tech. We will certainly know more about this team next week, and it will be fun to watch Iowa State continue to grow as the season continues.