Big 12 News
Texas Tech Spikes in AP Men's Top 25 After Kansas Win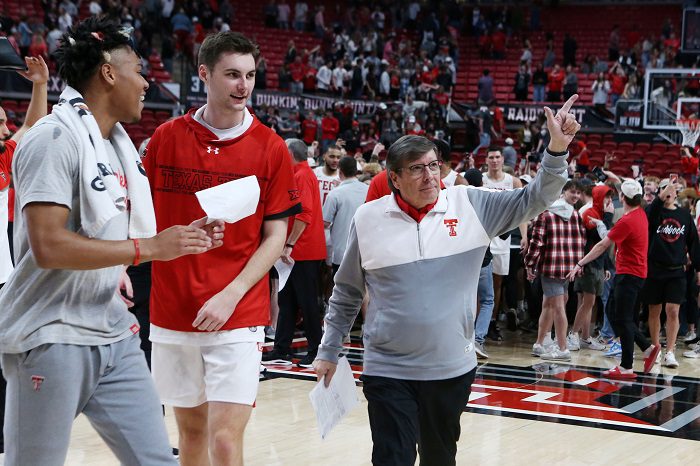 The Texas Tech Red Raiders were the biggest mover among the five Big 12 teams in the latest Associated Press Men's Basketball Top 25, released on Monday.
Along with those five Big 12 teams, two additional Big 12 teams received votes.
The AP Top 25 included the following Big 12 teams:
No. 1 Baylor (the Bears remained No. 1);
No. 9 Kansas (The Jayhawks were No. 6 last week);
No. 15 Iowa State (The Cyclones were No. 11 last week);
No. 19 Texas Tech (The Red Raiders were No. 25 last week).
No. 21 Texas (The Longhorns were No. 14 last week);
Oklahoma received 122 votes, leaving the Sooners just outside the Top 25 once again. West Virginia received 20 votes.
Texas Tech (11-3, 1-1) didn't open Big 12 play on New Year's Day like everyone else because its opener with Oklahoma State was postponed to Jan. 13. The Red Raiders were short-handed all week but played Iowa State to the wire in a 51-47 loss, and then handed Kansas a 75-67 loss in Lubbock. The Red Raiders are at Baylor on Tuesday and at Kansas State on Saturday.
Voters must have taken those factors into account as the Red Raiders jumped six spots in the poll.
Baylor (15-0, 3-0 in Big 12) is now one of two teams in Division I basketball that remains undefeated (the other is USC). The Bears defeated Oklahoma, 84-74, and TCU, 76-64, last week. The Bears are now the only undefeated team in league play. The Bears host Texas Tech on Tuesday and Oklahoma State on Saturday.
Kansas (12-2, 1-1) started Big 12 play last week, after having its scheduled opener with TCU on New Year's Day postponed. The Jayhawks defeated Oklahoma State, 74-63, and then lost to Texas Tech, 75-67. The road loss was the Jayhawks' fifth straight road loss to an AP Top 25 team. Kansas hosts Iowa State on Tuesday and West Virginia on Saturday.
Iowa State (13-2, 1-2) may have a losing record in Big 12 play, but the Cyclones have faced stiff competition. The Cyclones defeated Texas Tech, 51-47, and lost to Oklahoma, 79-66. That was after the Cyclones opened Big 12 play with a loss to No. 1 Baylor. The Cyclones travel to Kansas on Tuesday and then host Texas on Saturday.
Texas (12-3, 2-1) split last week, as the Longhorns beat a short-handed Kansas State squad, 70-57, and then fell to Oklahoma State, 64-51. Both were road games. Texas will be back at home to host Oklahoma on Tuesday and then travels to Iowa State on Saturday.
Oklahoma (12-3, 2-1) started last week with an 84-74 road loss to Baylor, followed by its 79-66 home win over Iowa State. The win over Iowa State was the Sooners' third win over an AP Top 15 team this season. The Sooners are at Texas on Tuesday and at TCU on Saturday.
West Virginia (12-2, 1-1) played just one game last week, defeating Kansas State, 71-68. The Mountaineers are scheduled to host Oklahoma State on Tuesday and then travel to Kansas on Saturday.
The entire poll featured No. 1 Baylor, No. 2. Gonzaga, No. 3 UCLA, No. 4 Auburn, No. 5 USC, No. 6 Arizona, No. 7 Purdue, No. 8 Duke, No. 9 Kansas, No. 10 Michigan State, No. 11 Houston, No. 12 LSU, No. 13 Wisconsin, No. 14 Villanova, No. 15 Iowa State, No. 16 Ohio State, No. 17 Xavier, No. 18 Kentucky, No. 19 Texas Tech, No. 20 Seton Hall, No. 21 Texas, No. 22 Tennessee, No. 23 Providence, No. 24 Alabama and No. 25 Illinois.
You can find Matthew Postins on Twitter @PostinsPostcard.