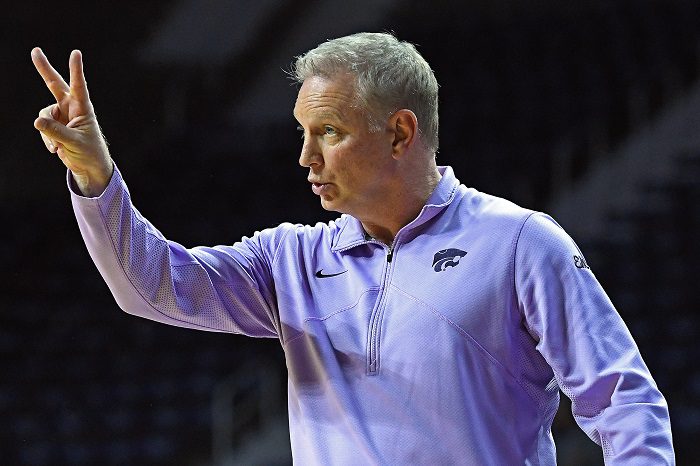 The Big 12 Conference is done with Week 9 of the 2021-22 women's basketball season. So let's dive in and check out our five takeaways for the week.
The Pollsters Finally Get Kansas State Right
It took AP voters about two weeks too long to figure out Kansas State is a Top 25 team, but finally, on Monday, they got the memo. The Wildcats were ranked No. 25 in the country.
Now, the question — can they stay there?
I've written before that the Wildcats are more than just the incredible Ayoka Lee, who was named to NCAA.com's Midseason Starting 5 last week, along with Oklahoma's terrific guard, Taylor Robertson. One of Lee's teammates, Serena Sundell, was named the Big 12's Freshman of the Week for the THIRD time this season.
But, on Tuesday night, the Wildcats get the best possible chance to prove it against No. 9 Iowa State. It's one thing for K-State to beat a short-handed Baylor team at home. The Bears had barely enough players to play, though their stars were on hand. It's another for Kansas State to go to Ames and beat a full-strength Iowa State squad, one that I believe is playing the best basketball of any team in the Big 12. Plus, the Cyclones are more than just their star forward Ashley Joens.
When I looked at the Big 12 schedule in October, this was not the game I thought would be the league's first true 'marquee' game. But, here we are. Two Top 25 teams, both undefeated in league play, and both — at least as of now — at full strength.
Kansas State will need every bit of that balance on offense that they've preached this season. Iowa State will need every bit of defense it has to limit Lee's effectiveness.
And I'll need another TV set, because with the men it will give the league three games featuring two Top 25 teams that night.
Mailbag Extra
We had plenty of good questions for last week's mailbag, our first of the season. So keep them coming. But we did have a set of questions that came in after I was done that I thought I would address here. So, from Stan Hollibaugh on Facebook:
What is your prediction for: Top teams, regular season and tournament; coach of the year; and player awards.
Well, we're a few games in, but I'll take a shot. I'm not providing context here, just how I see it in early January:
Top Teams: Regular season: Texas; Big 12 Tournament: Iowa State
Coach of the Year: Jeff Mittie, Kansas State
Player Awards: Player of the Year: Ashley Joens, Iowa State; Freshman of the Year: Serena Sundell, Kansas State (and it's an EXTREMELY crowded field); Newcomer of the Year: Aliyah Matharu, Texas.
Naturally, it's all subject to change.
Stan had a couple of other questions that we'll address on Friday. Plus, I addressed these same questions for the Big 12 Men in my Monday Takes piece.
So, About that Texas-Texas Tech Game …
I was stunned to see Texas Tech beat Texas. After all, it had been nearly a decade since the Lady Raiders beat Texas in Austin. But it's what happened after the game that caught my attention, because during the game I didn't catch wind of any issues between Texas head coach Vic Schaefer and Texas Tech coach Krista Gerlich.
The Austin American-Statesman's Danny Davis, who covers the Longhorns, had the blow-by-blow.
Apparently, it started after halftime of their game on Tuesday, with what Davis called a 'confrontation' between the two coaches at the scorer's table.
Based on that, and the photo, the pair definitely exchanged words, and Schaefer didn't sound like he cared for how Gerlich treated the personnel at the Erwin Center scoring table. As someone who has sat at those tables for years, I can tell you that voices get raised from time to time and misunderstandings can happen. That's basically how Gerlich characterized it after the game, per Davis.
Schaefer's comments to Davis and the Austin media crew came after the game, and it sounds like Gerlich wasn't privy to those particular comments. When she talked to the Tech media in Lubbock the next day, she was a little less complimentary.
Credit to Stephen Garcia at the Lubbock Avalanche-Journal for the video.
This looks like one of those 'when a pebble hits the water it makes a bunch of ripples' kind of situations. It certainly isn't Jon Chaney and John Calipari. But, Texas and Texas Tech are rivals, and a little heat between the two schools — especially when one is set to leave the league in a few years — isn't a bad thing.
Just an FYI, the Longhorns and Lady Raiders play again on Feb. 9 in Lubbock.
More Men's and Women's Doubleheaders, Please
Saturday was a bit unique for a high-major conference like the Big 12. There were two men's-women's doubleheaders. In Lubbock, Texas, the Texas Tech men hosted Kansas, and then the Texas Tech women hosted Oklahoma State. Meanwhile, in Morgantown, West Virginia, the men hosted Kansas State, followed by the women hosting Kansas State.
If I'm a fan, I totally dig that. Who wouldn't want to be able to see both of their teams on the same day in a doubleheader?
The economics of college sports is changing, and we all know it. I went to a smaller Division I school, Stephen F. Austin. For years the Lumberjacks and Ladyjacks were in the Southland Conference and we played doubleheaders — women followed by men. Now that SFA is in the WAC, on game nights one team is at home and the other is on the road. One of the things our fan base is lamenting is the demise of those doubleheaders. Many of us are fans of both teams and want to see both teams live.
The Big 12 is normally split — one team is at home, one team is on the road. It's especially hard to coordinate on weekdays, where the men are a huge part of ESPN's 'Big Monday' and 'Super Tuesday' schedules. You'd be asking one team to either play way too early or way too late.
But on weekends? There is a real opportunity to help fans out from a budget and time standpoint. Perhaps not every Saturday. But select Saturdays, maybe two or three during conference play, would be an awesome opportunity to pair the men's and women's games that day and give fans more bang for their buck, and by extension both teams more exposure.
It would ALSO make it a bit easier for me to cover two games in person. Just FYI.
Three Games I'm Intrigued by This Week
Kansas State at Iowa State, Jan. 11: Farmageddon, women's basketball style. This should be a great game.
Baylor at Oklahoma, Jan. 12: Oklahoma is a scoring machine, and the Sooners are catching Baylor after a COVID pause.
Kansas State at Texas Tech, Jan. 15: The Lady Raiders know how to score, but does their defense have an answer for Kansas State's Ayoka Lee?
You can find Matthew Postins on Twitter @PostinsPostcard.
**Want to win a $20 gift card? Go sign up here and join our conversation! The best poster each week wins a gift card to your favorite establishment!**