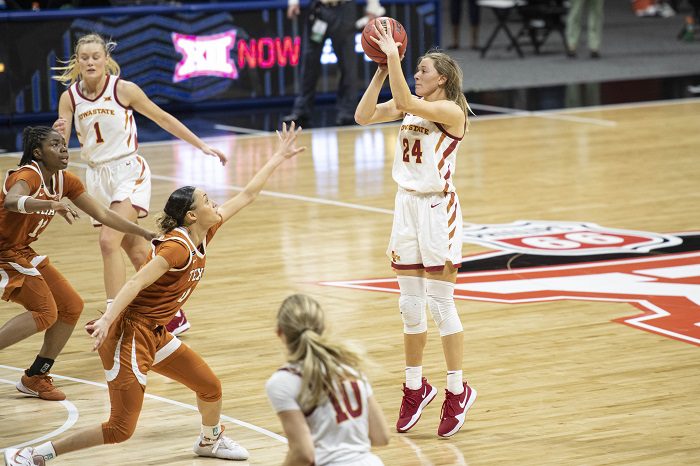 The Iowa State Cyclones are No. 1 in the Heartland College Sports Big 12 women's basketball power rankings for Jan. 11. Our Power Rankings will appear every Tuesday.
1. IOWA STATE (14-1, 3-0; Last Week: 2)
Iowa State won both of its games last week. Texas dropped its one Big 12 game last week. The Cyclones, naturally, move up. In fact, ISU is now a Top 10 team nationally and guard Emily Ryan was the Big 12's Player of the Week. But this is a team playing the best basketball in the conference right now, whether you're looking at the numbers or applying an eye test. Texas and Baylor are coming. In fact, they're coming back-to-back. But not for another week. The Cyclones might just get to settle in for a bit.
2. KANSAS STATE (14-2, 3-0; Last Week: 3)
The last thing you want after beating a Top 10 team is to follow that up with a loss. Well, the Wildcats won both games last week. In beating both Oklahoma State and West Virginia the Wildcats have now beaten three straight teams that were in the NCAA Tournament last year (along with Baylor). Now, K-State is a Top 25 team. I think the Wildcats are built to last. We get a BIG clue as to whether I'm right when they face Iowa State this week.
3. TEXAS (11-2, 1-1 in Big 12; Last Week: 1)
The Texas loss to Texas Tech was, well, just a horrible shooting night all the way around for Texas. Every team in the Big 12 is going to have a game or two like that this season. The Longhorns, fortunately, got a chance to bounce back against UT-Rio Grande Valley, though I'm sure they would have rather played Baylor, which was next on the schedule before that game was postponed. How quickly Aaliyah Moore progresses in her return from her ankle injury will help determine whether Texas can be as dominant as I think they can be in this league.
4. OKLAHOMA (12-2, 2-1) (Last Week: 4)
The loss of Ana Llanusa to a season-ending injury hurts. The rise of Taylor Vann and the continued emergence of Kelbie Washington makes it hurt a little less. The loss to Iowa State shows the Sooners have some ground to make up to be considered a legitimate threat in this league. But it's about getting more consistent on defense. The offense is there.
5. BAYLOR (9-3, 0-1; Last Week: 5)
The Bears stay where they are for now. Baylor wasn't able to play at all last week due to COVID-19, which means at some point the Bears are going to have play some three-game weeks. Right now, the Bears just want to get back on the floor, and hope to do so against Oklahoma, which isn't the best opponent to face when you haven't played for more than a week.
6. TEXAS TECH (8-6, 1-2; Last Week: 8)
Going into Texas and beating the Longhorns? That was quite the win for the Lady Raiders, who hadn't won in Austin in nearly a decade. Unfortunately, they followed that up with a loss to Oklahoma State. The Lady Raiders can't squander opportunities like that in Big 12 action. Those losses will be the difference between an NCAA Tournament berth, an WNIT Tournament berth or staying at home in March.
7. WEST VIRGINIA (7-5, 0-2; Last Week: 6)
The Mountaineers played just one game last week, and they fell to Kansas State at home. This was an NCAA Tournament team from a year ago, and it still can be. But the Mountaineers have some things to figure out, or they'll continue to fall in these rankings.
8. OKLAHOMA STATE (6-6, 1-2; Last Week: 9)
The Cowgirls get a nudge after their road win over Texas Tech. Oklahoma State hosts TCU on Tuesday and then travels to Baylor. The Cowgirls need a split this week, which means they need Lauren Fields at her best.
9. KANSAS (10-2, 1-1; Last Week: 7)
Kansas was on a prolonged COVID pause and finally played on Saturday, losing to Oklahoma. Kansas fell by 14 points. The Jayhawks have a three-game week and started it with a 78-72 win over TCU on Monday. Kansas will be at Texas on Wednesday and then home against Baylor on Sunday, followed by Kansas State. We'll find out a lot about Kansas' NCAA Tournament prospects soon. Right now, the bracketologists have the Jayhawks in.
10. TCU (4-7, 0-2; Last Week: 10)
TCU finally opened its Big 12 season with a hard loss to Iowa State on the road. Like Kansas, the Horned Frogs have three games this week, and as noted the Horned Frogs started the week with a loss.  TCU hosts Oklahoma State on Wednesday and are at Oklahoma on Saturday. The Horned Frogs need to win one of those games.