Baylor Bears
The Athletic Ranks Four Big 12 Teams in Way-Too-Early 2022 Rankings, None in Top 10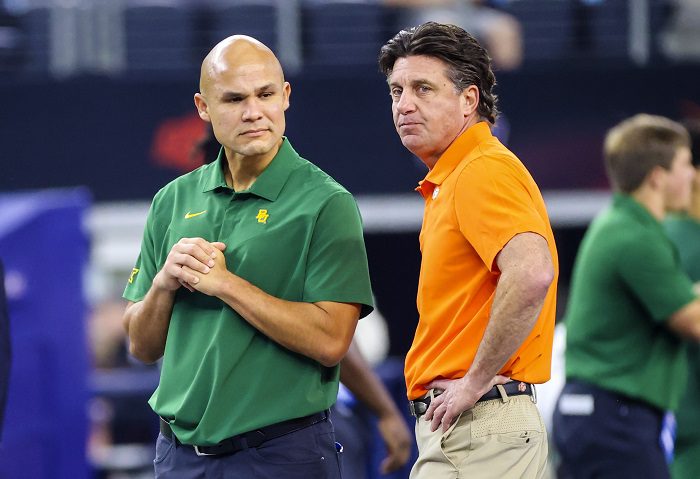 College Football has had a new national champion for several hours now, so it's time for the 2022 preseason rankings to begin.
Stewart Mandel of The Athletic jumped in early this morning with his "too early Top 25," which includes some picks that will frustrate many Big 12 fans.
Mandel's biggest failing, at least from the Big 12 point of view, is that not a single Big 12 team ranks in his top 10.
Baylor leads the Big 12 at #12 while Oklahoma State checks in at #14.
Future Big 12 teams Cincinnati and Houston come in at #20 and #22 respectively.
Mandel's top 25 is rounded out by #24 Kansas State and #25 Oklahoma.
Yes, Oklahoma is #25. Iowa State is nowhere to be found. Neither is Texas, a perennial favorite of preseason prognosticators.
Future Big 12 team BYU is listed first among Mandel's "Just missed" list, and thus is ostensibly #26.
Mandel's top 10 consists of Alabama, Ohio State, Georgia, Utah, Notre Dame, Texas A&M, Michigan, Clemson, NC State, and Michigan State.
With three SEC teams, three Big 10 teams, two ACC teams, and a Pac-12 team in the Top 10, Mandel seems to continue with his narrative that the new Big 12 is a step down from the rest of the Power 5, a position that HCS' Derek Duke recently took to task while specifically citing Mandel's talking points.
Regarding Baylor, Mandel points out LB Terrel Bernard, DB Jalen Pitre, RB Abram Smith, and S JT Woods as leaving large shoes to fill in 2022. However, Mandel is bullish on Baylor's returning offensive and defensive lines and adds that the return of QB Gerry Bohanon and several key defenders bodes well for the Bears.
Mandel notes that Oklahoma State is not only losing defensive coordinator Jim Knowles, but also a slew of key defenders, including LB Devin Harper, S Kolby-Harvell Peel, and LB Malcolm Rodriguez. Key departures from the offense include WR Tay Martin and RB Jaylen Warren. However, the Cowboys return DE Brock Martin, DE Collin Oliver, WR Brennan Presley, and QB Spencer Sanders.
As Mandel states, Cincinnati is losing key players all over the field, including QB Desmond Ridder; however, the Bearcats will return their entire starting offensive line.
Houston returns QB Clayton Tune to lead a dangerous offense, but as Mandel notes, the defense will have a lot of retooling to do in the offseason.
Mandel likes the looks of K-State with Nebraska transfer Adrian Martinez at QB and Deuce Vaughn at running back. He also notes that the Cats should feature strength on both the offensive and defensive lines. 
It is a strange world when Oklahoma is ranked #25, but Mandel points out the legion of defections from the program in the wake of Lincoln Riley's departure for USC. However, Mandel calls UCF transfer QB Dillon Gabriel "a nice Plan B" and points out that Gabriel will find himself surrounded by proven talent, particularly Marvin Mims.