Baylor Bears
Three Thoughts on No. 19 Texas Tech's 65-62 Upset Win Over No. 1 Baylor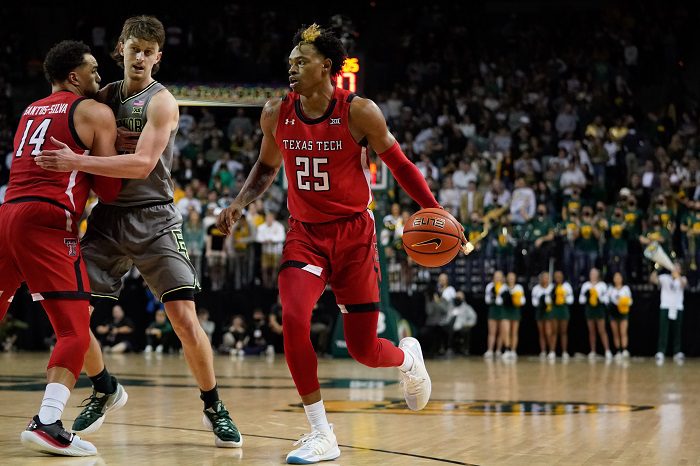 The Texas Tech Red Raiders defeated the Baylor Bears, 65-62, in a Big 12 men's basketball contest at the Ferrell Center in Waco, Texas, on Tuesday.
Right as the game tipped off, No. 1 Baylor (15-1, 3-1 in Big 12) found out that it was the nation's last remaining undefeated team after USC lost to Stanford. No. 19 Texas Tech (12-3, 2-1) put an end to that, as Red Raiders forward Marcus Santos-Silva waved to Bears fans as the final buzzer sounded.
With the loss, Baylor saw not only its undefeated season end, but the Bears also saw their 21-game win streak, their 22-game win streak at home and their 21-game win streak in Big 12 play end.
Texas Tech, coming off a win over Kansas on Saturday, have now beaten two straight Top 10 teams. Also, the Red Raiders became the third team to beat a No. 1 team on the road when down by at least 15 points (BYU and Stephen F. Austin are the others).
Baylor built as much as a 15-point lead in the first half, keyed by the outside shooting of Adam Flagler, who finished the game with 17 points. But Texas Tech methodically chipped away, fueled by a 10-0 run over a five-minute span, which ended with the Red Raiders down just 31-26 at halftime. At times, Texas Tech ran a zone defense in an effort to throw off the Baylor offense.
The second half was a slugfest, with Texas Tech grabbing a seven-point lead in the final minutes of the game and hanging on to it with good defense and some timely shots. Davion Warren's two free throws in the final 20 seconds gave the Red Raiders a 3-point lead, and the Bears were unable to get away a clear look for a 3-pointer to tie the game.
Texas Tech's Kevin McCullar played for the first time since Big 12 play began, but he clearly fought his ankle injury and still finished with 12 points. Adonis Arms led Tech with 14 points and nine rebounds, while Bryson Williams had 13 points, Kevin Obanor had 13 points and Clarence Nadolny had 11 points.
Texas Tech's Terrence Shannon Jr. did not play, as he continues to work his way back from injury. Baylor freshman Jeremy Sochan did not play due to an injury he suffered on Saturday. He sat on Baylor's bench in a walking boot.
Flagler and James Akinjo had 17 points each for Baylor. LJ Cryer added 10 points. Jonathan Tchamwa Tchatchoua led Baylor with 10 rebounds.
Here are our three thoughts from the game.
Adam Flagler is a Beast
The Baylor guard was the 3-point specialist for the Bears off the bench last year. After a slow start to this season, part of that due to injury, the reigning Big 12 Player of the Week is back in a huge way.
In his first Big 12 game against Iowa State, Flagler went 0-for-4 from the 3-point line. Since then, Flagler has hit 13 3-pointers, including six of them against TCU, all of which came in the second half and helped Baylor overcome a second-half deficit.
Against the Red Raiders, Flagler had four 3-pointers in the first half to help the Bears build that early 15-point lead. He got into foul trouble but came back and hit another big 3-pointer in the final few minutes.
Taking it back a bit further, Flagler has 24 made 3-pointers in his last seven games.
The Bears have other players that can hit the 3-pointer, including James Akinjo — who was the Big 12 Newcomer of the Week — L.J. Cryer and Matthew Mayer. But Flagler's streakiness and timeliness makes him the Bears' most dangerous shooter from distance. Count on that the rest of this season.
Clarence Nadolny Has Arrived
The Red Raiders got McCullar back on Tuesday night, but Nadolny, a junior guard who hadn't made much of a dent in the Red Raider rotation during his time in Lubbock, kept playing with the kind of aggression Red Raiders fans have come to appreciate the past few weeks.
It wasn't just McCullar that has been out, of course. Shannon has been out, too. And, several other Red Raiders were out with COVID protocols last week. So Nadolny HAD to play. But, when you get the opportunity, you have to give your coach a reason to keep you on the floor, right?
Nadolny has done just that. He started playing more than 20 minutes per game during the Gonzaga game and scored just three points. But, in the next four games, Nadolny saw his points go up in each game — 4, 8, 9 and then a career-high 17 against Kansas last Saturday.
Against Baylor, he didn't score quite as much — 11 points — but his confidence with the basketball, his aggressiveness taking it to the basket and his defense on the other end means that Nadolny has a spot in this rotation for the foreseeable future.
In his last six games, Nadolny has averaged 8.6 points. Since Big 12 play started, he's turned that up to 12.3 points. Good luck turning him off. He's making his decision to stay at Tech after Mark Adams' hiring as head coach look like a great one.  
Tech's Inside Edge
If you're looking for one thing that helped the Red Raiders turn the tide against Baylor was its insistence on generating offense inside. The Red Raiders ended up outscoring Baylor, 36-22, in the paint.
Baylor has two solid inside players in Flo Thamba and Jonathan Tchamwa Tchatchoua, but neither is adept at creating their own shot. The Red Raiders have several inside players that can generate their own offense inside. By working the ball inside the Red Raiders eventually saw the benefits. It's a luxury other Big 12 teams don't have, and the Red Raiders exploited that on Tuesday night.
You can find Matthew Postins on Twitter @PostinsPostcard.