Big 12 News
Big 12 Football Media Days Set for July 13-14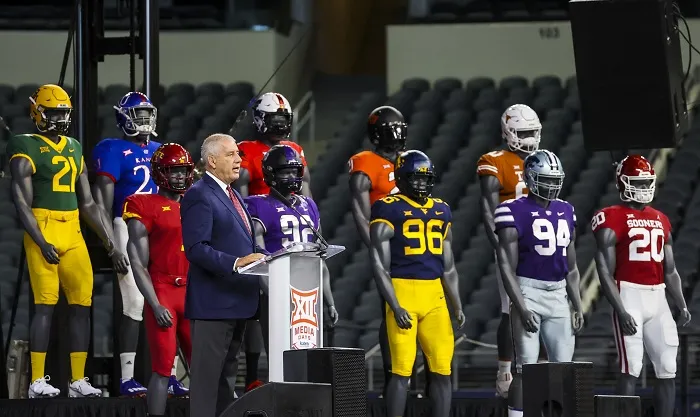 The Big 12 Conference has announced that Big 12 Media Days will return to Jerry's World, or AT&T Stadium, this summer, on July 13-14.
More information is scheduled to be released closer to the event, but this could end up being one of the most entertaining media days that Big 12 Football has seen in a few years. Three new head coaches will make their debuts at media day this season: Oklahoma's Brent Venables, TCU's Sonny Dykes, and Texas Tech's Joey McGuire.
Several coordinator changes have taken place across the conference as well so there should prove to be plenty of new faces, and old ones, to get acquainted with.
These will likely be the final Big 12 Media Days that include Texas and Oklahoma, as it is widely believed that the programs will leave for the SEC in 2023. The news about this monumental shift in the college football landscape happened surfaced on July 21, 2021, just one week after the 2021 Big 12 Media Days. It will be interesting to see how the defectors are treated when they are amongst the "Remaining Eight."
Of course, no matter how exciting the new coaches will be this season, next season will be the biggest since the major realignment around 10 years ago. The additions of Cincinnati, BYU, UCF, and Houston to the conference will surely make some waves during media availability, but we will have to wait another offseason for that.