Big 12 News
Caleb Williams Visits USC, UCLA in Recent Days: Report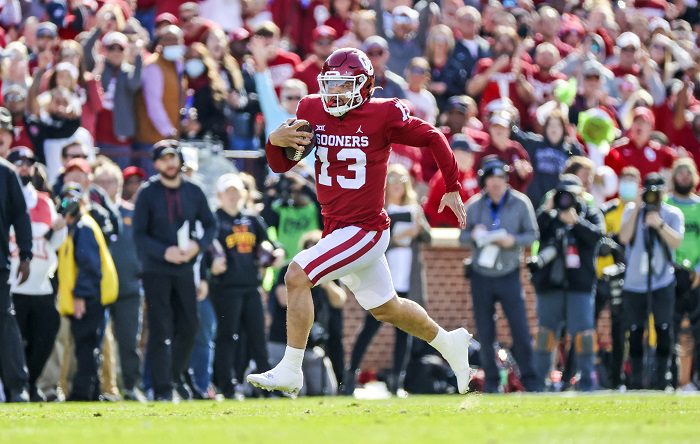 As the world turns the Caleb Williams saga continues. 10 days ago, Williams entered the NCAA Transfer Portal and since that point, it has been like walking on eggshells around the state of Oklahoma. Any story that breaks has fans on the edge of their seats in angst, and the reality that Williams will likely never dawn the Crimson and Cream again has started to set in.
According to ESPN staff writer Kyle Bonagura, Williams has spent the last couple of days meeting with coaches at UCLA after he spent the weekend at USC. The freshman quarterback is expected to communicate and visit with several more schools before deciding where he will play football next season.
At this point, it feels like Oklahoma should cut bait, maybe not publicly but behind closed doors. I'm not one to say that a kid is holding a team hostage by looking at his options, but this has to be a monumental distraction for the team. Sometimes, it's just better to move on with who you've got and who wants to be there and see how things shake out.
Yes, Oklahoma is better with Caleb Williams at quarterback; you would have to be ignorant to refute that. However, at what point does his "decision" become more of a hassle than it's worth? Jaxson Dart wouldn't be much of a downgrade, and he's been reported to have a scheduled visit to Oklahoma this week. Hell, Dillon Gabriel likely could've pushed Caleb for the starting gig next year given his experience in Jeff Lebby's system.
Williams will likely be reported having conversations with other programs in the coming days, and that is fine. In all likelihood, he will end up in Los Angeles with Lincoln Riley in what will be called a "business decision." But, for now, Caleb Williams has the college football world help captive and eagerly waiting for an announcement.