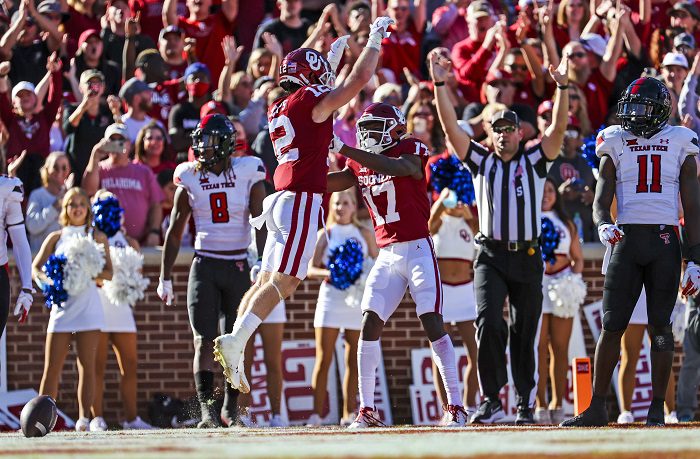 College football fans, I have good news and I have bad news. The good news is that it is officially the offseason and everyone can dream of what their team could be next season.
The possibilities are endless; Oklahoma can dream of ending their national title drought, Texas can dream about being "back," and Kansas can dream about beating Texas. Oh, wait.
Anyways, the bad news is that there are 226 days remaining until college football returns and we need something to speculate about until then.
Therefore, I present to you, Heartland College Sports' Way-Too-Early Big 12 Football Rankings for the 2022 Season.
10. Kansas
Look, before you go in on me about hating the Jayhawks, I don't. I really like what Lance Leipold has done after one season and I think he has some promising pieces to build with offensively in Jalon Daniels and Devin Neal. If he can use the talent he acquired from the transfer portal to shore up things defensively, the Jayhawks could be a pesky team capable of winning a few more games in 2022. This is just a situation where I need to see something that would convince me to move the Jayhawks out of their perennial resting place at dead last in the conference. Their incoming transfers are promising but they need Leipold and his staff to work their magic to revive this program.
9. West Virginia
West Virginia should be better offensively at some point in 2022, and I think that Nicco Marchiol and Grant Harrell will be a great match at some point, but it's hard to look past what I saw in the bowl game against Minnesota and see a bright future under Neal Brown. Plus, Brown's recruiting ability has always been his strength and he has lost several big commitments from the 2022 class. Unless things turn around in a big way for the 'Neers, it could be a down year in Morgantown.
8. Iowa State
Iowa State has made a bowl game in every season under Matt Campbell, excluding his first year in 2016. I think that should be their goal in 2022 because they have lost a bunch of production going into next season. The tandem of Brock Purdy and Breece Hall will be seen on Sundays next fall and the transfer portal has not been kind to the Cyclones this year. If Coach Campbell can find some pieces to replace Isheem Young and Kym-Mani King defensively it will go a long way in helping the 'Clones. To make matters worse, there are reports saying that Jon Heacock could be headed to South Bend. There are a lot of what-if's hanging around the program in Ames, and not many of them are positive.
7. TCU
I think that TCU has the ability to compete for the Big 12 right away in 2022, I just don't know if they will capture that momentum in year one. The Horned Frogs are essentially SMU-West Campus now (that stings a bit on both sides of the rivalry) with Sonny Dykes bringing numerous coaches and players from the Mustangs' roster when he took the head job in Fort Worth. Now, Dykes must find a way to replace key players like Ochuan Mathis, TJ Carter, and La'Kendrick Van Zandt defensively; as well as find someone to replace former five-star running back Zach Evans. Fortunately, Evans hardly saw the field in conference play in 2021, giving guys like Kendre Miller and Emari Demercado a chance to fill the void. TCU will be dangerous if they find the right combination of personnel, the question is will they?
6. Texas Tech
Tech is going to surprise some people in 2022 but you heard it here first. The Red Raiders can contend in the Big 12 in 2022. I'm jumping on the Joey McGuire bandwagon right now, and I'm not all that nervous about it. Tech has two viable options at quarterback in Donovan Smith and Tyler Shough, Tahj Brooks and Sarodorick Thompson return in the backfield, and the addition of Texas transfer Joshua Moore should help offset the loss of Erik Ezukanma. Texas Tech's offense should be flying high once again under Zach Kittley, as long as the offensive line can gel with only one returning starter up front. With key defenders Adrian Frye, Marquis Waters, and Kashon Merriweather returning in 2022, the defense should be better as well. Watch out for the Red Raiders, because if your team overlooks them it could spell trouble.
5. Texas
Here is a team that has the potential to go both directions, so I'm going to throw them right in the middle of the pack. Texas likely has the most talented roster in the Big 12 and one of the most talented in the country, however that has been the case for years and it hasn't made a difference yet. If you look at the roster, the potential is staggering; an offensive trio of Quinn Ewers, Bijan Robinson, and Xavier Worthy would be enough to make any defensive coordinator lose sleep. Add to that one of the best offensive line recruiting classes in America and you have the makings of a potent offense. The question is, can the Longhorns stop anyone defensively? They couldn't in 2021, ranking 100th in total defense and surrendering 425.6 yards per game. If they can improve that number, and just get into the top half of the country statically, the Longhorns could be contenders in the Big 12.
4. Oklahoma State
The Cowboys had a fantastic season in 2022 thanks to a historic defense under Jim Knowles and staff. Now, Knowles is in Columbus, Ohio, and will be joined by former co-workers soon according to reports. Oklahoma State loses several members of the defense to graduation, transfers, or the NFL draft but should have enough remaining pieces to rely on. OSU has yet to hire a defensive coordinator and that hire will be supremely important with regards to how things go in Stillwater in 2022. Spencer Sanders returns, as does wide receiver Tay Martin, but the running back room is as bare as it's been in years. If Sanders plays the way he did against Notre Dame, then the running back situation might not be an issue, but is that the Spencer Sanders we will see? If it's not, and we get the Big 12 Championship version of Sanders, then the Cowboys could struggle to repeat their success from 2021.
3. Kansas State
The Wildcats return the majority of their offensive starters, excluding Skylar Thompson, plus Malik Knowles and Phillip Brooks could be back at wide receiver. Adrian Martinez inherits much more skill talent at Kansas State than he had at Nebraska and could really take the offense to new heights under newly promoted offensive coordinator Collin Klien. The roster might have, not one, but two All-American caliber players in Deuce Vaughn and Felix Anudike-Uzomah. Add to that the return of nearly every defensive starter outside of the safety positions and you have the makings of a contender next season. I expect the Wildcats to take a leap under Klieman in Year 4.
2. Oklahoma
There are lots of questions surrounding this team, but it's still Oklahoma. In a season when Oklahoma was supposed to be competing for a national title, the Sooners failed to reach expectations and instead won the Alamo Bowl and finished 11-2 and not the Big 12 champion for the first time since 2014. Now, Brent Venables' Sooners are starting to pick up steam on the recruiting trail and in the transfer portal, even though its roster was seemingly gutted just a few weeks ago. Well, let me be the first to tell you that things are never as good, or bad, as they seem. With or without Caleb Williams, Oklahoma still has one of the two best quarterbacks in the Big 12 with UCF transfer Dillon Gabriel, and could be in the mix for USC transfer Jaxson Dart as well. Oklahoma retained nearly every offensive coach from 2021, and made major upgrades on the defensive coaching staff with Todd Bates, Jay Valai, and Brandon Hall. The roster is stacked with young talent at nearly every position; OU can weather the storm that TBOW left behind and still compete for a Big 12 Championship again in 2022.
1. Baylor
The Baylor Bears established a hard-nosed approach to football in the Big 12 in 2021 and it paid off in a major way: Baylor won its third Big 12 Championship in program history and its first Sugar Bowl since 1956. Now, the Bears are looking to repeat and have several pieces that should help them do just that. Nearly the entire offensive line will use their extra year of eligibility to return for another go at it. Gerry Bohanon and Blake Shapen will battle it out for the starting job in the spring, but the Bears look like they're in good hands with either of those guys. Defensively, several starters will return, including Siaki Ika, Gabe Hall, and Cole Maxwell on the defensive line. The one thing that Baylor has going against it is the loss of several key players: Jalen Pitre, Kalon Barnes, Terrel Bernard, JT Woods, and Raleigh Texada on defense, plus Trestan Ebner, Abram Smith, Tyquan Thorton, and R.J. Sneed on offense. However, besides quarterback, where is the one place that you want experience and talent? In the trenches. Where does Baylor have a plethora of returning experience and talent? In the trenches. Look for Dave Aranda to keep the wheels moving for this team in 2022, and maybe even take Baylor to new heights if they can find a way to replace the talent they lost at skill positions.