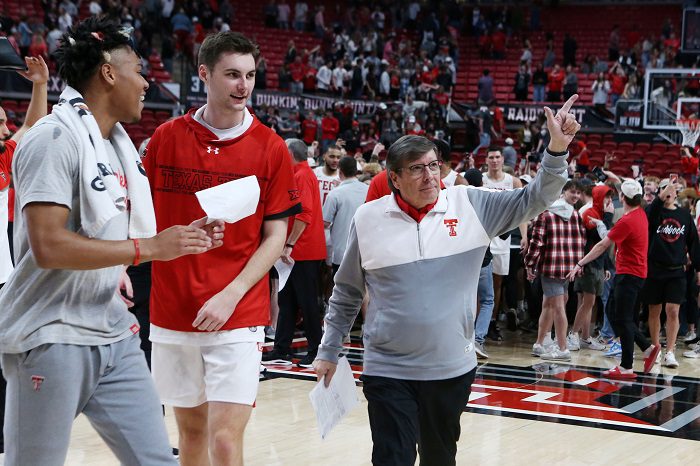 Welcome to the HCS Big 12 basketball mailbag, our second of the 2021-22 Big 12 men's and women's basketball season.
This mailbag is for all you basketball junkies out there who root for a Big 12 school that not only have questions about your team, but other teams in the conference. So, join me, grab your favorite drink (I'm sipping water because I've been a bit under the weather this week), and relax as I answer all your Big 12 questions.
For those interested, I will send out a tweet (@PostinsPostcard) Wednesday night and you'll have until Thursday at 5 PM CT to send in your questions to be answered every Friday right here at Heartland College Sports. And our site owner, Pete Mundo, will solicit questions on our Facebook page.
I want to thank each one of you who submitted a question this week and for those of you that are reading. For future reference, feel free to answer questions about men's and women's basketball, as we've added women's Big 12 coverage to our HCS content this season.
So many great questions and we have time for four.
Rusty Jones on Facebook asks: How many more wins before West Virginia is ranked?
One. If West Virginia beats Kansas on Saturday in Lawrence then the Mountaineers should be ranked when the new poll comes out on Monday. If they're not, then I don't know what the voters are waiting on. The Mountaineers aren't perfect. They need more offense inside. But when Taz Sherman, Sean McNeil, and Jalen Bridges are all firing at the same time, these Mountaineers are really tough to deal with.
Here's the thing. If the Mountaineers don't beat Kansas on Saturday, they'll probably stop receiving votes. Their next two games are against Baylor and Texas Tech. So, if the Mountaineers don't win on Saturday, I think they'll have a hard time beating both Baylor and Texas Tech — and being ranked any time this month.
Robert Powell on Twitter asks: (Texas) Tech has been playing great the past week to 10 days. Does Tech have an Achilles heel, other than free-throw shooting?
Every team has one, even if they're rolling, right? The free-throw shooting is not as good as I'm sure head coach Mark Adams wants. The Red Raiders were firing 66.2 percent before the Oklahoma State game. Only OSU (66.2) and West Virginia (66.0) are as bad or worse. Texas is at the top end at 77 percent. So, that's significant in the course of an 18-game conference season.
One other thing worries me at the moment, and that's 3-point shooting. Entering the OSU game the Red Raiders were shooting 33.6 percent from there, which is better than their opponents (31.3 percent). But, the Red Raiders are making one fewer 3-pointer than their opponents per game. They're in the middle of the road in all three 3-pointer categories kept by the Big 12.
As good as the Red Raiders are on defense, that may be a small thing. But it's worth tracking as the season goes on. The teams that go the distance in the NCAA Tournament can shoot the 3, and sometimes making one fewer — or one more — than your opponent can make a difference.
a p dubya on Twitter asks: Will NIL have an impact on Big 12 basketball?
It already has — you just don't hear about it as much. And, if you ask me, the Texas Tech men's basketball team has done the best job of taking advantage of it in its first year. Kevin McCullar jumped right on it, getting an ambassadorship with Raising Cane's and partnering with some local car dealerships and other businesses. The Lubbock Avalanche-Journal's Don Williams — who is as good a beat writer as there is in the Big 12 — reported that Texas Tech athletes had cashed in to the tune of $370,000 in NIL deals.
I keep up with a lot of the Big 12's basketball players on Twitter and the NIL stuff seems to have died down, which tells me that players are doing what they should be doing right now — focusing on their sport and their studies. I don't think that NIL will have the impact on basketball that it's having on football right now. But, come next summer, it could have a more significant impact. Some boosters, like Tech's Cody Campbell, are proposing revenue sharing with athletes. Campbell is already sponsoring Tech's offensive line. The money is coming. It's just going to trickle in slower for basketball, except for the players that grab national attention. Think of the NIL opportunities Oklahoma State's Cade Cunningham could have had last season?
Stan Hollibaugh on Facebook asks: Who is more valuable to Iowa State: Tristan Enaruna, Aljaz Kunc or Caleb Grill?
I think it has to be Enaruna. Kunc and Grill give the Cyclones things they already get from Izaiah Brockington and Gabe Kalscheur. Enaruna has, to me, the highest ceiling to be a quality scorer inside, which is what the Cyclones need. He's already improved in the space of this season. But the Cyclones need him to pick up some steam.
It should be noted that all three players are averaging at least six points per game. For Iowa State, I believe they need Enaruna to get closer to 10 as the season goes on.
You can find Matthew Postins on Twitter @PostinsPostcard.
**Want to win a $20 gift card? Go sign up here and join our conversation! The best poster each week wins a gift card to your favorite establishment!**