Trending Now
The Big 12's NET Ranking Proves it's the Best Basketball Conference in America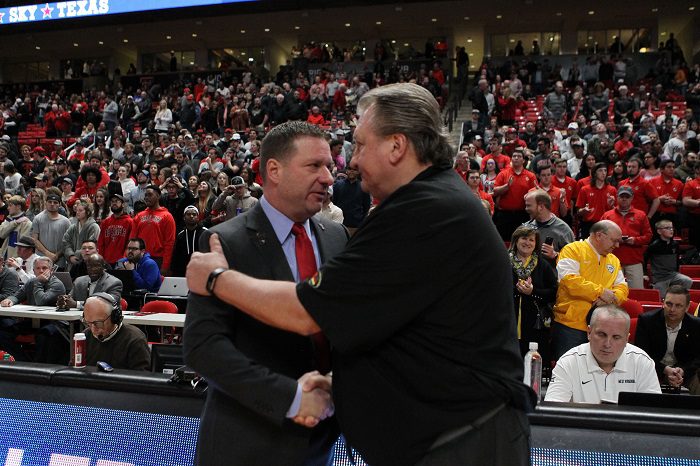 The Big 12 is the best basketball conference in the country. I know it. You know it. You're ACC fan friends know it, somewhere down deep inside.
However, just because it's common knowledge doesn't mean there aren't those out there who will oppose you for the sake of an argument. Yes, there are people out there like that, and if you don't know anyone like that, it's probably you.
The Big 12 stands head and shoulders above the rest of college basketball through the midway point of January, and it's really not even that close. With everyone in the conference having played at least 13 games, eight of them have at least 11 wins. Baylor, the best team in the country to this point, just lost a nail-biter to Texas Tech, who was projected as the fifth-best team in the conference by ESPN.
If that's not enough ammo for you to win your next argument, then this one on for size. The NCAA Evaluation Tool, or NET ranking, is calculated using game results, strength of schedule, game location, scoring margin, net offensive and defensive efficiency, and the quality of wins and losses, according to the NCAA's official site. If you are a visual learner, like me, here is a graphic that helps explain NET rankings.
Now that we are on the same page, how does the Big 12 compare to the other conferences in NET rankings? The easiest way to put it is that they don't. They are in a league of their own.
Every team in the conference: Baylor (1), Kansas (10), Texas Tech (13), Texas (15), Iowa State (24), Oklahoma (35), West Virginia (37), TCU (54), Oklahoma State (68), and Kansas State (90) are within the top 33% of DI basketball in NET ranking. Even more impressive is that eight of the 10 teams in the conference are in the top 10%. If you take it one step further, and cut out the bottom team in the conference to this point, Kansas State, the average NET ranking would be a staggering 21.0.
So, when one of your friends decides to argue conference strength with you closer to tournament time, be sure to remember where the best basketball in the country is being played.