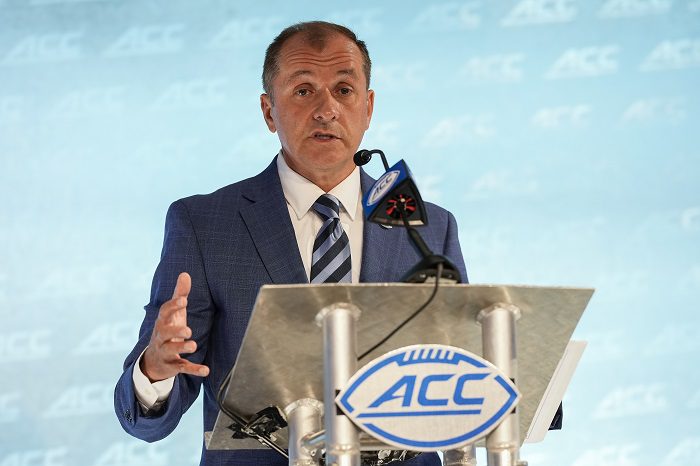 Have you ever been to a bar or a party to have a good time only to be ruined by some obnoxious person? There is always that one person who has to let everyone know they aren't having fun and feel the need to spoil the fun for everyone else. I have found that person in the world of college football and it appears to be ACC commissioner Jim Phillips.
There have been meetings between conference commissioners about expanding the College Football Playoff and while most seem on board with the idea, Jim would rather hold off on the idea.
It is definitely a strange stance to take considering the fact that playoff expansion would help out the ACC. Now Phillips isn't the only guy with issues of the 12-team playoff format because Pac-12 commissioner George Kliavkoff and Big Ten commissioner Kevin Warren also have some concerns, however theirs are relatively small compared to Jim Phillips' issues.
While Kliavkoff and Warren want minor alterations of the proposed model, Jim Phillips has a completely different approach to the idea of expanding the playoff. His approach is not to even worry about playoff expansion. Why? Because he says that there are a dozen things to worry about before even seriously addressing a new Playoff structure. "We have a college athletics problem before we have a college football problem," Phillips said in a Friday conference call.
Jim addressed issues with other hot topics of the sport such as NIL and eligibility for transfers. He also pushed for a "365-day review" of college football and its calendar. Not to mention he is bringing out the big guns by calling for congressional legislation to help the NCAA out of the wilderness. Jim also wants to see the results of the NCAA's push to overhaul its entire makeup.
In all of his rant of complaints, one of them caught many people including myself off guard. Out of all things, Jim Phillips complained about there being too much football. According to Jim, "The season is too long and teams advancing all the way through a 12-team Playoff will play too many games." Those are Jim's concerns.
The ACC commissioner has been on record saying that other coaches in his conference feel the same way about adding more games to their schedule. "Clemson," Phillips said, citing the conference's most frequent College Football Playoff participant, "They don't want to play any more games."
There has been a whole argument about watering down the playoff and expanding won't change the results. If more teams are able to get in it makes for a more exciting football season and creates more football. And who doesn't want more college football in their life?
Expansion provides more opportunities for other schools. A conference like the Pac-12 should be thrilled for expansion because they have failed to get in the playoffs for the last five years. Even the Big 12 has failed to get in any other schools outside of Oklahoma. And in Jim's case, over the last seven seasons Clemson is the only school from the ACC to get in.
The point is if we can get to 12 teams, that means multiple conferences will likely have two schools in the playoffs. Maybe in certain years, a conference can have three. Not only does that mean more football, it also means less opt outs in big games. If a school is in the playoff, it will be much tougher for top players to opt out.
Another benefit of expansion: the season can become even better than it already is. Currently, when the season starts, everyone is fighting for those four spots. By the time the end of the season rolls around, you may only have five or six teams who have a realistic chance at getting in. With the 12-team format, you could now have up to 15 or more teams who are all playing for a spot inside the top 12. That makes so many games more important at the end of the year. You can no longer write off that Big Ten team or Big 12 team with two losses anymore. Teams like that would still stand a fighting chance of potentially winning a national title.
For those not wanting college football to turn into the NFL, I can assure you that it won't. The game is different, and I am sure there will be ways to make the playoff unique. Maybe adding on-campus home games for the first round and then rotate in the bowl games. Also, something that never gets talked about is that fact that every single level of college football outside of the FBS has a playoff.
If Jim Phillips wants to worry about NIL and all the other issues he has with the current state of college football, that's fine, but there is no logical reason to not let that impact Playoff expansion. At the very least, get to a decision and work out the details at a later time. But to sit here and blow it off is complete short-sightedness on Jim's part.
If Jim Phillips wants to hold the sport back, maybe he should go work for the Rose Bowl instead of being a Power Five commissioner. There is a quote from the movie Moneyball which can be applied to this situation. "Adapt or die."
Times are changing and it's time to get with the program, Jim.