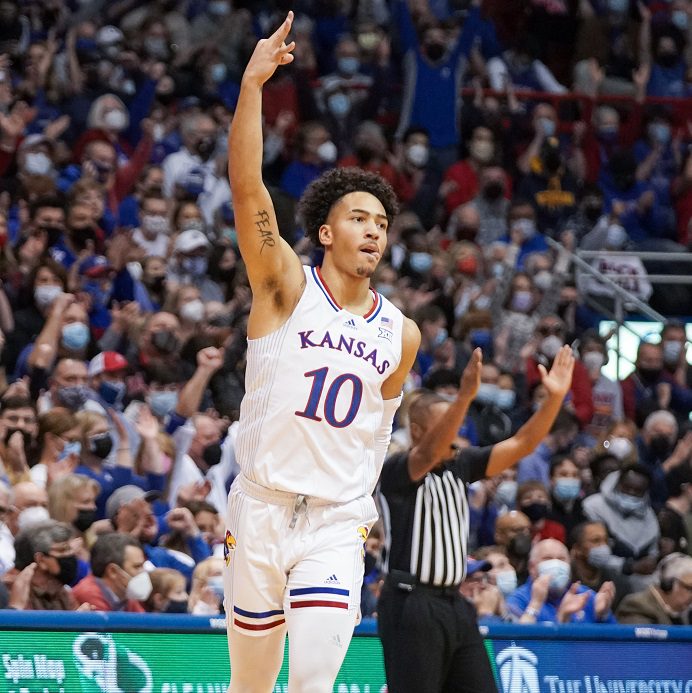 The No. 9 Kansas Jayhawks defeated the West Virginia Mountaineers, 85-59, in a Big 12 men's basketball contest at Allen Fieldhouse in Lawrence, Kansas, on Saturday.
At halftime, the game did not look like a Kansas (14-2, 3-1 in Big 12) blowout. The Jayhawks had a 33-31 lead and had to overcome a huge scoring run by West Virginia (13-3, 2-2) early in the first half. But, in the second half, it was all Kansas, as the Jayhawks outscored the Mountaineers, 52-28.
Kansas had huge games from Jalen Wilson (23 points, eight rebounds), Ochai Agbaji (20 points, seven rebounds), and David McCormack (19 points, 15 rebounds.
West Virginia's Malik Curry led the way with 23 points, a season-high. Jalen Bridges had 12 points and Sean McNeil had 10 points. What was missing from the equation was Taz Sherman, who scored just five points in 30 minutes.
West Virginia head coach Bob Huggins is 0-11 in Allen Fieldhouse, and West Virginia is 0-10 all-time.
Here are three thoughts from the game.
Taming Taz
West Virginia guard Taz Sherman entered the game averaging more than 19 points per game, second-best in the Big 12 to Kansas guard Ochai Agbaji. Sherman had five points on Saturday.
It wasn't JUST an off game. Kansas made him a focus of their defensive game plan.
Sherman was 1-of-9 from the field and 0-for-5 from the 3-point line. Kansas deployed forward Jalen Wilson on Sherman defensively, especially at the start of the game. Wilson's length and quickness was able to keep up with Sherman's overall athleticism. That made Sherman's day awfully difficult. Tweaking his foot in the second half on a drive to the basket didn't help, either. On the rare occasion Sherman got free, Kansas players like Christian Braun and Agbaji helped out.
I don't think Sherman is falling into a slump. That was his first game in single digits this season. He'll be back, and something tells me he'll remember this when the two teams meet again.
Jalen Wilson's Rise
Without Remy Martin, Jalen Wilson is getting more playing time. He needed it, and he's starting to respond.
Wilson had a huge line on Saturday — along with the 23 points and eight rebounds, he had five assists. Martin, meanwhile, has been trying to return from a sore knee since the start of the year, something Kansas head coach Bill Self now says is a "day-to-day, or week-to-week" proposition. Wilson has slid into more playing time as a result.
Against George Mason on Jan. 1, Wilson had eight points and seven rebounds. Then, against Oklahoma State on Jan. 4, he only had two points, but he had a whopping 15 rebounds. Then, against Texas Tech, he scored 20 points.
Last Tuesday against Iowa State, he only scored four points. But, he also had two rebounds and dished out five assists.
Wilson has logged more than 24 minutes in each of his last five games. He's starting to approach what he did last year, maybe not statistically (he averaged 11.8 points and 7.9 rebounds a year ago) but you can see it in how he plays and the renewed confidence he brings to the floor. In his last five games, Wilson is averaging 11.4 points and 6.8 rebounds (his current averages are 6.6 points and 6.0 rebounds).
Wilson started slow, in part because of his suspension for his arrest for DUI in November. Self's commitment to Martin, which was necessary, cut into Wilson's playing time. Plus, Wilson just didn't play well to start the season.
Wilson's accelerated progress and Martin's absence aren't coincidental. I'm not saying Wilson replaces Martin in the starting lineup when Martin returns. But his absence is making the Jayhawks better long-term.
Can Curry Be The 'Fourth?'
At this point, West Virginia has three players that can be consistent scorers each game — Taz Sherman, Sean McNeil and Jalen Bridges. The last, Bridges, is really starting to come on. He's averaged 13.5 points in four Big 12 games.
Now, the Mountaineers need a fourth. Normally, I would say they need an inside scorer. But, the fact is that player doesn't exist on this roster right now. That player, one day, could be Isaiah Cottrell. But it won't happen this year.
So WVU needs it from someone else on the perimeter. Maybe that players is Malik Curry, the Old Dominion transfer. He scored 23 points on Saturday, shot nearly 50 percent from the floor and used his ability to drive to the basket to draw fouls and go 11-of-11 from the line. He's averaging 11 points in four Big 12 games, and he's picked up the slack twice for Sherman — against Texas, when Sherman was out with COVID — and on Saturday.
Now, the Mountaineers need to find a way for him to get touches and points WITH Sherman at his best. In between the Texas and Kansas games, Curry scored a total of nine points. If WVU can find a way to get him more involved with their 'Big Three' on the floor, then it can compensate further for its lack of offense in the paint.
You can find Matthew Postins on Twitter @PostinsPostcard.