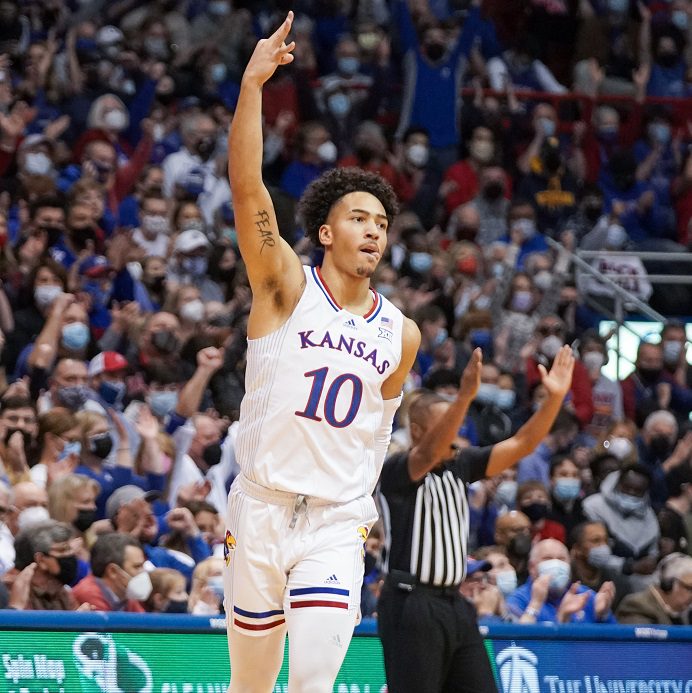 The Baylor Bears dropped from the No. 1 spot but remained the highest-ranked Big 12 team in the latest Associated Press Men's Basketball Top 25, released on Monday.
The new poll came in the wake of Baylor becoming the first team in the AP poll era to lost two home games in a week as the No. 1 team. Gonzaga, which was the preseason No. 1, moved up to the No. 1 spot in the poll.
The AP Top 25 included the following Big 12 teams:
No. 5 Baylor (the Bears were No. 1 last week);
No. 7 Kansas (The Jayhawks were No. 9 last week);
No. 15 Iowa State (The Cyclones were No. 15 last week);
No. 18 Texas Tech (The Red Raiders were No. 19 last week).
No. 23 Texas (The Longhorns were No. 21 last week);
West Virginia received 14 votes, Oklahoma received seven votes and TCU received four votes.
Kansas (14-2, 3-1 in Big 12) was one of just two Big 12 teams to win all of their games last week (TCU was the other). Kansas beat Iowa State, 62-61, and West Virginia, 85-59. The Jayhawks are on the road in the Big 12 this week, facing Oklahoma on Tuesday and Kansas State on Saturday.
Baylor (15-2, 3-2) lost its first two games of the season, falling to Texas Tech, 65-62, and Oklahoma State, 61-54. The Bears remain in the Big 12 regular-season race, but have two key road games this week — at West Virginia on Tuesday and at Oklahoma on Saturday.
Iowa State (14-3, 2-3) were a point away from a huge week last week. But, the Cyclones couldn't close the deal in that 62-61 loss to Kansas. But, on Saturday, the Cyclones hosted and defeated Texas, 79-70. Iowa State is at Texas Tech on Tuesday and then hosts TCU on Saturday.
Texas Tech (13-4, 3-2) nearly ran through a three-game week undefeated. The Red Raiders started the week with that 65-62 victory over Baylor, followed by a 78-57 win over Oklahoma State. But, on Saturday, the Red Raiders fell at Kansas State, 62-51. This week the Red Raiders face Iowa State on Tuesday and West Virginia on Saturday. Both games are in Lubbock.
Texas (13-4, 3-2) split last week, too. The Longhorns hosted Oklahoma and won, 66-52, but went to Iowa State and lost, 79-70. The Longhorns — who are undefeated at home — host Kansas State on Tuesday and Oklahoma State on Saturday.
The entire poll featured No. 1 Gonzaga, No. 2. Auburn, No. 3 Arizona, No. 4 Purdue, No. 5 Baylor, No. 6 Duke, No. 7 Kansas, No. 8 Wisconsin, No. 9 UCLA, No. 10 Houston, No. 11 Villanova, No. 12 Kentucky, No. 13 LSU, No. 14 Michigan State, No. 15 Iowa State, No. 16 USC, No. 17 Illinois, No. 18 Texas Tech, No. 19 Ohio State, No. 20 Xavier, No. 21 Providence, No. 22 Loyola-Chicago, No. 23 Texas, No. 24 Tennessee and No. 25 UConn.
You can find Matthew Postins on Twitter @PostinsPostcard.
**Want to win a $20 gift card? Go sign up here and join our conversation! The best poster each week wins a gift card to your favorite establishment!**