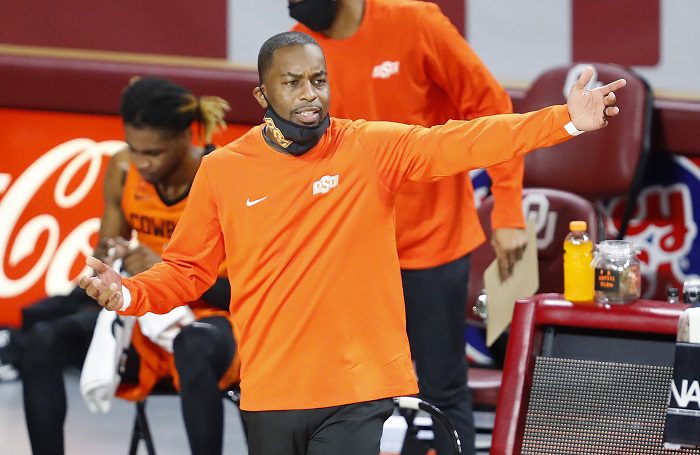 The Big 12 Conference is done with Week 10 of the 2021-22 men's basketball season. So let's dive in and check out our five takeaways for the week.
That 'Pesky' Big 12 Team
I'd like to nominate TCU, though the award seems to rotate on a regular basis. But the Horned Frogs look like that team that's going to go unranked all season and just be an absolute thorn in everyone's side.
The Horned Frogs got a late start due to COVID-19. They didn't play a game from Dec. 21 to Jan. 8, when they opened the Big 12 season at home against Baylor. It's been nine days, but we shouldn't forget that the Horned Frogs actually had a second-half lead on the Bears.
After that, TCU won a game it probably had no right to win at Kansas State (60-57) and then hosted Oklahoma and won a game in overtime (59-58) on a Chuck O'Bannon 3-pointer.
In fact, if you're pointing to a player that's starting to make a real difference, point at O'Bannon. Yes, Mike Miles (16.9 points) and Emanuel Miller (10.3 points) are the Horned Frogs' two leading scorers. But I made the point a month ago here that the Horned Frogs needed a third. And O'Bannon is nearly there. He's already averaging a career-best 9.8 points this season, and in his last five games he's averaged 12.4 points.
And it isn't just him, either, Damion Baugh is coming on, too. Averaging 8.6 points now, he's averaged 9.4 points in his last four games. And here's the fun part. O'Bannon's one recent off-game was against Kansas State. He scored five points. Baugh came up with 12 points against the Wildcats. Against Oklahoma, they flipped the script. O'Bannon had 11 points and Baugh had three points.
I have no illusions about the Horned Frogs winning the Big 12. But, TCU already has 12 wins with 16 games ahead of them — 15 against the Big 12 and one in the Big 12-SEC Challenge. Plus, there's the Big 12 Tournament. The Horned Frogs are lurking on the outside of Bracketology. Eighteen or 19 wins can put TCU in position. If O'Bannon and Baugh keep growing up, and the Horned Frogs can score a couple of upsets, then they have a shot.
Let's Talk About NET
NET is the main analytic the NCAA Tournament committee uses to select the 68-team field. And, geez, the Big 12 is just killing it while they're killing each other.
Now, NET changes every day because there are games played every day, and that's one of the drivers. But, on Sunday evening, here is where the Big 12 stood:
5. Baylor
9. Kansas
14. Texas
16. Texas Tech
19. Iowa State
35. Oklahoma
43. West Virginia
50. Oklahoma State
52. TCU
76. Kansas State
Based on this, the Big 12 looks like it's in great shape, right? Absolutely, and I suspect it will stay that way.
Why? Call it the Quad 1-2 effect.
You hear announcers talk all the time about 'Quad 1' wins. Those are important wins for this season. Let the NCAA explain it:
Using the quadrant system, which was in its fourth season in 2020-21, the quality of wins and losses will be organized based on game location and the opponent's NET ranking.
Quadrant 1: Home 1-30, Neutral 1-50, Away 1-75
Quadrant 2: Home 31-75, Neutral 51-100, Away 76-135
Quadrant 3: Home 76-160, Neutral 101-200, Away 135-240
Quadrant 4: Home 161-353, Neutral 201-353, Away 241-353
In other words, just about every Big 12 game moving forward has the potential to be a Quad 1 or Quad 2 game. Because the conference is so deep and so good, even a team like Kansas State is in the Top 100 in NET because the rest of the conference brings up its NET. Plus, if Kansas State takes a dip, just as an example, it's unlikely it will drag down the other teams' NET ratings that much.
Just in the past week Baylor lost two games to Texas Tech and to Oklahoma State and only saw its NET drop five points. Texas split and is still in the Top 15. So did Iowa State and it's in the Top 20. Oklahoma State, which can't even go to the postseason, has two Quad 1 wins and is in the Top 50.
There are a lot of ways to evaluate the quality of this conference. For the NCAA Tournament selection committee, this will be the primary driver, and the Big 12 is in great shape for the seven bids that are being projected.
Is Bryce Thompson Ascending Now?
Oklahoma State is playing what amounts to a 'pride' season, thanks to NCAA punishments. With a roster that, for the most part, should be back next season, development is paramount for head coach Mike Boynton Jr., who is about to turn 40 years old (and honestly that's nuts).
What Bryce Thompson did last week must have made Boynton feel pretty good.
Thompson transferred from Kansas to Oklahoma State in the offseason. The former McDonald's All-American hit double figures in four of his first six games. But, like his teammates, he found December and early January derailed by the program's COVID pause. Thompson's valley for the season came against Houston on Dec. 18. He failed to score a point in six minutes.
In the five games since then, all in Big 12 play, Thompson has averaged 10.6 points, including 14 points against Texas Tech and 19 points in the Cowboys' win over Baylor on Saturday. Thompson hit some key free throws late to hold the Bears off. Thompson put up that average in a stretch that included games against four ranked teams.
Oklahoma State has a talented roster led by a senior, Bryce Williams, and a guard in Avery Anderson III who tested the NBA waters last summer. I don't see Anderson heading to the league next season, but with Williams heading out of Stillwater one can see Thompson building toward being a No. 1 (or No. 1a) option for the Cowboys in 2022-23.
Where can Thompson differentiate himself? The 3-point line. Right now he's just a 28.9 percent shooter. Improving to 35 percent by next season makes Thompson a potential Top 10 player in the Big 12 next season.
Leukemia Can Suck It
Before Saturday's Texas-Iowa State game in Ames, Iowa, Texas Longhorns guard Andrew Jones took a few minutes to pose for this photo with another leukemia survivor.
From by Nick Nesbitt on Twitter, he posted a before-and-after photo in the thread of the young girl during her treatment. He posted, "During treatment and now. 3 years of chemo, spinal taps and endless pokes. We are so proud of her!"
Jones, of course, missed two seasons due to leukemia and the aftermath of his treatment. The photo is a reminder of the fact that Jones has remained one of the best ambassadors for leukemia survival and college basketball, and that his story remains one of the best in the game in recent memory.
Jones scored 18 points in the Longhorns' 78-70 loss to Iowa State. He is Texas' second-leading scorer at 10.9 points per game.
Three Games That Intrigue Me This Week
Baylor at West Virginia, Jan. 18: Both of them need a bounce-back.
Iowa State at Texas Tech, Jan. 18: Does Texas Tech get some revenge now that the Red Raiders are full-strength?
Oklahoma State at Texas, Jan. 22: Texas gets one of its two league losses at home, where, going into this week, it's undefeated.