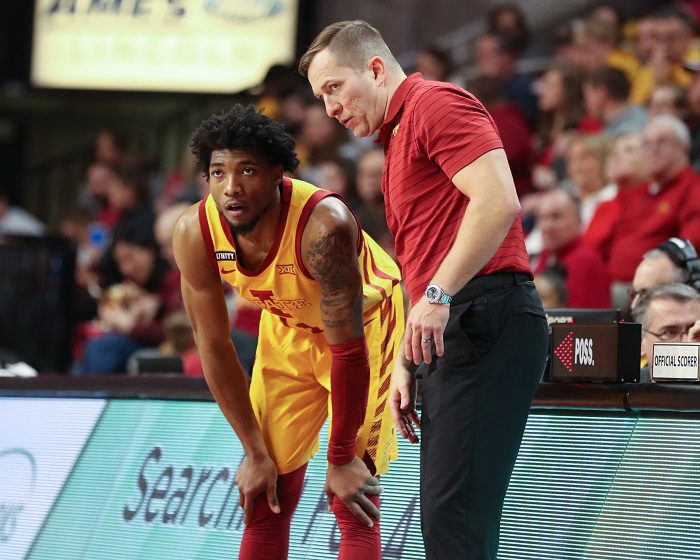 We are now at the end of another week of Cyclone basketball and it was a pretty darn good week considering how tough it is to win in the Big 12 on a nightly basis. You might be shaking your head at that, considering they went 1-1, but they did better this week than the #1 team in the country! Iowa State had two very difficult games this week with Kansas and Texas on the docket.
It started out Tuesday night with a tough 62-61 loss in Lawrence against the Jayhawks. That game, however, carries a lot of controversies. Most people know already that the refs missed, what should have been, a very easy goaltending call on an Izaiah Brockington layup very late in the game. Replay clearly showed the ball hitting the glass before the KU defender swatted it away from the rim. It blows my mind that somehow that play is not reviewable, that's a conversation for a different day though. It didn't end there though. Inside of the last minute of the game, Caleb Grill collected a rebound in the short corner, quickly took a few steps back, and fired away a desperation 3 that ended up falling. However, it was immediately sent to review and quickly deemed a 2.
Pictures circulated Twitter all week after Tuesday that clearly showed Caleb Grill's toes behind the line. As frustrating as it is, there's nothing anyone can do about it now, that's just another night in Lawrence. The biggest takeaway of the night was the return of Gabe Kalscheur's shooting stroke. Kalscheur was 5-11 from the floor and shot 4-9 from downtown for 14 points. Although he had 5 turnovers, it was a very impressive showing for freshman point guard, Tyrese Hunter, in his first game at Phog Allen. Hunter had 12 points, 5 assists, and 5 steals.
Saturday afternoon's home contest against Texas was a much happier day. After a very slow start in the first 4 minutes where they didn't hit a shot, Iowa State controlled almost all of a 79-70 win against the nation's top scoring defense. Heading into the game Texas was only allowing their opponents to score 53 points per game. As I previously noted Iowa State scored 79. The Cyclones saw scoring contributions from all of their scholarship guys minus Jayden Walker (who didn't play) and George Conditt who was 0-1 from the field. Most notably Kalscheur continued his hot shooting from Tuesday night going 8-16 from the field and hitting a career-high 6 3's in the game. Kalscheur finished with 22. Tyrese Hunter also continued his good play with 13 points and a career-high 8 assists. Saturday's victory was a big one as it allowed them to avoid falling to 1-4 in conference play, they improved their conference record to 2-3 and 14-3 overall.
The biggest takeaway from Saturday's effort was that their offense is coming along. While their offense has looked serviceable most of the season, it has clearly been their biggest point of concern at times. Most notably against Texas Tech earlier in the year. However, between the KU and Texas games, you can see this offense is starting to come together and becoming more and more efficient. They are shooting the ball at a higher percentage and turning it over much less than they were early on in the year.
Iowa State's schedule starts to relent a little bit this upcoming week. The Cyclones do travel to Lubbock on Tuesday night in what will be an absolute rock fight against the Red Raiders. Saturday, they host TCU. TCU has proven that they aren't the pushover opponent they have been in years past but they do appear to be one of the two weak links in the conference. Keep in mind I do say that knowing there is no true weak link in the Big 12 this year. It will be fun to see how the Cyclones perform this week in conference play.