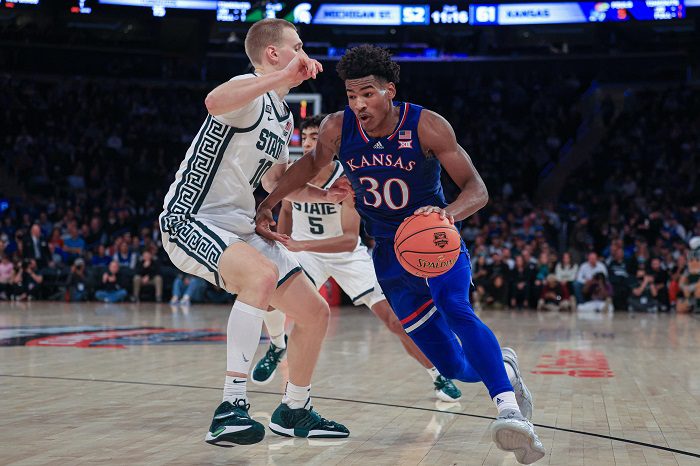 The Kansas Jayhawks are No. 1 in the Heartland College Sports Big 12 men's basketball power rankings after Week 10 of the 2021-22 season.
I'd like to thank the men's teams of the Big 12 for completely screwing up these power rankings. Really, tons of fun sorting through one of the most discombobulating weeks in the conference's recent history.
Our Power Rankings will appear every Monday.
1. KANSAS (14-2, 3-1) (Last Week: 3)
If I'm reading this right, the Jayhawks were one of two Big 12 team to win both games last week. That includes the controversial win over Iowa State. Blowing out West Virginia was a bit of a statement with the resurgence of Jalen Wilson and David McCormack. Now, about Remy Martin's knee …
2. TEXAS TECH (13-4, 3-2) (Last Week: 5)
Had Tech beaten Kansas State on Saturday, the Red Raiders would be No. 1. But that's a game the Red Raiders have to win if they're going to be considered a great team. Still, the win over Baylor shows this team is rounding into shape, playing incredible defense and — now that Terrence Shannon Jr. is back — is now full strength. The rematch with Iowa State should be fun.
3. IOWA STATE (14-3, 2-3) (Last Week: 3)
Bizarrely, the Cyclones stay where they were last week. They nearly stole one at Kansas, and then spent Saturday putting the Texas Longhorns in their place in Ames. I'm not sure there's a team in the Big 12 that faced a more daunting start to Big 12 play, and it doesn't stop this week, with the Cyclones' aforementioned matchup with Texas Tech.
4. BAYLOR (15-2, 3-2 in Big 12) (Last Week: 1)
So, is there anything wrong with the Bears? I'm not sure yet. I was not of the mind they would get through the regular season undefeated. But I didn't think they would have two losses in their first five league games. But, that's life in this conference. Their weakness is the interior game on offense. But if the rest of their team is firing, those losses will be few and far between. The Bears certainly don't look invulnerable now.
5. TCU (12-2, 2-1) (Last Week: 9)
The only other Big 12 team to win two games last week, the Horned Frogs soar up the power rankings this week and deservedly so. They had to wait a week to get their Big 12 opener in, thanks to COVID. But, they stole one in Manhattan against Kansas State and then outlasted Oklahoma in overtime. TCU is trying to get back to the NCAA Tournament. A win like Saturday's will help.
6. OKLAHOMA (12-5, 2-3) (Last Week: 2)
I didn't think the Sooners would drop THIS far after one week at No. 2. But I also thought they would beat TCU after losing by 14 to Texas. This is still a good team with NCAA Tournament aspirations, but they lost nearly all those votes they accumulated just outside the Top 25. It's going to take a lot for the Sooners to get ranked now.
7. OKLAHOMA STATE (9-7, 2-3) (Last Week: 8)
The Cowboys had to play three games last week, and while they Cowboys went 1-2, their one win was a big one — over Baylor. The Cowboys have nothing to play for, but I'm really interested to see if head coach Mike Boynton Jr. can squeeze out a winning season. The development of Bryce Thompson, the former McDonald's All-American who transferred to OSU, is worth watching.
8. TEXAS (13-4, 3-2) (Last Week: 6)
Texas has a problem on the road. After suffering its first Big 12 loss at Oklahoma State, the Longhorns lost their second Big 12 road game at Iowa State. There's less shame in losing to ISU at Hilton, but the Longhorns are 1-4 on the road this season, and their only win on the road is at Kansas State. Every time I think this team's chemistry is getting there, well, there's Saturday in Ames.
9. KANSAS STATE (9-7, 1-4) (Last Week: 10)
Congratulations to Kansas State. The Wildcats are out of the cellar this week after beating Texas Tech at home. These Wildcats are competitive with everyone in the league. But, I think the clock is ticking on head coach Bruce Weber. He's coaching for his job this year, and one win over a ranked team isn't going to do it.
10. WEST VIRGINIA (13-3, 2-2) (Last Week: 7)
I admit, this is a bit harsh. But the loss to Kansas exposed some serious issues. West Virginia has no interior offense and needs a consistent fourth scorer. Perhaps that's Malik Curry, who had a great game on Saturday. Plus, remember that West Virginia had to rally from 17 points down to beat Kansas State a week ago. This week is a big stretch for WVU — Baylor at home and then a trip to Lubbock to face Texas Tech.