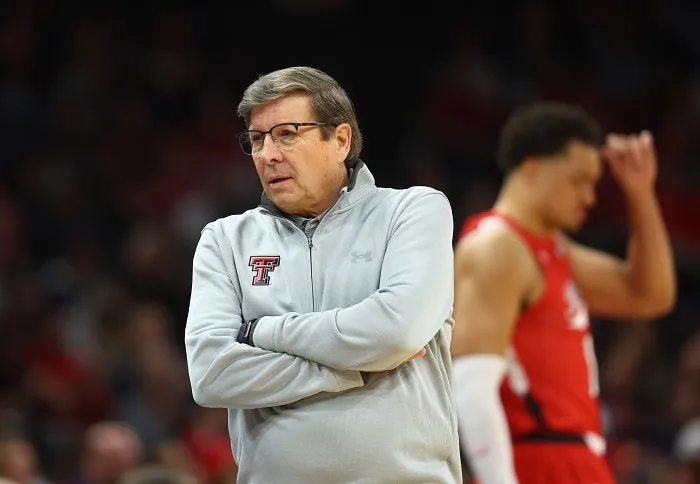 Mark Adams didn't have a national reputation when he took over as Texas Tech head coach. But he is the right coach for this moment for the Red Raiders and the new world of college basketball.
To understand that, you have to go back a ways, much farther back than Tech's 62-51 loss to Kansas State on Saturday, a win that dropped the Red Raiders to 13-4 overall and 3-2 in Big 12 action.
When Adams ascended to head coach in April, I looked at his resume. He had 544 career wins as a head coach. Clearly, he could coach. But I wondered why he hadn't gotten another shot at a Division I job? He spent five years at UT-Pan American from 1992-97 and went 44-90. He did have a winning season, and another .500 season, and coaches have gotten second chances at the first chair with less success.
But it took more than 20 years for Adams to get another shot. And, for Texas Tech, what Adams did in between has made all the difference this season.
And, no I'm not talking about his stint as the owner of the Lubbock Cotton Kings hockey team, although that was his immediate stop after UTPA.
After the Cotton Kings, Adams got back into college coaching and started at what most of us see as the bottom — junior college. Howard College in Big Spring, Texas, plays in Region V of the National Junior College Athletic Association. There, Adams built a power from 2004 to 2013 — 233 victories, nine regional tournament appearances, three national tournament appearances and a national championship in 2010, with a team featuring current NBA player Jae Crowder. Adams never won fewer than 20 games in any of those seasons.
The JUCO Route
So, why is this important now? Well, my second newspaper job was in Corsicana, Texas, at the Daily Sun. In early August, I started introducing myself to the coaches at Navarro College, which is also a two-year school. When I talked to the basketball coach, I asked him who was coming back, because I knew the Bulldogs had a good team the previous year. He mentioned three players.
"Who else," I asked?
"I don't know," he said with a straight face. "We'll see after class registration ends."
That stuck with me. Junior college sports is an entirely different animal than NCAA athletics. Players you thought might come to play in May could end up with a late Division I offer, could end up going to another junior college or just decide not to enroll entirely.
The roster turnover at the junior college level can be insane. It can be hard to build a program, much less a team. In order to build what Adams built at Howard, he had to learn, to paraphrase Liam Neeson, 'a particular set of skills.'
Adams talked about that at Big 12 media day in October.
"I was coaching JUCO basketball for 13 years," Adams said. "It was, you know, it was turnover every year. You might keep one or two and then start over. So it's a lot of teaching."
Division I programs aren't built like junior college programs. Or, at least they weren't until last season. Once the transfer portal became ubiquitous in college basketball, the landscape changed. And that's what made the timing of Adams' return to the first chair in Division I basketball so perfect.
He had the right skills to meet this particular moment, skills that Hall of Famers like Duke's Mike Krzyzewski and Kansas' Bill Self don't have.
Chris Beard Leaves
When Chris Beard left for Texas, the transfer portal swelled with Red Raiders looking to move on. Marcus Santos-Silva was believed to be in the portal. Terrence Shannon Jr. was considering the NBA.
When Tech elevated Adams to head coach, Santos-Silva returned. Shannon eventually returned. Kevin McCullar committed to staying another season almost immediately.
But …
"I was hired April 6th," Adams said back in October. "I had 45 days to put together a whole new staff, recruit my old players, then fill the roster, bring in nine new guys."
Adams put together a high-major roster based on his junior college experience, turning over 60 percent of his players. He also crafted a roster based on his belief in defense. He took in players from mid-major schools that were hungry to prove to themselves — and to NBA scouts — that they could play in college basketball's best conference.
And then Adams started teaching.
By January, Texas Tech had just two losses, both to ranked teams — Providence and Gonzaga. I'm not sure anyone could have predicted what happened once Big 12 play started.
Shannon got hurt. Then McCullar. Then COVID hit. The Red Raiders had to postpone their opener with Oklahoma State. Then it was rescheduled. The Red Raiders found themselves short-handed and playing five games in 11 days, with the first three against ranked teams.
Texas Tech played with seven scholarship players against Iowa State and only lost by four. Then hosted Kansas with eight scholarship players (but no Shannon or McCullar) and upset the Jayhawks. Then, they went on the road with a hobbled McCullar and beat No. 1 Baylor.
Now, Shannon is back, and the Red Raiders are full strength.
How did Adams do it?
Teaching and Coaching
The junior college way. He taught. He coached. He got his players to buy into doing things his way, which means defense first. He found the right chemistry with the right players, which took most of non-conference play to work through. Players like Clarence Nadolny and Adonis Arms took advantage of Tech being short of personnel, played well and earned more of Adams' trust.
Adams also wasn't afraid to make adjustments and coach to his personnel.
Against Baylor, Adams worked in a little half court zone, just to give the Bears a different look. Lately, it looks like the Red Raiders are doing more switching off picks, a nod to many of his players being of similar size. It leads to fewer mismatches on switches. Going into Saturday's game, Kansas State head coach Bruce Weber told the Wichita Eagle's Kellis Robinett that the Red Raiders' defense was SO good he needed to try some new things on offense, worried his normal offensive sets wouldn't work. Weber and the Wildcats did enough to cool off the Red Raiders, something of a feat these days.
What Adams and his Red Raiders did, frankly, was remarkable. They attacked the most difficult stretch of their schedule, with a roster that at times had significant holes in it and found a way to win.
And they did it Adams' way. The Howard College way.
And his way is going to be the 'new way' of college basketball for some time to come.
Mark Adams has met the moment because he was already ready for it. He just needed major college basketball to catch up.
You can find Matthew Postins on Twitter @PostinsPostcard.