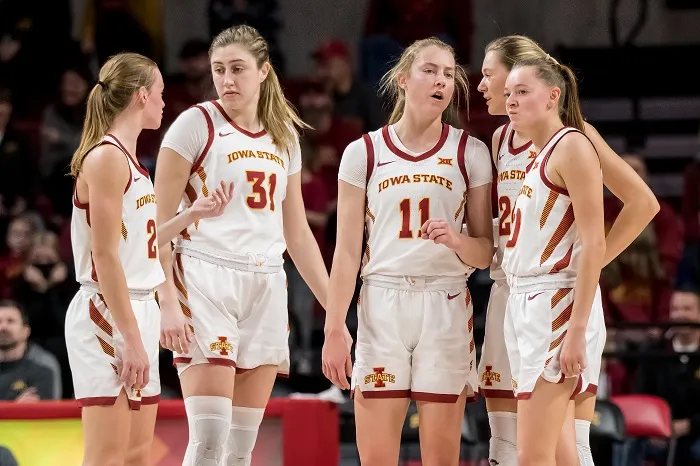 The Iowa State Cyclones remain No. 1 in the Heartland College Sports Big 12 women's basketball power rankings for Jan. 18. Our Power Rankings will appear every Tuesday.
1. IOWA STATE (16-1, 5-0; Last Week: 1)
Iowa State needed a big-time rally on the road to beat Ayoka Lee and Kansas State. But, after a win over Oklahoma State, the Cyclones are the unquestioned best team in the conference. They also have the best chemistry. But, this week, the Cyclones face their biggest tests yet — hosting Texas on Wednesday and then traveling to Baylor on Sunday.
2. OKLAHOMA (15-2, 4-1) (Last Week: 4)
The Sooners won both games last week and looked really good doing it, taking it to Baylor and TCU at home. I'm not sure there's a team with more offensive weapons in their overall lineup than Oklahoma, and first-year coach Michelle Baranczyk is serving up a brand of basketball that fans and Big 12 aficionados have to love.
3. KANSAS (11-3, 2-2; Last Week: 9)
The Jayhawks make a huge move this week, even though they split the week. Kansas beat Texas in Austin for the first time in a decade, and then nearly beat Baylor at home, which would have been their first win over the Bears in nearly a decade. You have to give head coach Brandon Schneider a lot of credit. These Jayhawks have a lot of new parts and he's fitting them together.
4. TEXAS (12-3, 2-2 in Big 12; Last Week: 3)
Something just isn't quite right with these Longhorns. The home loss to Kansas came amid another poor shooting performance in their own building. Then, the win over West Virginia was also at home, but it came on the back of Aliyah Matharu. In December, I felt this was the best and deepest team in the conference. Right now, Texas is still the deepest.
5. BAYLOR (11-4, 1-2; Last Week: 5)
The Bears stay where they were a week ago after losing to Oklahoma and then barely beating Kansas. It's not that the Bears are untalented. That's hardly the case. But they're fighting to acclimate to a new system under head coach Nicki Collen and now the rest of the league knows that, at least for now, the Bears are vulnerable.
6. TEXAS TECH (9-7, 2-3; Last Week: 6)
The Lady Raiders are an odd team. Texas Tech goes on the road and loses to West Virginia by nine, and then comes home and beats newly-minted Top 25 Kansas State. They're a high-level offensive team, but the defense seems to be coming around, and that's good news in a league that is wide open for the first in quite some time.
7. KANSAS STATE (13-4, 3-2; Last Week: 2)
Kansas State just learned that life as a ranked team is hard. The loss to Iowa State hurts. The Wildcats had that game won. Kansas State had a double-digit lead with five minutes to play. Then, going on the road and falling to Texas Tech and losing by nearly 20 points means the Wildcats need to come home and recalibrate things for the rest of the month.
8. WEST VIRGINIA (8-6, 1-3; Last Week: 7)
The Mountaineers won a game last week, beating Texas Tech at home, before falling hard to Texas on the road. Keeping Esmery Martinez in the game is key for the Mountaineers. She was in foul trouble against Texas and barely played. If the Mountaineers are to repeat an NCAA Tournament berth, WVU has to have her every night.
9. TCU (5-8, 1-3; Last Week: 10)
TCU gets the bump this week after beating Oklahoma State last week. But, giving up 100 points to Oklahoma on Saturday shows just how far the Horned Frogs have to go.
10. OKLAHOMA STATE (6-8, 1-4; Last Week: 8)
The Cowgirls lost both games last week, and they don't seem to be showing any signs of getting out of this slump.
**Want to win a $20 gift card? Go sign up here and join our conversation! The best poster each week wins a gift card to your favorite establishment!**