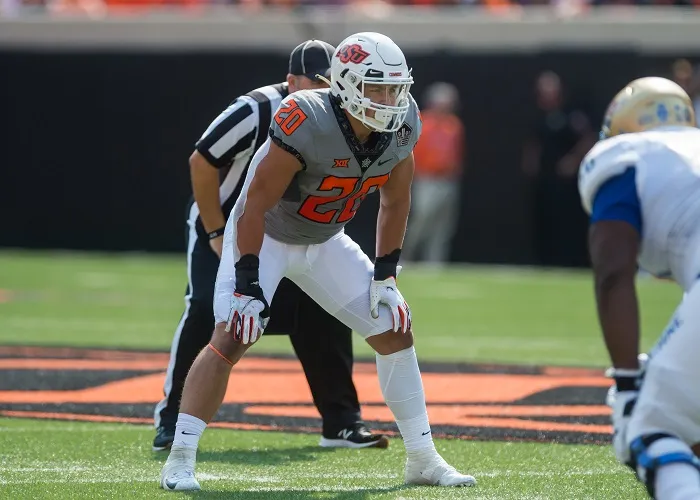 WIth the conclusion of the 2021-2022 college football season, it's time for the second annual Oklahoma State uniform rankings. The Cowboys packed some heat this season, so shoutout to equipment manager Wes Edwards and his team for making the Pokes look good this season.
OSU wore 14 different uniform iterations this season. Today I'll be going over 8 through 14, then next week I'll round out the rankings with 1 through 7. Feel free to disagree with me or tell me how brilliant I am by leaving a comment. I'm interested in hearing your opinions or how y'all would rearrange the rankings.
14. Black Phantom Pete/White/Gray – Iowa State
The outcome of the game matched the ugliness of the uniforms. Any uniform that doesn't include orange at all has got to be a no from me, as the only source of orange was in the number outlines on the jerseys. I've never liked this specific combination no matter the helmet, and the Black Phantom Petes are not enough to save this uniform.
13. White/Gray/White – Tulsa
The pattern from last year to this year is that all the uniforms that include gray have always ended up at the bottom. I actually didn't hate this uniform, it's just difficult to rank it above any of the non-gray threads. The Pokes again struggled on the field, taking Tulsa down to the wire in an uninspiring offensive performance, giving me all the proof I need to say that gray brings the Cowboys bad mojo.
12. Black/White/Black – Texas
This combo has been a staple for the Pokes since their uniform rebrand in 2011. It was paired with the regular black "brand" helmet to make a uniform that looked solid beating Texas in. It's a simple look that never disappoints, but it kinda is just that; simple. All the options in front of it in the rankings are just better.
11. White Pete/Orange/Orange – Missouri State
Another classic look for the Pokes, OSU tends to kick off each season with this combination and it always looks good. Pistol Pete's stern glare graced the side of another helmet as his team narrowly won its season opener. Much like the No. 12 pick, this uniform doesn't do anything particularly special, it's just another tried-and-true combo that embodies the look OSU is known for.
10. White Phantom Pete/Black/White – Kansas State
It's not often that OSU breaks out the W/B/W combo, which I wish would change. It has always looked clean and this time is no exception. Phantom Pete on a white helmet compliments the black jersey and white pants very well, making for a solid, symmetrical uniform. On an average year, this uniform would make the top six or seven easily. Unfortunately, 2021 was a strong year for Oklahoma State threads, and my No. 10 selection just doesn't quite match up with the rest of the field.
9. Black Phantom Pete/Black/Black – TCU
The all-black look is another staple for Oklahoma State. Usually paired with a brand "OSU" decal helmet, the equipment staff opted for a Phantom Pete this time around, with the all-black uniforms donned in tandem with Boone Pickens Stadium's "Blackout" theme versus TCU. OSU rocks the all-blacks at least once every year and they always hit it right on the nail. I'd prefer the "OSU" decal over Pete, but it is still a strong look.
8. White Script/White/White – Texas Tech
The Cursive Cowboys makes its first appearance in the rankings, so that should let you know how I and most Cowboy fans feel about the scripts. They rock. I like them slightly less than the two coming up on this list, but that's like picking a least-favorite between your three children. I love them all, I just love one the least. As for the rest of the uniform, a clean all-white look is a must-have in college football and OSU never disappoints. It's wild that I was forced to put this uniform so low on the list, that's how good 1 through 7 is.