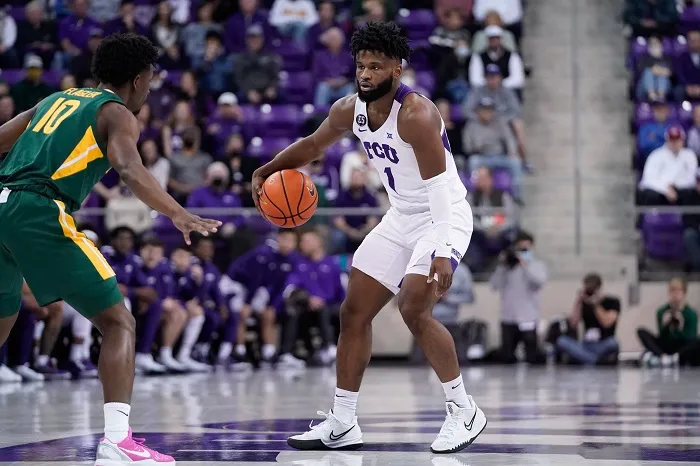 TCU has proven a couple of things just three games into the Big 12 slate. The Horned Frogs can win on the road and without sophomore guard Mike Miles absolutely dominating.
Or at least do that against unranked teams.
Victories over Kansas State and Oklahoma may not have the same ring as beating a top-25 team, but some good things have emerged.
TCU dropped the conference opener 64-76 against then No. 1 Baylor. The Horned Frogs had a 10-point lead early in the second half before letting the Bears go on a couple of game-sealing runs.
Miles scored 26 points, five assists, and dictated TCU's success like he has all season long. Senior forward Charles O'Bannon and junior guard Damion Baugh also scored in double-figures, showing this team could be deeper than one player.
That depth came through versus Kansas State.
Big 12 road wins are hard to come by, even in Manhattan, Kansas, against a Wildcats team with eight conference victories since the 2019-20 season.
Miles scored just six points in the first half, but TCU took a 26-25 halftime lead. Miles had suffered a wrist injury during the Baylor loss, which might have explained the slow start.
Still, the Horned Frogs stayed in the game thanks to a 12-point performance from Baugh. Freshman center Eddie Lampkin also dumped in 9 points while junior forward Emmanuel Miller had eight points and 10 rebounds.
Both teams shooting under 40% from the field also helped keep the game close.
Baugh hit a go-ahead three-pointer with 11 seconds left off an assist from Miles. Miles finished with 19 points, but let his teammates control the game when he struggled. Great awareness from a player who is leading his team in minutes played, points and assists.
That win looks even better after Kansas State beat No. 19 Texas Tech this weekend.
TCU showed it could handle success by following up that game with a victory over Oklahoma.
It was the Horned Frogs' first win over Oklahoma since 2017 and became a stage for TCU players not named Miles to shine.
Charles O'Bannon put up 11 points, including the eventual game-winning three-pointer with 28 seconds left in overtime.
Sophomore guard Micah Peavy also chipped in 11 points and provided a spark off the bench. He keyed an 8-0 run early in the first half after the Sooners took a 9-0 lead. Lampkin only had four points but had two steals, five rebounds, and three assists. Two of those assists came during the 8-0 run.
Miles finished with six points on 3-of-12 shooting and struggled to get open shots against the Sooners.
TCU and Oklahoma combined for 39 turnovers and both teams shot under 25% from behind the three-point line. While the game was not pretty, it showed, again, that TCU can win without a stellar performance from Miles.
A road game at Oklahoma State on Wednesday will give the Horned Frogs another chance to continue building depth before facing top-25 teams in Iowa State and Texas. Oklahoma State is coming off a 61-54 victory over Baylor and has not played at home since January 8.
If players like Baugh, O'Bannon, Lampkin, and Peavy can keep things rolling no matter how Miles performs, TCU could pull off some upsets later this season and become another NCAA tournament-contending Big 12 program.