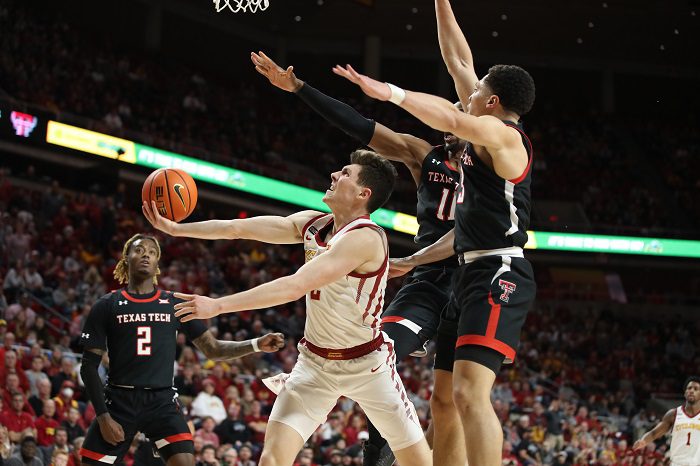 The Texas Tech Red Raiders defeated the Iowa State Cyclones, 72-60, in a Big 12 men's basketball contest at the United Supermarkets Arena in Lubbock, Texas, on Tuesday.
The Red Raiders (14-4, 4-2 in Big 12) blew open a close game in the second half against the Cyclones (14-4, 2-4). The Red Raiders, up 26-23 at the break, used an 8-0 run early in the second half, which put the Red Raiders up, 37-28, and it seemed to put the game away.
Bryson Williams led the Red Raiders with 16 points, while Kevin Obanor added 15 points and Davion Warren had 11 points.
Caleb Grill led the Cyclones with 17 points, while Izaiah Brockington added 12 points.
Texas Tech fans haven't forgotten about its upcoming game with Texas, either. When the score from Kansas State's 66-65 win over Texas earlier in the evening flashed on the scoreboard, it led to one of the loudest cheers of the night. The Longhorns and Red Raiders meet on Feb. 1 in Lubbock.
Here are three thoughts from the game.
Terrence Shannon After Two Games
Terrence Shannon played 27 minutes on Tuesday night, scored four points and had one rebounds. He also had one THUNDEROUS dunk.
Shannon is just two games back from an injury he suffered that kept him out for a month. While his season average says 12.6 points per game, he's not back to that quality of play yet.
I wasn't expecting that. I'm sure Texas Tech head coach Mark Adams wasn't expecting that either. Rather, on Tuesday night, I was just looking to see where he was at physically.
He looks like he's in really good shape after being off for a month. The defensive effort was clearly there. He's the 'star' of this team, but he's as bought in as anyone on playing defense. Obviously, the dunk showed off his athleticism. But his shooting touch isn't quite there yet. Neither is his feel for the game.
The last comment requires elaboration. Shannon is the same player. But this is not the same TEAM from a month ago. In his absence, players like Bryson Williams, Kevin Obanor, Clarence Nadolny and Adonis Arms have become more assertive. That showed on Tuesday night. All deserve the playing time they've earned. Some of that will come at Shannon's expense, at least for now.
Shannon getting into basketball shape won't be the issue. Integrating with this new reality will be the issue. That takes time, practice and chemistry. Something tells me Shannon will figure it out. And, if he does, Tech will be that much better off now, and in March.
The Defense
Both of these teams are just scary when it comes to defense. I checked KenPom's adjusted defensive rankings after Tuesday's game. Texas Tech was No. 2. Iowa State was No. 4. Analytically, they're two of the best four defenses in the country. Just for grins, Oklahoma State is No. 7, Baylor is No. 11, Texas is No. 18, West Virginia is No. 22, Kansas State is No. 25, Oklahoma is No. 26, TCU is No. 29 and Kansas is No. 32.
Yes, Kansas is the worst Big 12 team in defensive efficiency and it's No. 32 in the country. Am I reading this right? I think so.
Iowa State and Texas Tech put that on display on Tuesday. Iowa State doesn't have the personnel to press until it absolutely has to, but their brand of stifling man-to-man, half-court defense, causes opponents real problems. Tuesday's loss did expose a weakness — frontcourt depth. It's no surprise that the Red Raiders pulled away after they got the trio of George Conditt IV, Tristan Enaruna and Robert Jones in foul trouble. All three eventually fouled out. Those are the three players ISU leans on inside for everything.
Texas Tech plays that same brand of man-to-man defense. Head coach Mark Adams joked at Big 12 Media Day that while he's flattered that other teams are adopting the Red Raiders' principles, he's a bit miffed that some of them are playing defense better than his team (he was specifically poking at Baylor's Scott Drew). But, in the past few games, he's added a zone that is increasingly giving opponents fits. It slowed Baylor down last week. Against Iowa State, he kept extending the zone past half court, making it a nuisance as the Cyclones brought the ball up the court.
In a league that prides itself on man-to-man defense, and is playing it at a level that is, perhaps, precedent-setting, Adams' adjustment to the occasional zone scheme is turning into one of the best adjustments of the Big 12 season.
It Can't Just Be Izaiah
Iowa State's Izaiah Brockington is one of the Big 12's most dynamic offensive players. But, he will only carry the Cyclones so far this season. While he entered Tuesday's game averaging 16.5 points per game, he ended up with 12 against the Red Raiders. In the Cyclones' win over Texas, he scored just eight points.
The defenses in the Big 12 are great across the board, and they are going to place focus on Brockington the rest of this season. Which is why it's so important that the rest of the lineup score more points.
Yes, guards Gabe Kalscheur and Tyrese Hunter are averaging a little more than 10 points per game. But that scoring is inconsistent from both. Neither had a particularly good game on Tuesday. Instead, it was guard Caleb Grill (17 points) who gave the Cyclones a bit more offensive juice. He's a talented 3-point shooter, but his offense ebbs and flows, too.
I had a hunch the Cyclones had offensive shortcomings entering Big 12 play. Their defense will make up for quite a bit of that. But, there will be some games where the offense has to get it done, especially on the road. The lack of carryover from the Texas win on Saturday was obvious. Some of that was Texas Tech's defense. Some of that was Iowa State.
I was asked in my mailbag last week which player Iowa State needed more from —Grill, Tristan Enaruna and Aljaz Kunc? I chose Enaruna. Honestly, the Cyclones need two of those guys to get more consistent on offense, along with Kalscheur and Hunter. Or, this season will have a definite ceiling.
You can find Matthew Postins on Twitter @PostinsPostcard.