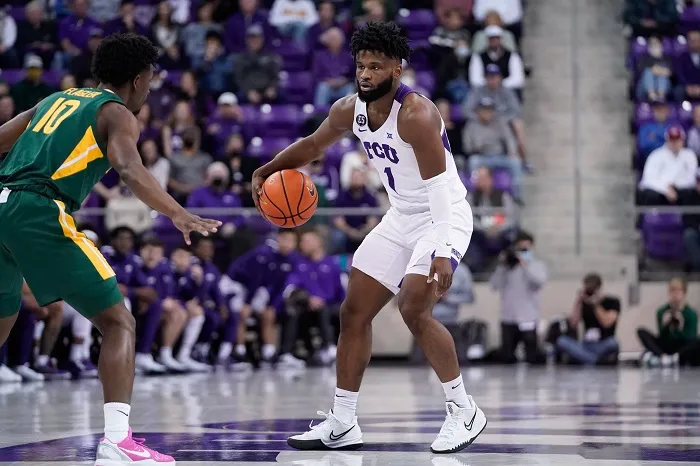 For the second straight iteration, TCU gave the Big 12 eight bids in the NCAA Tournament Bracketology published by ESPN's Joe Lunardi on Friday.
This came in spite of TCU's last-second loss to Oklahoma State on Wednesday. Even with that, to Lunardi, the Horned Frogs were the 'Last Team In.' His logic?
"For the moment, TCU lays claim to the last spot in the at-large field," Lunardi wrote. "This is significant at the conference level even more than as a long-sought return to the tournament by the Horned Frogs, who have just one NCAA bid this century. The Big 12 already has seven probable tournament teams and TCU would make eight. With Oklahoma State ineligible, the current bracket thus features eight of a possible nine Big 12 schools. This is a staggering success rate and a testament to the fact that in terms of the power conference expansion trend, less is actually more."
TCU did drop a seed line, though, from No. 11 to No. 12, and remained in a 'First Four' game.
For the second straight iteration, the Big 12 remained the conference with the most bids in the Tournament, one ahead of the Big Ten and the Big East. The SEC, which will play the Big 12 in the Big 12-SEC Challenge next weekend, had six bids.
Texas Tech's win over Iowa State juiced the Red Raiders back up to a No. 3 seed in the Midwest Region, where they were a No. 4 seed on Tuesday. The Cyclones, meanwhile, held steady as a No. 5 seed.
Both Oklahoma, Texas and West Virginia dropped after mid-week losses, with the Sooners falling to a No. 10 seed in the East Region, the Longhorns falling to a No. 7 seed in the South Region and the Mountaineers dropping to a No. 10 seed in the Midwest Region.
TCU remained the only Big 12 team on the bubble.
Future Big 12 team UCF got back into the bubble scene as one of the 'Next Four Out.'
How the bracket looks for the Big 12 as of now:
Midwest Region (Chicago)
No. 3 Texas Tech vs. No. 14 Princeton
No. 5 Iowa State vs. No. 12 Iona
No. 10 West Virginia vs. No. 7 Seton Hall
East Region (Philadelphia)
No. 10 Oklahoma vs. No. 7 Marquette
West Region (San Francisco)
No. 2 Kansas vs. No. 15 Weber State
No. 12 TCU/Florida State winner vs. No. 5 Tennessee
South Region (San Antonio)
No. 1 Baylor vs. No. 16 Winthrop
No. 7 Texas vs. No. 10 Wake Forest
Future Big 12 members
South Region (San Antonio)
No. 3 Houston vs. No. 14 Liberty
No. 8 BYU vs. No. 9 Davidson
You can find Matthew Postins on Twitter @PostinsPostcard.
**Want to win a $20 gift card? Go sign up here and join our conversation! The best poster each week wins a gift card to your favorite establishment!**