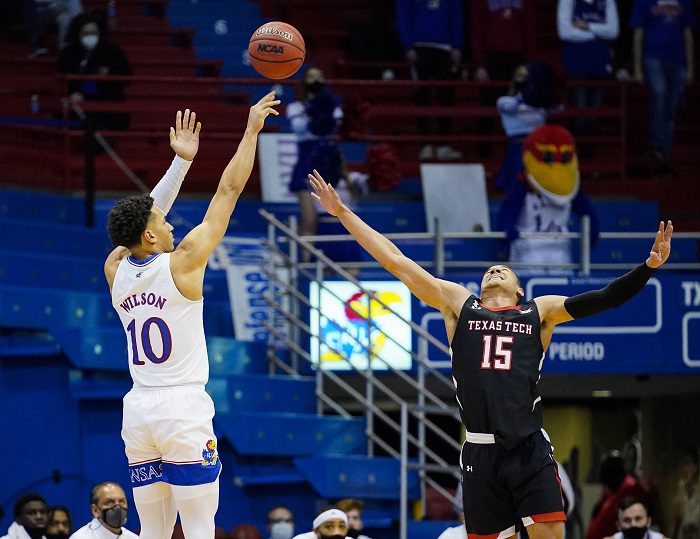 Here is everything you need to know about the Texas Tech Red Raiders and the Kansas Jayhawks in our Texas Tech vs. Kansas Big 12 men's basketball preview.
Game Info
8 p.m. Central Time, Monday, Jan. 24, 2022, Allen Fieldhouse, Lawrence, Kansas
TV: ESPN
Records: Texas Tech: 15-4 (5-2 in Big 12); Kansas: 16-2 (5-1).
Ranking: Texas Tech: No. 18 (Associated Press; as of Jan. 23); Kansas: No. 7 (Associated Press; as of Jan. 23).
Last game: Texas Tech: def. West Virginia, 78-65 (Jan. 22); Kansas: def. Kansas State, 78-75 (Jan. 22).
Previous meeting: Texas Tech 75, Kansas 67 (Jan. 8, Lubbock).
Fun Fact: Kansas has a 38-7 record all-time against Texas Tech. But, since 2018, Texas Tech has won three of their last nine meetings. Before that, Tech had a 15-game losing streak to Kansas.
Key players
Texas Tech
G/F Terrence Shannon Jr.: He missed a month with a back injury and is less than two weeks from his return to the floor. In his first two games he scored six points combined. Against West Virginia on Saturday he scored 23 points. He looked every bit the sniper he was pre-injury. He's getting his game together at the perfect time for a big rematch with the Jayhawks.
G/F Kevin McCullar: During Saturday's game, ESPN noted that McCullar was one of 13 players in Division I that leads his team in rebounds, assists and steals. After Saturday's game with West Virginia, he now averages 5.9 rebounds, 3.6 assists and 1.7 steals (along with 11.9 points). He's one of those guys that hits what I like to call the 'Big 5' in the box score almost every night. The last player his size I can remember doing that every night in Big 12 play was TCU's Kenrich Williams. He's so hard to deal with because, while he's a talented offensive player, he doesn't have to score to affect the game.
F Kevin Obanor: He's coming off an 18-point game against West Virginia. He's one of those players who found his rhythm with Shannon out of the lineup. His scoring average this season has fallen by nearly half from last season's 18.7 points at Oral Roberts. But, in the past five games, he has really picked up steam, as he's averaging 13.8 points.
Kansas
G Ochai Agbaji: Potential All-Americans do All-American things when called upon, and Agbaji was definitely called upon on Saturday against Kansas State. His game-winning lay-up with eight second left, and his 29 points, counteracted the career game of Kansas State's Nijel Pack (35 points) as Kansas remained atop the Big 12. There's a reason he's the conference's leading scorer.
F David McCormack: Has the real David McCormack finally shown up? He had 11 points and 15 rebounds against Kansas State. He's now put together two double-doubles in his last three games. But in the three games around those two games? Well, that would be 14 combined points and 11 combined rebounds. If he ever gets back to being the consistent big man he was last year, the Jayhawks might be unstoppable.
G Christian Braun: His game is efficient and timely. He averages 15.6 points, 6.1 rebounds and 3.1 assists per game. He shoots 54 percent from the floor. He can block shots and play stifling defense. And, when the game is on the line, he's somewhere around the ball, making sure what needs to happen, happens. If you saw his blocked shot of Markquis Nowell in the final seconds of the Kansas-Kansas State game, you know what I'm talking about.
Key storylines
Texas Tech
The Red Raiders are rolling right now, and it's not just their defense (although it's probably playing the best of any defense in the Big 12, and that's saying something). Texas Tech has now scored 70 or more points in four of their last six games, all of which were victories. The Red Raiders have three players among the Big 12's Top 25 scorers — Bryson Williams (12.6), McCullar (11.6) and Davion Warren (10.3). That DOESN'T include Terrence Shannon Jr's 12.8 per game, but that's only because he hasn't played enough games to qualify. This team got stronger in Shannon's absence, with Adonis Arms, Clarence Nadolny and Daniel Batcho playing with more confidence. Head coach Mark Adams, it turns out, was the right man for the job at the right time. So much for it being 'The Worst Job in the Big 12.'
Kansas
The Jayhawks are on a four-game winning streak. In fact, their last loss was to Texas Tech. Ochai Agbaji and Christian Braun have been the Jayhawks' most consistent scorers this season. But Jalen Wilson is finally starting to come on, coming off a double-double against Kansas State and averaging nearly nine points and more than six rebounds per game. The contributions of Dajuan Harris have been underrated by outsiders. Remy Martin is the team's X-factor in the backcourt. Up until his injury at the start of Big 12 play, he was rolling and giving the Jayhawks all they needed. Since them, his play and playing time has been inconsistent. He hasn't scored in double figures since the Jayhawks beat Stephen F. Austin on Dec. 18. He did have three assists against Kansas State.
Prediction: Kansas 76, Texas Tech 72
I can't really go against Kansas at home. The Jayhawks are undefeated at home and Texas Tech is 1-3 on the road (granted, that road win was against Baylor). As with all things Big 12, it won't be easy.
You can find Matthew Postins on Twitter @PostinsPostcard.